A mostly North Texas team went to WyoHackathon 2018 — a blockchain hackathon — at the University of Wyoming earlier this month. That's where the team lassoed the top prize with its Rawhide tech solution that brings blockchain to livestock management. The win led to the creation of a series LLC by the team, turning its tech into a startup, also called Rawhide.
The team won the hackathon — along with several side awards — with its Rawhide blockchain technology from a field of competitors that included teams from the University of Wyoming, and from as far away as Europe and Australia. 
How the Rawhide blockchain technology works
Simply put, the Rawhide tech solution enables livestock producers to maintain genetic profiles of cattle on the blockchain, allowing for improved herd management and fractional cattle ownership. 
It works by taking DNA from an individual cow and places its record on the blockchain using an ERC-721 token with that non-fungible token owned by an ERC-20 token that represents shares in a unique series LLC, said Cody Marx Bailey, of Dallas, who brought a background in ERC-721 standard authoring to the project.
What is ERC-721? It's a free, open standard describing how to build nonfungible or unique token on the Etherum blockchain, while ERC-20 is a tech standard for smart contracts on the Ethereum blockchain used for implementing the contracts.
Blockchain tech solution to blockchain startup company
Along with winning the hackathon with its Rawhide blockchain technology, the team immediately decided to turn that tech into a startup company, also called Rawhide. Hackathon team member and Dallas attorney Lacey Shrum said the plan is to have a functional test demo ready by the middle of the fourth quarter this year.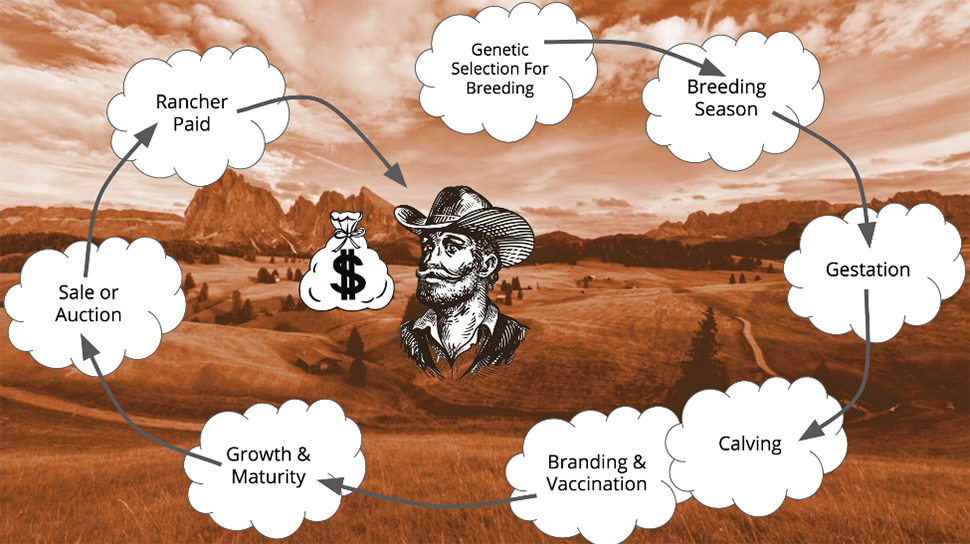 "With our product, each cow and its DNA is its own LLC and can be invested in and/or bought and sold instantly on a per-head/per-DNA basis."
Cody Marx Bailey
The series LLC for Rawhide was created in Wyoming. "[A] series LLC law is one of five recently passed laws in Wyoming. With our product, each cow and its DNA is its own LLC and can be invested in and/or bought and sold instantly on a per-head/per-DNA basis," Bailey said.
Series LLC, blockchain, and Wyoming
A series LLC, or SLLC, is a type of limited liability company that provides liability protection across many "series," each — in theory — protected from liabilities arising from other series. While Laramie, Wyoming might seem like an unlikely outpost for a leading-edge technology like blockchain, the state actually is very blockchain-friendly with legislation around the tech already passed. 
More is planned for the state's next legislative session, Shrum told Dallas Innovates. This has led to a number of blockchain companies being founded and operating in Wyoming, including Rawhide. Shrum described the state as quickly becoming the "Delaware corp." of the blockchain industry, referring to Delaware's popularity as a place for companies to incorporate.
Rawhide builds an experienced team
Along with Bailey and Shrum in Dallas, the team included:
Michael Lewellen, from Dallas, with a background in Smart Contract Programming and who built the project's Smart Contracts, tests and frameworks required to show a proof of concept.
Jared Bass, from Dallas, with a systems engineering background and who oversaw the fit and accounting of the overall system.
Danielle Peterson of Bozeman, Montana, with a background including B.S. and M.S degrees in Animal Science and experience ranching who brought her industry expertise to the team and served as the subject matter expert for the project.

"Blockchain has the potential to change the world, (and) frankly it already has."
Lacey Shrum
"The five of us are moving forward in completing the buildout of this project and taking on clients. We have interest from cattle registries, individual ranchers, and leaders in the space to develop customized solutions for their operations, which we can do," Bailey said. "Outside of the friendly confines of the hackathon, however, there are some regulatory, financing, and logistical issues to iron out just to get started."
The diverse Rawhide team was an important part of its success at the hackathon and may be a sign of things to come in the blockchain space,  Shrum said.
"One of the biggest takeaways from this event, and something we've been advocating for a long time is that this space needs people from different backgrounds," she said. "Yes, there is a significant shortage of developers out there. But we also need thought leaders from different areas like business, liberal arts, and the sciences to develop really robust, innovative and simple solutions to complex problems. Blockchain has the potential to change the world, (and) frankly it already has."
For a deeper dive into the Rawhide solution, the team released a white paper, including a technical overview and use case examples.
Updated for clarity at 4:41 p.m. on October 1, 2018.