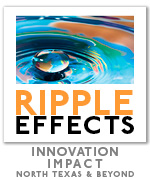 Businesses have never had more incentive to give to social causes, and through Good Returns it's never been easier.
Salah Boukadoum, co-founder of the company, didn't invent an app or a new cryptocurrency. Rather, he invented a system of philanthropy that's zero risk and provides mutual benefit to all the stakeholders. "To me, innovation is about making the world a better place for ourselves. It's the innovation that's so important and not just the technology," Boukadoum says. "We need to be focused not so much on the tool, but on the impact."
The most promising organizations often struggle to raise capital through traditional means, and that's where Good Returns comes in. Companies make one-year no-interest loans to social causes, such as nonprofit Akola, which gives underprivileged women in Dallas and Uganda the training and opportunity to make jewelry for a living wage. Rather than earning interest, companies that make the loans, or "cycles" as Good Returns calls them, get the satisfaction of knowing they are helping their community without risk. That's increasingly important as younger generations enter the workforce. "They have a new set of demands of every company," Boukadoum says of millennials. "They want to see companies not just be responsible, not just give. They want to see companies innovating and really moving the needle on some of the challenges we face."
Through Good Returns, a company can loan as much as it wants, because it's assured all of the capital will be returned. For the organizations that receive the capital infusion, it's more than just money for growth. "Companies champion the causes they support and get the word out there," Boukadoum says. Instead of the impact organization spending its hard-won resources on marketing and advertising, it can leverage the partnership with Good Returns and the larger company that's funding it as a megaphone.
Then there are the investors with Inverdale Capital Management, which raised more than $10 million in funding for the Guarantee-Investment-Values Strategies, or GIVS. A portion of its managed assets are used as collateral for Good Returns cycles. If there's a shortfall, the impact investors make it up, allowing Good Returns to offer 100 percent guaranteed interest-free loans. Investors remain invested in securities during the guarantee period, enabling them to target a market rate of return. "So far, we haven't had a shortfall," Boukadoum says. "When there's no shortfall, investors in GIVS get all of the return that is generated in those accounts, and it's their participation that makes the cycle possible in the first place."
In the near term, Boukadoum wants Good Returns to find more corporate partners. The bar is even higher long-term. "We want to see Good Returns become a national brand that mobilizes a very significant amount of capital toward innovative solutions—not just in Dallas and throughout the country but around the world."
A version of this article was first published in Dallas Innovates 2019—The Magazine.
---
Read it online
Dallas Innovates 2019—The Magazine explores the region as a rising tech hub that will shape the future of innovation. The theme of our second annual print publication, "A Breakout Moment," explores why now is the time for the region to grab its place in the tech universe.

Get on the list.
Dallas Innovates, every day.
Sign up to keep your eye on what's new and next in Dallas-Fort Worth, every day.