Pam Saunders wears a deep purple wristband on her arm that resembles a FitBit while her husband Larry dons a belt clip reminiscent of a pager. They're more than accessories for the Arlington couple — they're a safety net.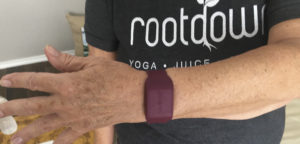 The device, called MyNotifi, tracks steps and is equipped with exercises, but also automatically detects if Pam or Larry fall and alerts a pre-programmed list of family members, friends, or designated caregivers that they are in need of assistance.
Fort Worth-based medical device company MedHab developed the wearable automatic fall detection technology and app powered by a proprietary artificial intelligence algorithm.
Fall death rates in the U.S. have increased 31 percent from 2007 to 2016 for older adults.
Fatal falls are increasing in the U.S., according to data from a CDC study released in May.
The report showed fall death rates in the U.S. have increased 31 percent from 2007 to 2016 for older adults. In 2016, a total of 29,668 U.S. residents ages 65 and older died as a result of a fall, compared to 18,334 deaths in 2007.
"We're all going to fall. It's just a matter of time," co-founder and CEO of MedHab Johnny Ross said. "But, if we can mitigate that greatly, then that's a real accomplishment."
He said when it comes to the amount of time victims spend on the floor after a fall that minutes matter.
"Blood pressure and anxiety can rise, dehydration can set in, bleeding can occur along with other negative health outcomes that can lead to hospitalization," he said. 
A NEED FOR WEARABLE REMOTE TECHNOLOGY
MyNotifi is MedHab's third product following StepRite insoles and RPM², a running and cycling footbed power meter.
Ross, who previously held various leadership positions for Johnson & Johnson, founded MedHab in 2008 after his own experience going through rehabilitation following total knee reconstruction surgery.
He had to follow a strict regimen of partial weight bearing and range of motion exercises, which proved to be difficult because he had to estimate how much he was placing on his knee himself. He saw a need for wearable rehab technology that would make the process easier for patients and physical therapists.
The idea for MyNotifi came to Ross while he was going to the YMCA to test StepRite, which measures body weight, pressure, gait, flexibility, and thermal sensing of lower extremities to help orthopedic surgeons and physical therapists customize rehabilitation protocols for patients.
While at the gym, Ross noticed a group of seniors who were socializing more than working out. He thought that a device for the wrist with range-of-motion and strength training exercises that would encourage seniors to work out might help keep them be more active.
After doing research and speaking with health experts, Ross received advice to add fall detection to the wristband.
He took his concept to Angelo State University in San Angelo, where a team of physical therapy students and faculty helped develop the technology for the device over a period of three years.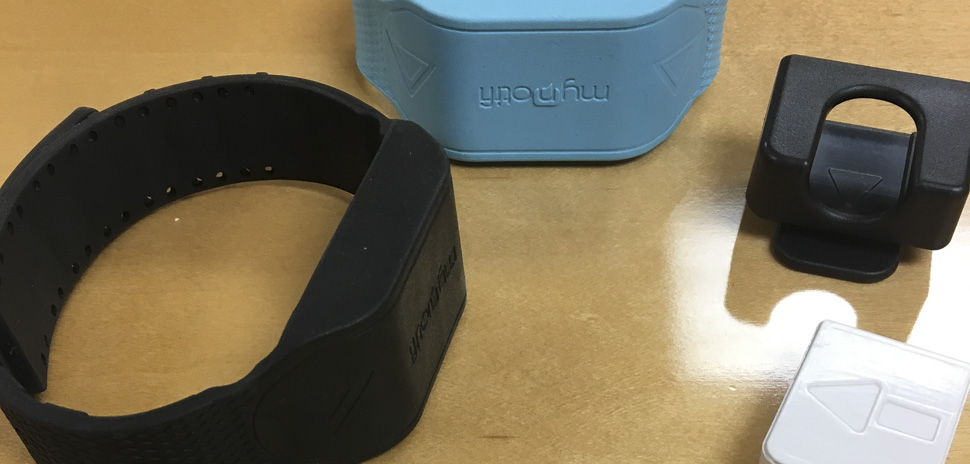 "The biggest challenge centered around how to make it communicate, the artificial intelligence in and of itself, and battery consumption," Ross said. "It uses a lot of battery, so we had to be very creative in how we made it think and trained it to understand what falls are not so it has to think less."
The team gathered data from the CDC about different types of falls common for seniors. Then, students worked to re-create them — with mats of course.
"We told them which way to fall and put the device on each wrist so we could catch the left and right hand at the same time," he said. 
To weed out false alarms, the team had people do exercises programmed in the device and random, everyday movements such as cleaning. 
"Once we captured the data, we built the neural network and then fed the data to it to train it," Ross said.
MYNOTIFI CURRENTLY HAS 400 USERS
MyNotifi hit the market a few months ago and has about 400 users. By year's end, MedHab aims to sell between 25,000 and 50,000 units.
MyNotifi's main competitors include well-known Life Alert, Lifeline from Phillips, and ADT's Medical Alert Plus. 
"There's a handful of these coming out," Ross said. "The difference is that most of them do not have fall detection. You have to push a button if you fall, and that's OK, they're still good products. With most of them, you're relegated to the home, and 100 percent of them require a call center. We circumvent the need for all of that with this device."
MyNotifi requires a one-time user fee of $299, and doesn't have a contract or monthly call center fee like similar products on the market.
Pam and Larry are in their early 70s and live an active lifestyle, but they both have had surgeries recently that they knew added to their risk of falling. Pam has had both of her knees replaced, and Larry had emergency spine surgery.
"Prevention goes hand in hand with detection."

Johnny Ross
The couple chose MyNotifi because their family and friends are on the other end of the emergency notification and not a stranger at a call center. They also have found the technology easier to use and wear compared to other fall-detection devices.
"I particularly didn't like that I had to wear a necklace all of the time," Pam said. "No offense to people that do. That's wonderful if that works for you, but we're pretty active and to have that flopping isn't ideal. MyNotifi works best for us in every circumstance."
Pam also utilizes the 38 exercises programmed into MyNotifi.
"Prevention goes hand in hand with detection," Ross said. "The MyNotifi app features exercises commonly used by physical therapists to help maintain an active lifestyle and reduce the chances for a fall."  
OPPORTUNITIES FOR EXPANSION 
MedHab is working to embed in the app an exercise program called Otago, developed at University of Otago in New Zealand and licensed by University of North Carolina's School of Medicine. It consists of a series of 17 strength and balance exercises utilized by physical therapists that are proven to reduce falls by 35-40 percent for older adults.
An Otago button would be added to the app, so physical therapists will be able to recommend Otago and MyNotifi to patients at risk.
"That's a big deal because now we're retail plus clinical," Ross said.
Ross said that often when seniors leave physical therapy with recommended exercises they stop doing them and return to a higher risk of falling.
"Now, we're giving [physical therapists] the vehicle where they can pull up all of their patients and look at how they're doing," Ross said. "If they see degradation in movements, they can make a phone call — whether it's monthly or quarterly telecommunication sessions with them, it is in line with the Chronic Care Act."
Aside from Otago, Ross said MedHab hopes to advertise with AARP and AMAC. It also aims to work with caregiver organizations and distributors to enter retail outlets.
The company is putting all of its resources behind MyNotifi as it launches it into the market. The device doesn't require insurance or Medicaid approval. It is fully HIPAA compliant and an FDA Class I (exempt) device meaning it doesn't require a prescription either.
"StepRite, the footbed device for physical therapy, is a class II device. It's ready to go, but we're waiting on the market and what's going to happen with bundle payments."
For its second product, RMP², MedHab is aiming to license the product to a company such as Under Armor, with which it's had a few discussions.
INCUBATED TO SUSTAINABILITY
MedHab has seven issued patents and seven more pending, but for all of the innovation MedHab as done with remote wearable technology, Ross credits nonprofit incubator TechFW and its executive director Darlene Boudreaux.
"Being engaged with TechFW is the reason why I am here today," he said. "When I started this I looked around at different incubators and the reason why I chose TechFW is because of Darlene's background. She's been there and done it. She started her company and sold it — the whole nine yards."  
Boudreaux worked with Ross extensively during the early stages of starting MedHab, whether that was helping him enter checks into Quickbooks or helping him secure funding.
"Bringing in money is not the goal. Bringing in the right money at the right time is the goal," Boudreaux said.  
"Bringing in money is not the goal. Bringing in the right money at the right time is the goal."

Darlene Boudreaux
After pulling together engineering and manufacturing for the business, Ross now needs less support from TechFW for day-to-day operations.
The Fort Worth company, which has a staff of 10 employees and a half dozen engineers on contract, recently opened a Series E funding round to be used as runway money for marketing and business operations, Ross said.
"Going from the idea to the actual manufacturing of something is really difficult. That's a tough transition for entrepreneurs, and Johnny has mastered that," Boudreaux said.  
"When you do this, there's no way you can be exposed to everything you need to know. It's just baptism by fire," Ross said. "When I started with TechFW, I realized I didn't know what I didn't know. They filled all the gaps and linked me to a lot of different people that made it all work."
MedHab is already in the early stage of designing generation two of MyNotifi, which will include more features, Ross said.