UTSW FINDS WHEN A HEALTHY PROTEIN TURNS TOXIC IN ALZHEIMER'S STUDY

Researchers at UT Southwestern Medical Center have pinpointed the "Big Bang" of Alzheimer's disease.
The study from UT Southwestern's O'Donnell Brain Institute found the moment at which a healthy protein turns toxic, but hasn't yet formed the deadly "tangles" in the brain associated with the disease.
Researchers looked at the "shape-shifting" tau molecule just before it begins sticking to itself to form the larger agregates, offering a new strategy to detect Alzheimer's disease before it takes grip.
The discovery could lead to new treatments that would stabilize the tau proteins before they can alter themselves, according to UT Southwestern.
"This is perhaps the biggest finding we have made to date, though it will likely be some time before any benefits materialize in the clinic. This changes much of how we think about the problem," said Dr. Marc Diamond, director for UT Southwestern's Center for Alzheimer's and Neurodegenerative Diseases. He's a leading dementia expert who was "credited with determining that tau acts similarly to a prion — an infectious protein that can self-replicate," according to UT Southwestern. 
Find out more in James Beltran's report here.
---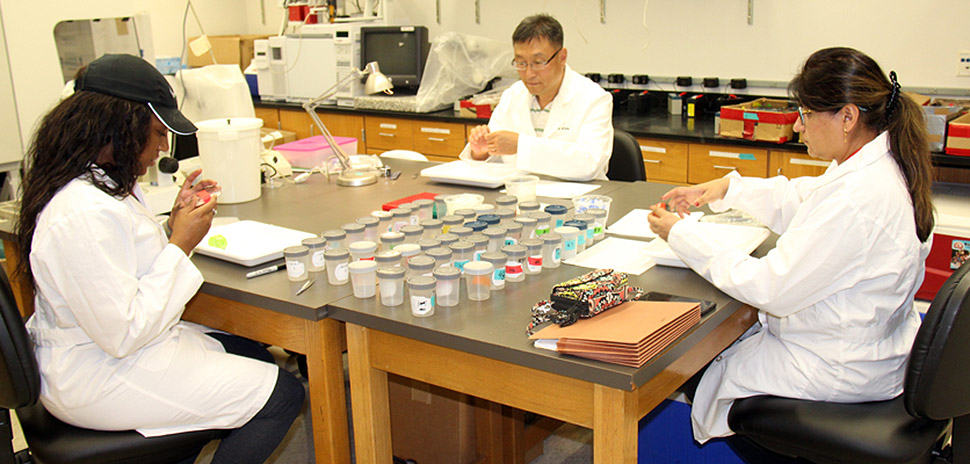 Lee and his team analyze mosquitoes in their lab. [Photo courtesy of UNT Health Science Center]
UNTHSC SCIENTIST WORKS TO TAKE THE BITE OUT OF MOSQUITO SEASON
A researcher at the University of North Texas Health Science Center in Fort Worth doesn't mind the buzz of mosquitoes in the summer skies. They're his scientific prey.
Joon-Hak Lee, associate professor of biostatistics and epidemilogy at the the center's School of Public Health, has spent the past six mosquito seasons in North Texas researching the activities of the pests and predicting trends for the city of Fort Worth.
"It's a consistent approach throughout the summer so that local residents can be alerted if they need to take extra precautions when planning their outdoor activites."

Joon-Hak Lee
That's because mosquitoes are more than just pests, they can carry potentitally deadly diseases such as West Nile virus.
There are 50 mosquito monitoring sites across the city with another 12 trapping stations at parks that include the Fort Worth Botanic Gardens, Fort Worth Zoo, and the Fort Worth Nature Center and Refuge.
Lee and his team spend five days a week setting traps, collecting a bunch of mosquitoes, and analysing them from May to October.
After information is collected during the week, updates are given to the city on Thursdays.
"It's a consistent approach throughout the summer so that local residents can be alerted if they need to take extra precautions when planning their outdoor activites," Lee said.
UNT ASSISTANT PROFESSOR NAMED POWE AWARD WINNER
Tao Yang, an assistant professor in the University of North Texas College of Engineering, has received the prestigious 2018 Ralph E. Powe Junior Faculty Enhancement Award from the Oak Ridge Associated Universities.
Yang received the honor for his research into the future of electrical distribution microgrids, according to the university.
"Traditionally, electricity is provided through one central distribution network. This means a problem in one area will affect the entire grid causing power outages and blackouts," Yang said in a release. "Now, imagine if each user had a microgrid. People would be able to manage their own power distribution so if the main grid goes down they will still have power."
The Powe award provides seed money for research by junior faculty at ORAU member institutions and are meant to enrich the research and professional growth of young faculty as well as provide new funding opportunities.
The university said that awards from Oak Ridge, a consortium of 121 major Ph.D.-granting universities across the nation, can be used for faculty summer salary, graduate student salary, travel, equipment, or other assistance that relevant to the faculty member's research.
READ NEXT
Discovery: Study Examines Blood Test for Alzheimer's; AgriLife Probes Plant Disease Resistance