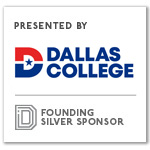 As occupancy restrictions for Texas restaurants slowly lift, many in the food and hospitality industry want you to be sure of one thing: Restaurants have stepped up their efforts to responsibly serve, cook and clean so guests can once again enjoy the dining experiences that so many of us have been longing for since the pandemic began.
Using a $500,000 grant from the Texas Workforce Commission (TWC), the Texas Restaurant Association (TRA) has partnered with Dallas College to provide online training and certification for restaurant workers and owners. The aim is to give businesses the chance to examine and improve their protocols and, through certification, restore consumer confidence in dining out. 
The certification, and notification to patrons that a restaurant has completed the training, will come in the form of an easily recognized decal affixed on the doors of your favorite neighborhood restaurants, cafes and bars—not unlike the food safety letter grade signs introduced in New York more than a decade ago.
Additionally, Texas restaurants will receive free covert inspections through a partnership with A Closer Look, a mystery shopping and customer experience company with decades of experience in the hospitality sector. Even as restaurants across the state re-open their dining rooms after forced closure due to COVID-19, 77% of consumers still say they plan to reduce visits to restaurants in the future.
In order to save many restaurant establishments from going under, the TRA thought it was necessary to come up with a way to address consumer confidence through a holistic program that will train, inspect and certify restaurants on the additional precautions that must be taken per the governor's minimum standard health protocols.
"Dallas College is excited to partner with the Texas Restaurant Association to deliver rigorous online health and safety training aligned with the guidance provided by various public regulatory agencies," said Dr. Joe May, chancellor of Dallas College. "With restaurants offering their patrons added peace of mind after training and certification, there will be increased revenue for businesses, particularly the restaurant and hospitality industry, which has suffered devastating losses. Dallas College strongly supports the local economy and renews its support for the workforce that powers them."
The training program consists of five courses with a focus on each role within the restaurant: New Protocols for Owners and Operators; Take Out, Delivery and Food Trucks; Front of House Staff; Back of House Staff; and Cleaning Crew. In order to become certified and earn a decal, employees from a restaurant must complete all five courses.
A member of A Closer Look's team will visit participating restaurants, providing feedback directly to the owner for more focused training. The initial grant from Texas Workforce Commission will provide funding for 500 restaurants to be evaluated and certified with 2,500 of their employees receiving training. TRA and Dallas College plan to continue expanding grant funding from the TWC to ensure all restaurants and employees can participate. 
"This comprehensive program allows restaurant owners and their staff to demonstrate to the public that they have done everything possible to safely receive guests in their dining rooms," said Dr. Emily Williams Knight, president and CEO of the TRA. "I am proud that TRA can provide a training program to ensure employees are aware, trained and certified in what is expected and required to safely operate today. This is a big win for our industry and will continue to build trust between consumers and restaurants. With more than 700,000 jobs lost and $5 billion in revenue since the start of the pandemic, Texas restaurants need this support, and I am confident we will continue to rise to the challenge of feeding and caring for Texans."
The first class will start on June 25 with approximately 2,500 trainees.
Get more information on the restaurant health and safety classes.​

Get on the list.
Dallas Innovates, every day. 
Sign up to keep your eye on what's new and next in Dallas-Fort Worth, every day.