A unique education program at Southern Methodist University in Dallas is welcoming social sector leaders back to school—this time, to nurture social entrepreneurs committed to making a difference in their communities.
More than 60 leaders from across Dallas-Fort Worth became the first cohort of a new 11-session certificate program to become social entrepreneurs.
The program at the Collins Executive Education Center at the SMU Cox School of Business is a new partnership between SMU Cox and Communities Foundation of Texas (CFT). At the end of the seven-month program, participants earn the Social Entrepreneurship Certificate for Social Sector Leaders and be equipped to tackle the community's most challenging social issues, CFT said.
The certificate program is a "first-of-its-kind university certificate program 'for social entrepreneurs, by social entrepreneurs,'" said Faculty Director Suzanne Smith, who is also the founder and CEO of Social Impact Architects.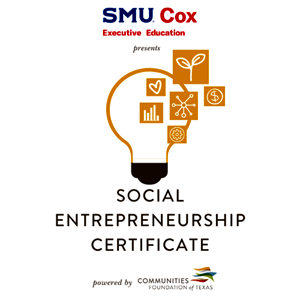 Smith says the program brings faculty with academic and practical experience to teach the sessions for leading changemakers in North Texas.
"The program has gotten some high praise," Smith said in an email to Dallas Innovates. "I see it as an investment in our future innovation ecosystem."
Communities Foundation said that social entrepreneurship applies the principles and guidance often used by startups and entrepreneurs to a business or nonprofit that directly generate social change or addresses a social issue.
Social entrepreneurship is a concept that has become more popular on college campuses over the years and is being taught across many disciplines as a strategic mindset for tackling social issues.
The partners said that this new course is structured like an MBA course and is specifically designed for working professionals to learn key components of social innovation, social impact, and social enterprise.
Creative thinking to solve community challenges
Communities Foundation said that it is underwriting program costs which allows the more than 60 selected participants to receive an Executive Education certificate from SMU Cox valued at $2,300 each, at no cost to them, other than their time.
"We believe this course will help transform how the participating leaders conduct business," Ashley McIver, senior philanthropy officer at Communities Foundation of Texas, said in a statement. "We hope that this will create a cross-sector network of leaders who think creatively about solving our community's challenges, asking more questions that help develop human-centered solutions that have both financial and social impact for generations to come."
Shane Goodwin, associate dean of graduate programs and executive education at SMU Cox said that the program can have a positive impact.
"Social entrepreneurship is a force for good. It marries mission and money for the benefit of stakeholders," Goodwin said. "It is both an art and a science, applying the best business principles with conscious capitalism and a large dose of altruism."
Faculty Director Smith is a social entrepreneur and adjunct professor at SMU Cox School of Business and has taught social entrepreneurship at The University of Texas at Arlington, University of North Texas, and Pepperdine University for the past 10 years.
Smith studied under one of the founders of social entrepreneurship, J. Gregory Dees, at the Fuqua School of Business at Duke University, where she was the CASE (Center for the Advancement of Social Entrepreneurship) Scholar.
A serial social entrepreneur, she's been recognized for her outstanding contributions to the field, receiving the Social Enterprise Alliance's Next Generation Social Entrepreneurs Award and the Dallas Regional Chamber's Young Athena Leadership Award.
Inaugural class
The inaugural certificate program garnered more than 300 applications, making the selection process highly competitive, CFT said.
The following impact leaders are participating in this first-ever 2023-24 program:
Tiffany Washington – Abide Women's Health Services
Kristi Avalos – Accessology Too LLC
Chynna Goree – Act
Ara Grimaldo – After8toEducate
Jian Xie – Asian Culture and Education Society USA
Monica Ordonez – Bachman Lake Together
Catherine Lovett – Capital One
Teressa Jimenez – CASA of Collin County
Devon Briggs – Children's Health
Kimberly Richards – City of Dallas
Chelsea Jeffery – The Commit Partnership
Ben Travis – Community Frontline
Mahoganie Gaston – Dallas Independent School District
Jennifer Kapinos – Denton Music and Arts Collaborative
Dante Williams – DIG Contracting
Ashley Williams – Engage Dallas
Albert Vazquez Jr. – Equal Heart
Lexi Peterson – Excellence in Giving
LaVeeta Hamilton – Family Promise of Collin County
Kimberly Skidmore – Fannin County Children's Center
Eric Czechowski – First United Methodist Church Richardson
Samantha Moya – For Love & Art
India Stewart – Founders and Funders of Color
Tristen Wilson – Frost Bank
Isabella Chamberlain – Good Local Markets
Britney Barker – Grayson County Children's Advocacy Center
Gilberto Atayde – Greater North Texas Hispanic Chamber of Commerce
Lora Atkinson – Habitat for Humanity of Denton County
Melanie Hawkins – Hawkins' Heart
Dania Carter – Heart of Courage
Leticia Gallegos – Hispanic Real Estate Brokers Association (HREBA)
Barbara Johnson – Hope Supply Co.
Lauren DeVries – J.P. Morgan
Jay Taylor – Juxta Developments LLC
Ferrell Fellows – Kingdom Legacy Co.
Tamara Harrington – Leadership ISD
Jessica Dunn – Leukemia Texas
Lisa Fellers – Lighthouse for the Blind
Juleon Lewis – Live Pura Vida
R. Mateo Magdaleno – Magdaleno Leadership Institute
Yvette Medina – Mark Cuban Foundation
Edna Henderson – Meadows Mental Health Policy Institute
Mandy Noerper Smith – My Possibilities
Sabrina Conner – North Texas Behavioral Health Authority
Gene Tremblay – Oakwood Bank
Brett Moran – Parkland Health
Sarah Hughes – Parks for Downtown Dallas
Toby Savitz – Pathfinders
Matt Haas – PGA of America
Chelsea Robertson – POETIC
Adan Gonzalez – Puede Network
Lindsay Zehentbauer – SafeHaven of Tarrant County
Minerva Bediako – Samaritan Inn
Jacob Taylor – Sharing Life Community Outreach
Laura Hoagland – Southwest Airlines
Natalynne Walton – State Fair of Texas
Brenda Snitzer – The Stewpot, First Presbyterian Church of Dallas
Nick Marino – Tango Charities
Heather Zrubek – Texas 2036
Shelby Bobosky – Texas Humane Legislation Network
Samra Ali – Texas Muslim Women's Foundation
Alyssa Studer – University of Texas at Austin, LBJ School of Public Affairs, RGK Center for Philanthropy & Community
Caazena Hunter – Young Leaders Strong City
Employing entrepreneurial approach for 'exponentially greater impact in the community'
Participant Eric Czechowski, creative director at First United Methodist Church of Richardson, said he's excited to be in the program.
"This is the first opportunity I've known about that explores intersections between the for-profit and nonprofit sectors, honors and celebrates both for the role they play in society, and analyzes what each can learn from the other," Czechowski said. "As a longtime employee in the nonprofit world, I've always been interested in how we might utilize corporate wisdom in the hopes of exponentially greater impact in the community and beyond, so this is a dream to be a part of."
Participant Ashley Williams, executive director at Engage Dallas, said she's glad to be in the program.
"I have already enjoyed learning more about the role of entrepreneurial culture and insights into systems thinking and systems change," Williams said. "Things are evolving, and I'm excited to be a part of it."
Of the first sessions, Smith felt an electric energy in the room: "We can't wait to see the social impact it sparks for the community."
Quincy Preston contributed to this report. 

Get on the list.
Dallas Innovates, every day.
Sign up to keep your eye on what's new and next in Dallas-Fort Worth, every day.