As the name implies, 900lbs of Creative is a heavy hitter in the virtual and augmented reality world.
The 15-person team has done work for the likes of the Dallas Cowboys, Hewlett-Packard Enterprise, and Vroom. It even has clients in Europe.
Founder and CEO Steve Deitz said the company has had 120 percent growth since 2014 with all of it being organic. The content creation company focuses on interactive experiences.
"We're right at the cutting edge."

STEVE DEITZ
"We work with some of the biggest brands in the world and they're only pushing more and more innovation," Deitz said. "We're right at the cutting edge."
On any given day, it's busy working on a multi-player VR game, or an AR game where you can use a tablet to drive the DeLorean from the Back to the Future series around the room. The team created a VR soccer experience in partnership with FC Dallas where people can pretend to be goalies.
It uses a 10-camera GoPro rig to film 360 video in the real world — then all the raw video has to be stitched together.
900lbs of Creative recently filmed underwater footage for the Boy Scouts of America off the coast of Florida. The circular rigs that hold the GoPros together were made from a 3-D printer.
Looking toward the future, Deitz envisions AR content that takes a lifeless bag of chips or a store catalog and brings it to life through a tablet or mobile device. The company has already talked with Neiman Marcus about possibilities with its Christmas catalog.
"You can go so far with this stuff," Deitz said. "We could bring that to life in a neat way."
FROM AUTO REPAIR TO CREATIVE AGENCY
All of this work comes from an unassuming, two-story office in the Bishop Arts District in Dallas. The building used to be an automotive repair garage.
But, your perception changes the second you walk in the door.
"We could bring that to life in a neat way." 

STEVE DEITZ
First, your eye is drawn to the fire pole that pokes through the second floor. Because who has time to take stairs when you're working on the latest media content?
Then, you see the do-it-yourself furniture, some of it custom-made by Chip Mansfield of HGTV fame. There's the conference table with ice troughs full of beer and other drinks. Large tree-trunk size tables built by Wood From the Hood. The natural wood floors. And, the raging gorilla Deitz drew on the wall.
In back, there's a "zen garden" where employees can relax or get some work done in peace.
900lbs of Creative was just the kind of tenant building owner David Spence had in mind when his company, Goodspace, bought the building in 2003.
He found the 5,000-square-foot building full of old auto parts and in desperate need of an update.
He spruced it up and renamed it Route 80 Studios, an homage to the old Route 80 cross country highway that used to go in front of the building. That highway was converted to Davis Street when Interstate 30 came through Dallas in the late 1950s.
900lbs of Creative moved into the space four years ago and have gradually added on as the company grew. It took over the second floor two years ago and added a new private conference space just three months ago.
At first, Spence wasn't as enthusiastic about cutting a hole in the floor and installing a fire pole.
"It wasn't my idea. I told them to consult their attorney and make sure they want to take on that liability," Spence said. "Those guys are full of enthusiasm so I eventually caved and let them put that in. I thought it was a playful touch."
In addition to 900lbs of Creative, Spence has two architects and an art printer located inside the space.
Photos by Michael Samples: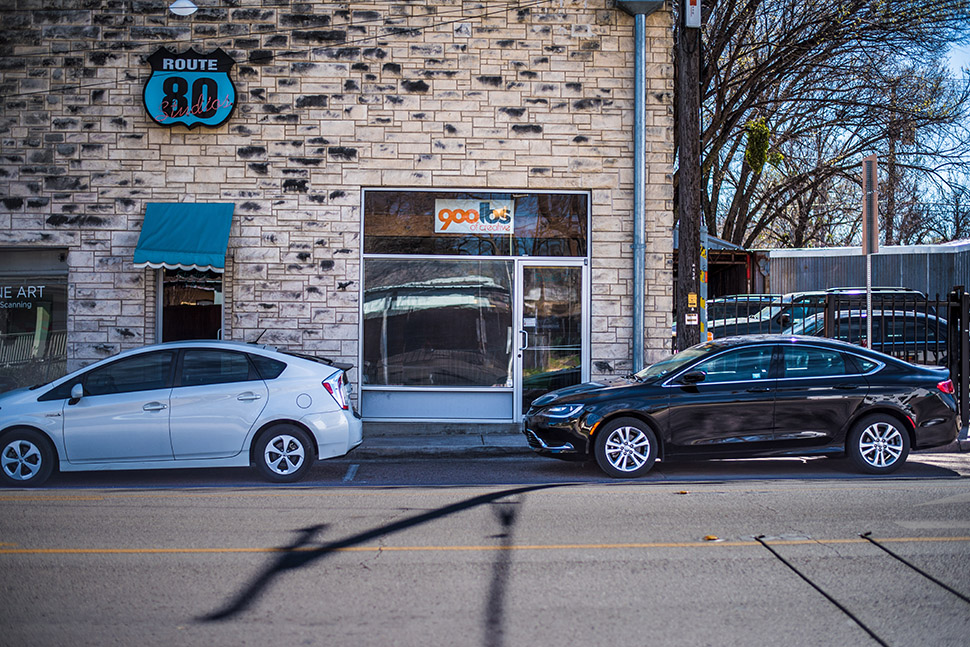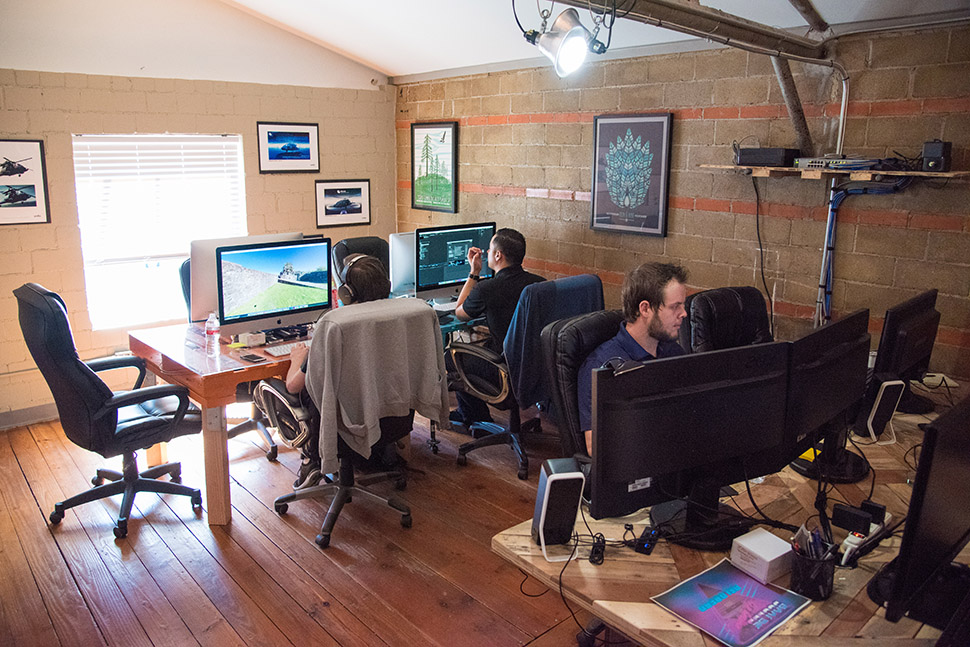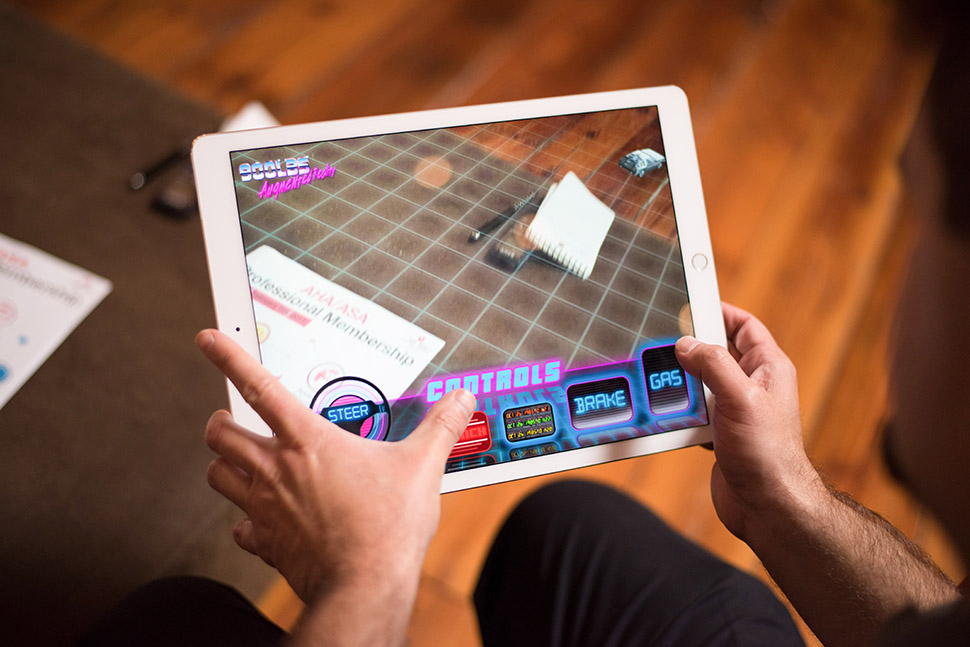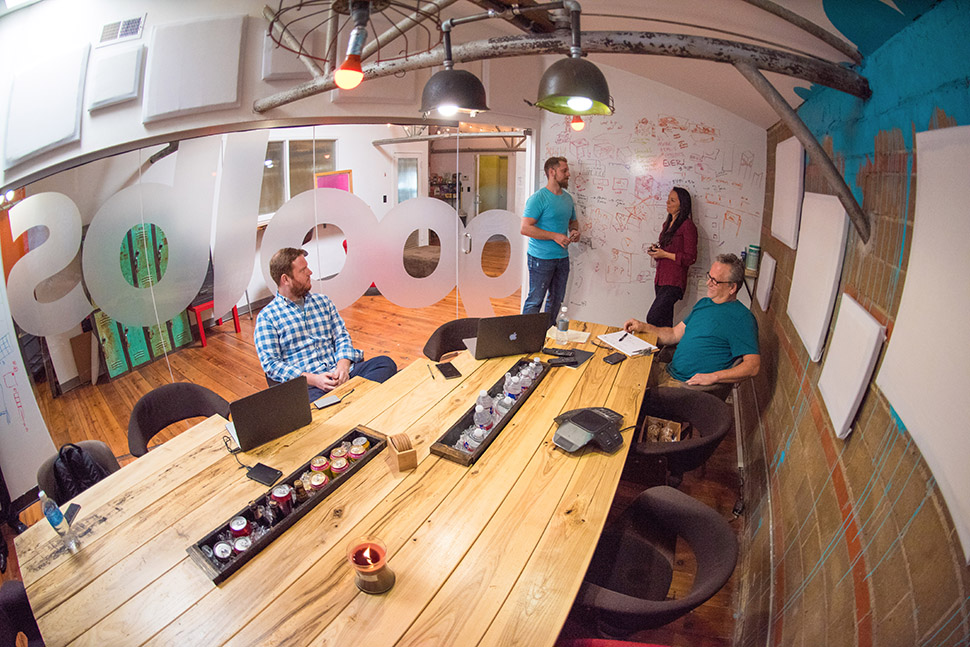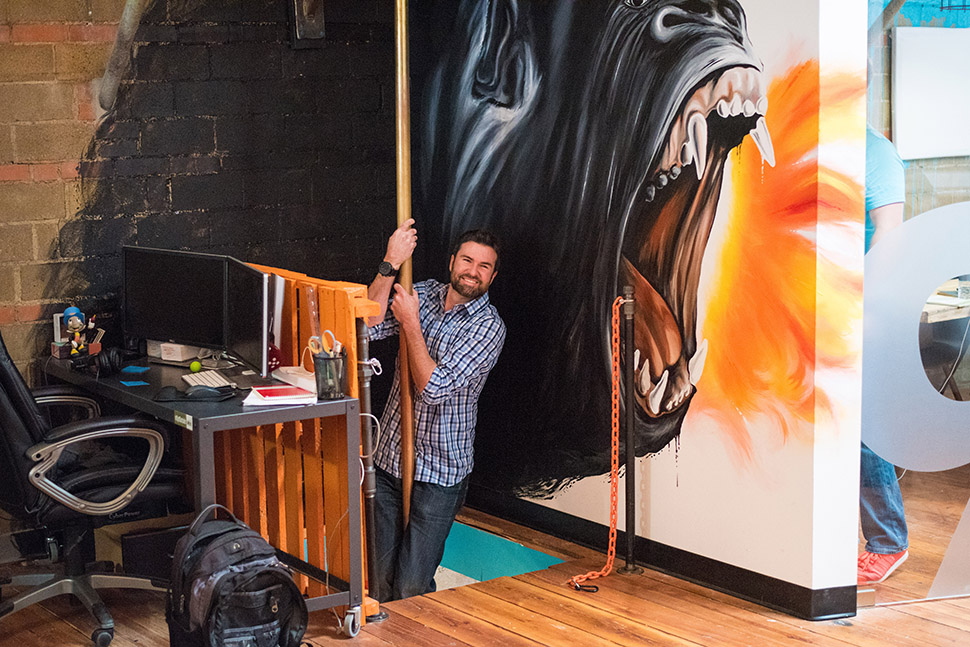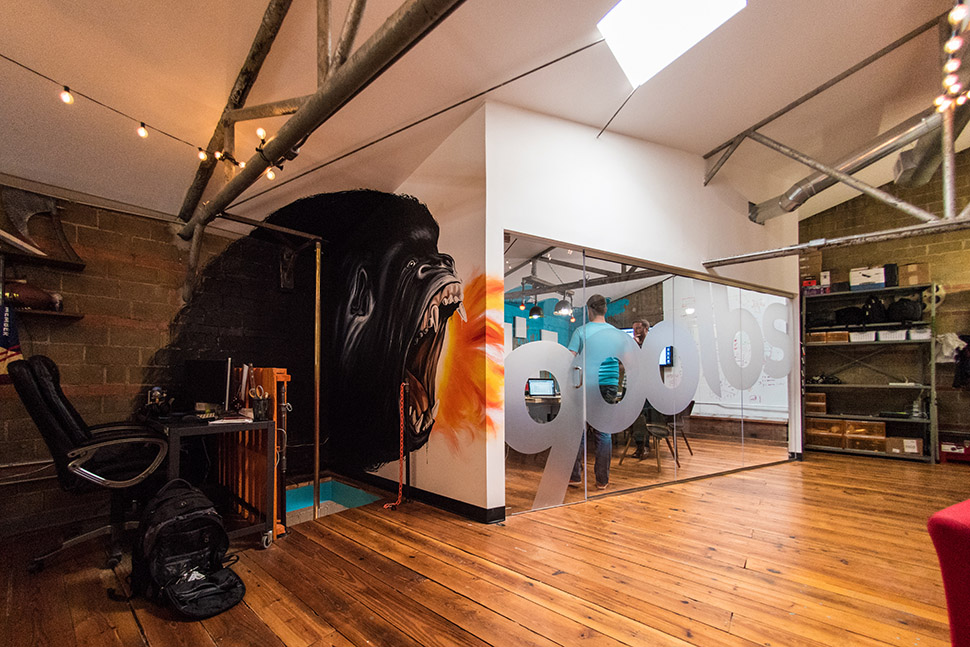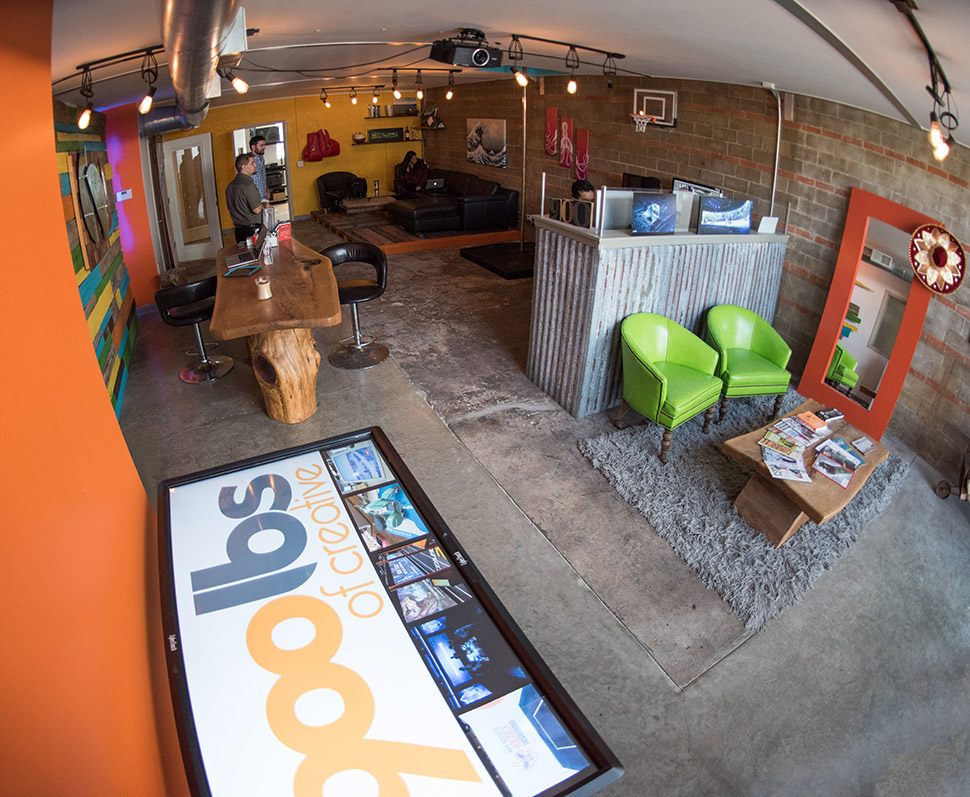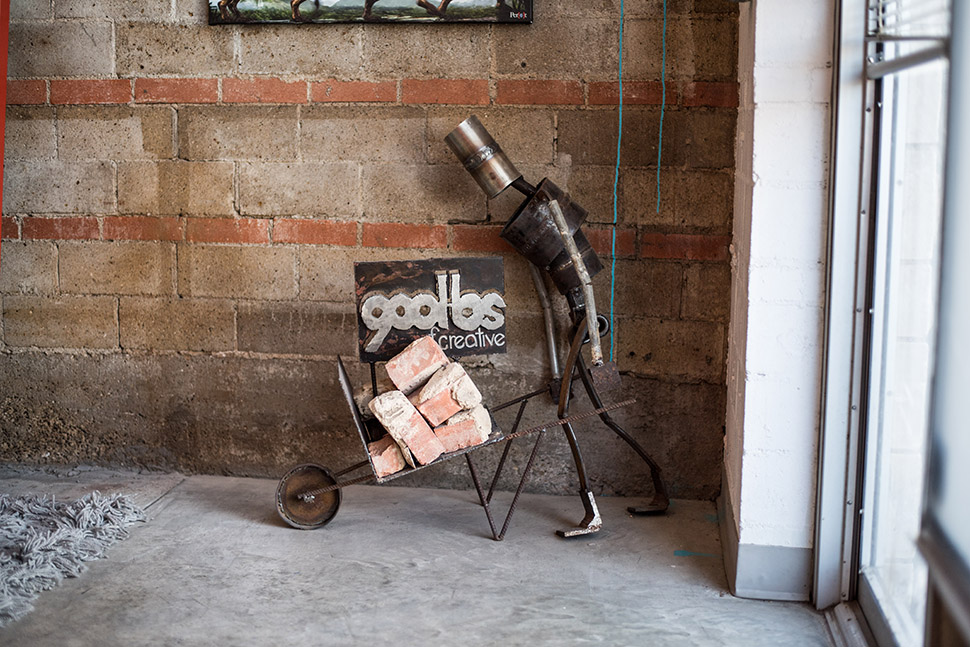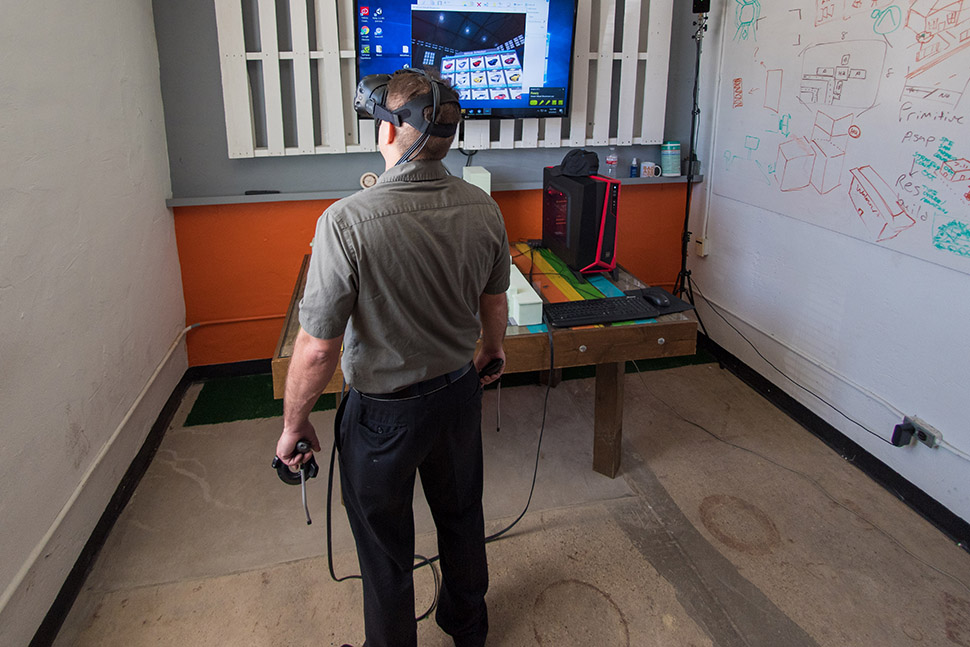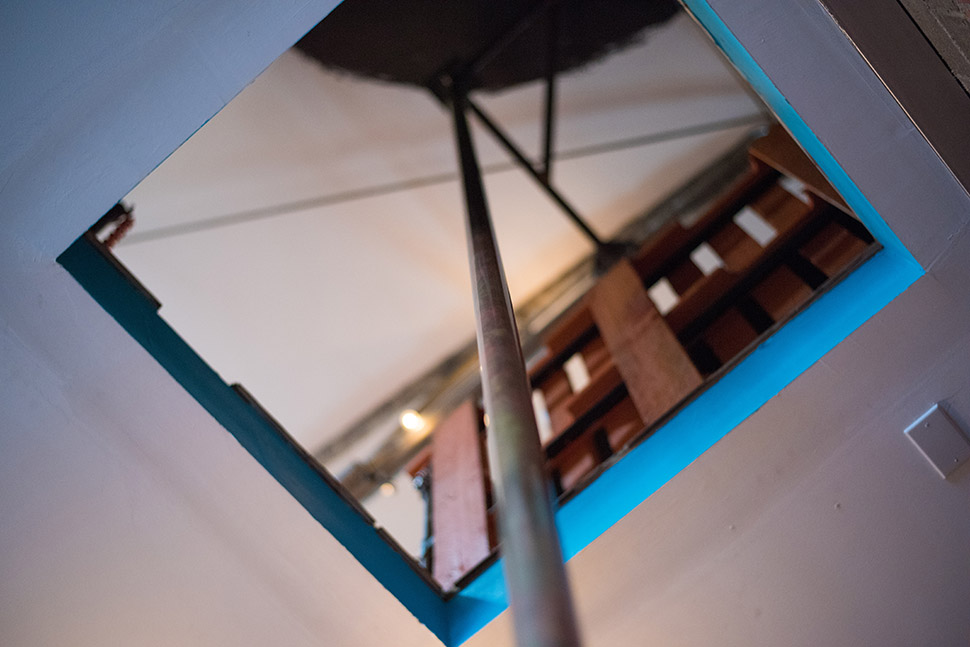 ---
Delivering what's new and next in Dallas-Fort Worth innovation, every day. Get the Dallas Innovates e-newsletter.