Dennis K. Stone was an accomplished scientist and an instrumental figure in biotechnology developments and advancements at UT Southwestern and in the Dallas-Fort Worth area.
Among his many accomplishments, Dr. Stone led UT Southwestern Medical Center's Office for Technology Development and launched its BioCenter at Southwestern Medical District. Of his many contributions, Dr. Stone is remembered by colleagues as "having an infectious enthusiasm and passion for the biotechnology industry". This passion helped fuel the confidence of companies and investors and kicked off an emergence of the industry in North Texas.
Every year BioNTX is proud to honor Dr. Stone's memory and work by awarding an individual who has positively affected the North Texas biotechnology industry and contributed awareness and funds to life science research. Past recipients of this award are Phil Ralston, Lyda Hill, Darlene Boudreaux, Paul Dorman and Hubert Zajicek. Nominations for this year's recipient can be submitted on the BioNTX website.
Dennis Stone was born and raised in Dallas before receiving his undergraduate degree from UT Austin in 1973 and his medical degree from UT Southwestern in 1977. Following an internship and residency training at Columbia-Presbyterian, he obtained his postdoctoral training at UT Southwestern and Cornell University.
---
READ NEXT: BioNTX Will Hold Its 2021 IC3 Life Science Summit Sep. 30-Oct. 1 with a "Reignite" Theme
---
Dr. Stone joined the faculty of UT Southwestern as a member of the Nephrology Division of Internal Medicine and then became the Chief of the Division of Molecular Transport. He quickly ascended the academic ranks, becoming Professor of Internal Medicine, Physiology, and Biochemistry. He was the first Associate Dean for Medical Student Research and then was appointed Vice President of Technology Development (1998-2011).
In 2011, Dr. Stone left UT Southwestern to become the Chief Scientific Officer of Remeditex Ventures. Dr. Stone held this position from August 2011 to June 2016. During his time at Remeditex, he was involved in key investments into Texas-based companies such as Bellicum Pharmaceuticals and Peloton Therapeutics that not only were successful investments but also developed efficacious products that are either approved or in late stage clinical trials, benefitting patients across the globe.
He served as a Director of Reata Discovery, Eliance Biotechnology, Myogen, miRagen Therapeutics, MacroGenics, Reata Pharmaceuticals, Bellicum Pharmaceuticals, and Menlo Therapeutics.
The impact that Dr. Stone left on the DFW biotech industry is immeasurable. Dr. Stone's legacy is carried on by his wife and colleague, Dr. Helen H. Hobbs, with whom he shared a strong commitment for the UT Southwestern mission. "Dennis was committed to the development of biotechnology in Dallas both as a faculty member of UT Southwestern and after he left to join the venture capital firm of Remeditex."
Today, UT Southwestern's technology office is responsible for more than 800 licenses including those supporting biotechnology companies, such as Reata Pharmaceuticals, Taysha Gene Therapies, ReCode Therapeutics, OncoNano Medicine, and many others.
Nominations are needed by Friday, September 17, and the Award will be presented on September 30. For information about the iC3 Life Science Summit, go here.
GALLERY
News clippings of Dr. Stone provided by Dr. Helen H. Hobbs: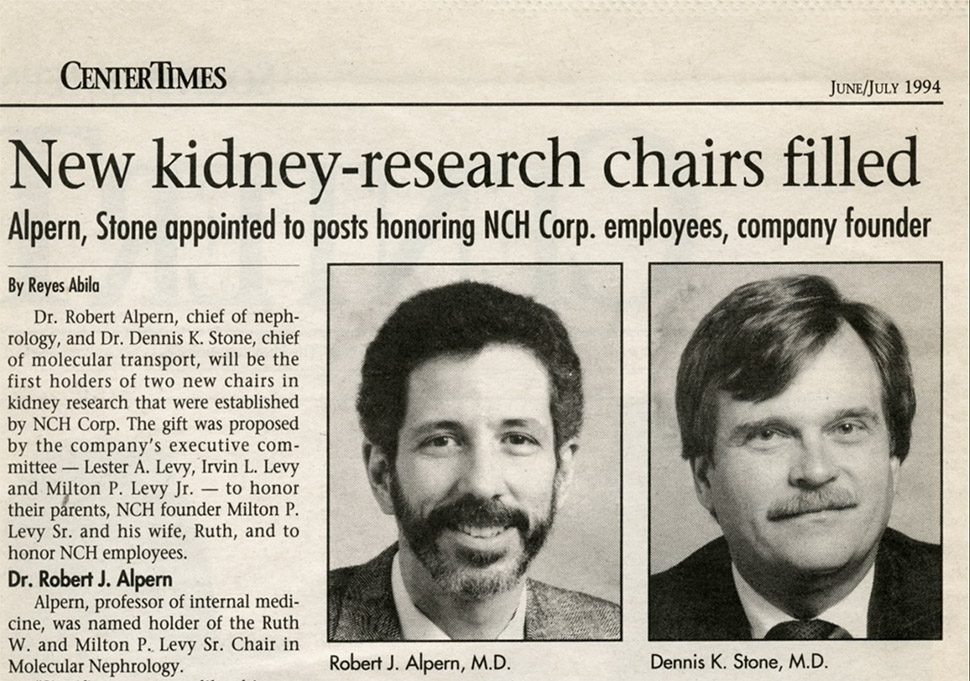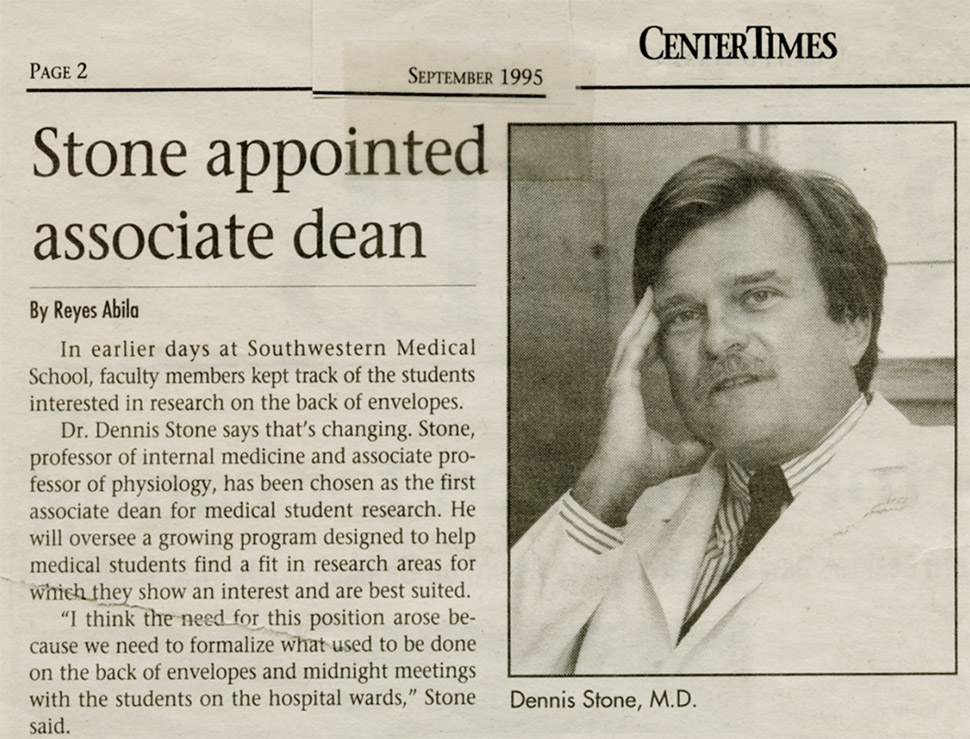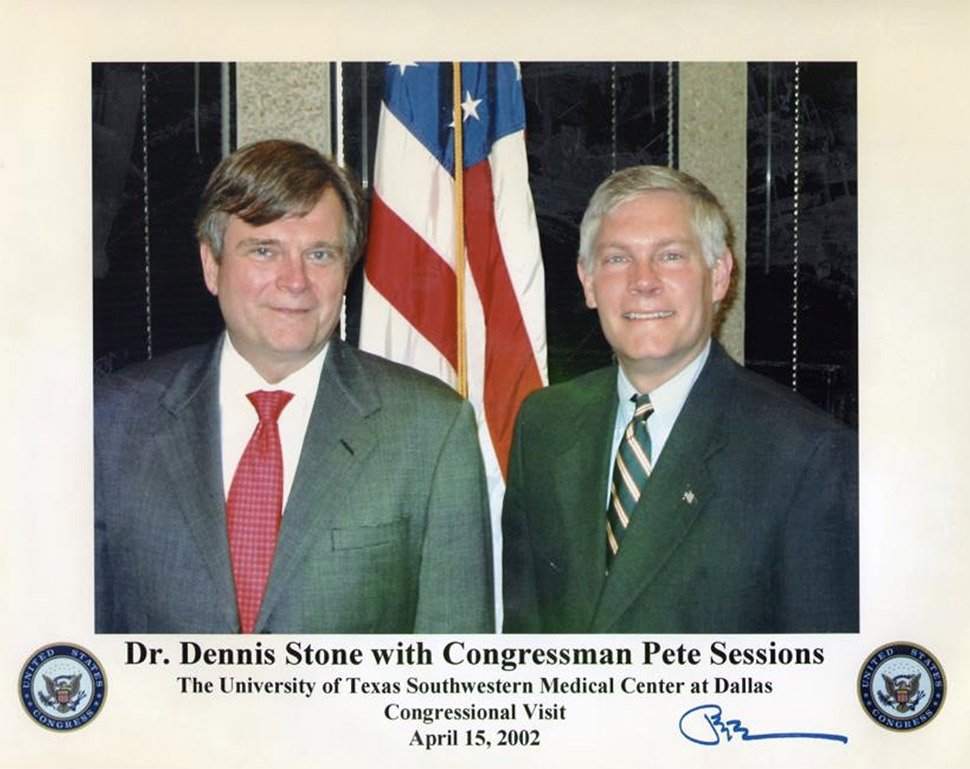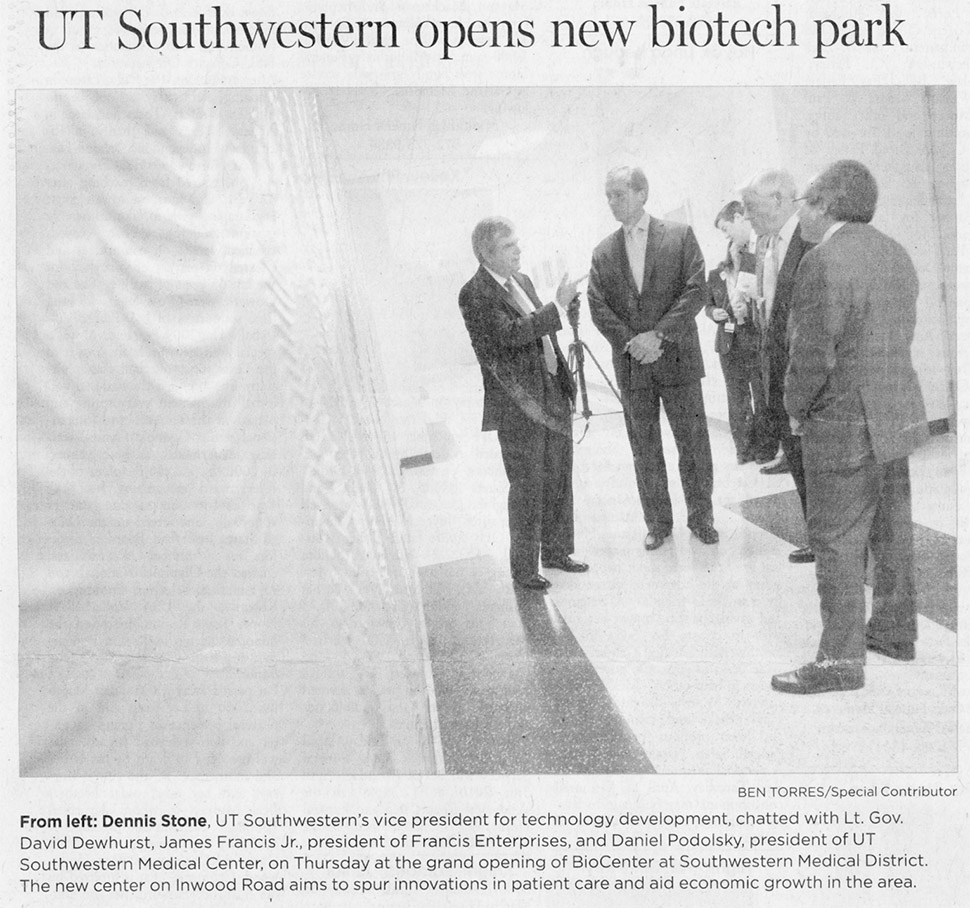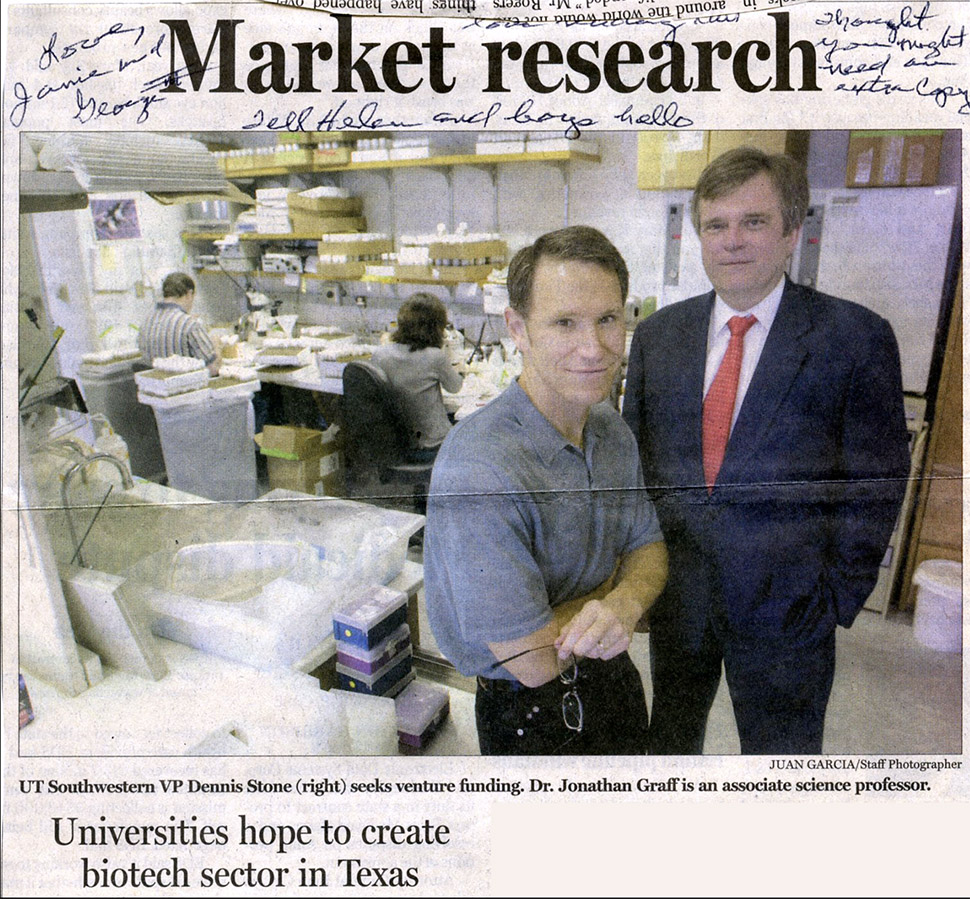 BioNTX is a Dallas Innovates partner organization.

Get on the list.
Dallas Innovates, every day.
Sign up to keep your eye on what's new and next in Dallas-Fort Worth, every day.