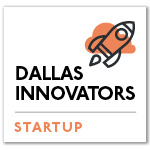 Mohamed Elwazer and Catherine Bentley are the husband-and-wife duo behind deep-learning software company LinedanceAI, which focuses on analyzing the performance of elite athletes.
LinedanceAI cofounder Elwazer, who is the CEO/CTO of the Dallas-based company founded in 2013, was featured in Dallas Innovates' Future 50 in 2020 for LinedanceAI's invention. The company's patented tech, which has also been filed in international patent offices in Canada, Israel, and Europe, sets it apart by analyzing full-body movements at the joint level in real-time. Through the analysis, biomechanically risky movements can be predicted ahead of time, while an athlete's performance can also be enhanced, he said. That technology can be used in other fields, too. 
In the wake of the COVID-19 pandemic, when many businesses have had to make difficult company changes, Dallas Innovates caught up with the founders for an outlook on 2020. While the Dallas-based startup is not being impacted in a major way and has no staffing changes on the horizon, working from home has still had its challenges, said cofounder Bentley, who serves as LinedanceAI's chief operations officer and business development officer.
"There is just no replacing face-to-face conversations throughout the day…hot debates around math, matrices, methodologies…while writing on boards or walls like we normally do at Capital Factory… so essential to our productivity," Bentley told us via email. 
She noted, "I think I speak for all of our team though when I say at the heart of what really is just inconvenience, is gratitude—we are all safe, healthy, still working together on what we are passionate about."
The LinedanceAI team is remaining optimistic, but also prepared, during the ever-changing current conditions.
"This is a great time for scenario building and strategy review, so that is happening for us. Our current outlook is comprised of three parts hope and two parts capital preservation. Our burn rate has always been tightly managed, now more so than ever. Market strategies will adjust," Bentley says.
"We were already engaged in some exciting new development work so that will continue with our tech team alongside ongoing projects."
Learning to line dance
The patented technology automates the analysis of the human body's joint-level movement in real-time, helping to both predict biomechanically risky movements for athletes and enhance their performances.
"It can literally analyze any human movement; it doesn't matter if it's in sports, security, sign language, or healthcare," Elwazer said, noting that the company expects to announce "notable partnerships coming this year"—both inside and outside of sports.
LinedanceAI's software can be embedded to automatically understand human movement in any context through its AI framework.
Bentley explains the platform's tech like this: In the same way that most Texans know the Cowboy Boogie or Electric Slide, and can use those dance sequences to dance to a variety of different songs, Bentley says, "Our algorithms are like a line dance."
Billions of dollars are spent on elite athletic performance every year, according to Bentley, with the market increasingly using AI for different aspects of the industry. But one aspect hasn't been captured yet: the athlete's actual movement. 
"Naturally, this is the most immediate market opportunity for the LinedanceAI platform but we do have movement projects in other domains to stress and test the algorithms," she says.
The insights generated from LinedanceAI's data support decisions across the domains of human performance and sports to other fields such as sports, security, healthcare, and more.
Leveraging the tech outside of sports
LinedanceAI has evolved its focus over time from sign language to performance analysis, but it still has ties to the latter through the American Sign Language 3D Database Project. The project is meant to build the world's first and largest body movement dictionary of American Sign Language (ASL) by leveraging LinedanceAI's 3D software and technology.
Linguist researchers, machine-learning engineers, and software engineers from around the world will be able to test and build sign-friendly software through the database once it's complete.
The sign movements are being recorded by Deaf partners across the nation, according to Bentley, to capture some regional accents in the movement-based language. While this database has the potential to affect many people's lives in the future, it's already helping some through the economic troubles that have resulted from the COVID-19 crisis.
"As a fee-based online project, now it is being done in homes of our partners giving some financial support to folks impacted by reduced business levels and personal income," Bentley says.
As Bentley puts it, "A new era of sign-accessibility is being nurtured—during one of the worst global health events we've ever known."
Despite the COVID-19 crisis, the LinedanceAI team plans to keep moving forward and has some notable partnerships coming this year both inside and outside of sports, but they're unable to speak on anything yet.
A version of this story was originally published in Dallas Innovates 2020: The Magazine. This story was updated 5/26/20 to reflect the new patent status of linedanceAI's tech.
---
Read it online
Dallas Innovates 2020: The Magazine highlights Dallas-Fort Worth as a hub for innovation. Our third annual print publication declares "The Future is Here." It's a moment for innovation in Dallas-Fort Worth, one that we've been working toward for a long time.

Get on the list.
Dallas Innovates, every day.
Sign up to keep your eye on what's new and next in Dallas-Fort Worth, every day.