Not all startups follow the cliché of a few people working away on computers in a garage. Some of the potential game-changing technologies, especially those affecting people's health and wellbeing, come from years of research inside university labs.
Last week at BioNTX's iC3 Life Science Summit, six university-led biotech- and life sciences-focused research efforts highlighted some of those innovative ideas in a competition that offered a pathway to commercialization during the Tech Transfer Office Showcase and Competition. Taking the stage, researchers pitched their ideas for a spot in an upcoming TechFW ThinkLab accelerator.
It was a literal showcase of North Texas's strength in innovation as universities pitched some of their top intellectual property to industry leaders and investors. Academic institutions from across the region competed to showcase their best technologies available for licensing, collaboration, and/or acquisition.
It was a "pretty rigorous application process," said Chad Ronholdt, managing director at NVB Ventures and another judge of the competition. The top six applications were advanced to pitch live at iC3.
"We want to cultivate technologies that are coming out of the university ecosystem here—and we want them to stay here," he said.
From invention to marketplace
The Tech Transfer showplace aims to help build future leaders and entrepreneurs.
With technologies ranging from small-molecule drugs aimed at fighting pancreatic cancer to antimicrobial cotton that can keep wounds clean for a long period of time, researchers from universities including UT Arlington, Baylor, UNT, and Texas Tech pitched their efforts. In a style similar to that of a startup pitch competition, each panelist was given five minutes to pitch followed by a five-minute Q&A. 
"These pitch competitions give scientists and other inventors real-world ideas on what the next step is to enter into the marketplace," Claire Aldridge, director of biotech at Capital Factory and pitch competition judge, told Dallas Innovates at the event. "All of these participants will also get some guidance from TechFW in learning how to take their inventions into the marketplace."
UT Arlington researcher takes home the top prize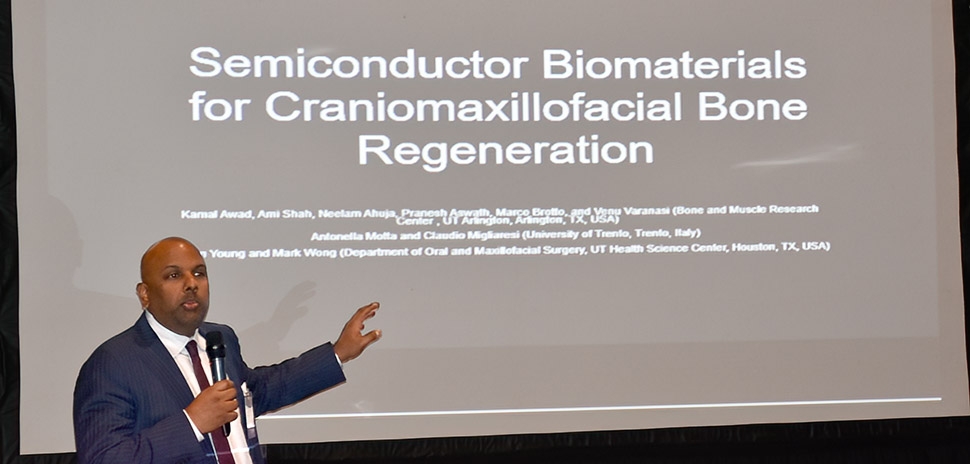 The winning concept came from UT Arlington's Venu Varanasi, who is developing biomaterials for craniomaxillofacial bone regeneration. In simpler terms, Varanasi has created a way to use nanoparticles integrated with gelatin to 3D print bone-forming scaffolds to speed up the healing process from severe cranial and facial injuries. He said his research has shown promising results in small animal testing, and he is currently looking to scale that up to larger animals and eventually humans.
"We have the potential to change the way we deliver health care," Varanasi previously said in a UT Arlington blog post.
The winning prize was a spot in the ThinkLab accelerator's upcoming 12-week Spring 2023 cohort.
The non-seed accelerator program by Fort Worth nonprofit TechFW works with entrepreneurs to get their ideas off the ground through things like mapping out the value proposition, technology validation, developing a path-to-market strategy, and fine-tuning pitches. The aim? Building a company around a concept.
While only one researcher could take home the top prize, all pitchers receive business coaching and strategy services from TechFW in areas like financial forecasting, capital raising, and team building.
The other institutions and their pitches included:
Texas Tech—Focused on the metabolic signatures that are related to Alzheimer's disease.
Baylor—Developing a pancreatic cancer-focused small-molecule drug that inhibits key proteins implicated in cell growth.
Texas Tech Health Science Center—Repurposing an antipsychotic drug for cancer patients to create new drugs that can help fight pancreatic, brain, breast, and other types of cancer.
University of North Texas— Developing 3D bioprinting and dynamic tissue cultures for predictive drug tests.
Texas Tech—Using the element Selenium to create antimicrobial cotton for chronic wound care.
Industry judges
The full list of judges includes Claire Aldridge, director of biotech at Capital Factory; Stephen Curtis, director of new ventures at American Cancer Society; Gabby Everrett, site head of BioLabs at Pegasus Park; Stella Robertson co-founder and partner of Bios Partners; Lito Rodriguez, senior grants management specialist at UT Southwestern Medical Center; Chad Ronholdt, managing director at NVB Ventures; and Hubert Zajicek, CEO, co-founder, and partner Health Wildcatters.
BioNTX iC³ Summit
The signature event of North Texas trade organization BioNTX, the iC3 Life Science Summit brings together biotech leaders and changemakers to discuss insights, ideas, and strategies during a two-day forum, this year held at the Gaylord Texan in Grapevine.
Taking its name from the combination of innovation, capital, collaboration, and commercialization, this year's summit focused on accelerating life sciences across North Texas.
Quincy Preston contributed to this report.

Get on the list.
Dallas Innovates, every day.
Sign up to keep your eye on what's new and next in Dallas-Fort Worth, every day.