Want to catch a glimpse of how local companies aim to help solve climate change?
The Eos Bioreactor, a kitchen-fridge-sized device from Texas-based AI firm Hypergiant that uses algae to 'sequester' CO2 from the atmosphere, will be on display at the Fort Worth Museum of Science and History through the end of the year.
Visit the Fort Worth Museum of Science and History to see Hypergiant's Eos Bioreactor in action and on display in the Project Planet exhibition through December 2020. The AI-powered machine, which has also been featured in Popular Mechanics, uses algae to capture CO2, particularly from industrial HVAC units.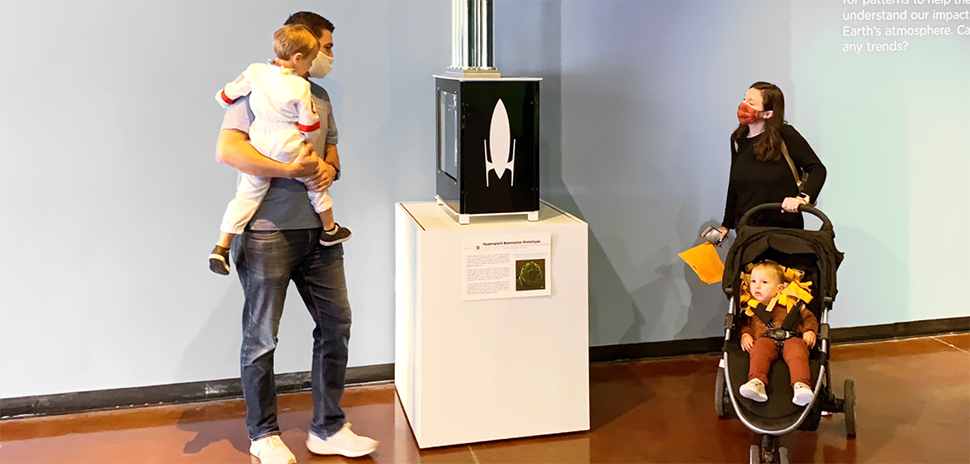 How did Dallas- and Austin-based Hypergiant's tech end up in a museum in Fort Worth?
"They reached out to us," founder and CEO Ben Lamm told Dallas Innovates via email. "They were looking for companies doing groundbreaking innovations and found Hypergiant."
Hypergiant aims to improve CO2 consumption with technology—the device is one of the company's initial efforts focused on fixing the planet's environmental problems.
The Eos Bioreactor launched last year for commercial and personal carbon sequestration. The process involves capturing carbon (CO2) and its storage to mitigate or defer global warming. Just hook it up to an HVAC system and let it go to work.
Algae, a diverse group of mostly aquatic organisms, already is one of nature's most efficient machines when it comes to carbon dioxide consumption, considering it has the ability to conduct photosynthesis.
Here's how it works: Algae needs three key elements to grow, carbon dioxide, light, and water. As it consumes CO2, algae produces biomass that can be harvested and processed to create fuel, oils, nutrient-rich high-protein food sources, fertilizers, plastics, cosmetics, and more.
The Eos Bioreactor uses AI to optimize algae growth, which, according to Hypergiant, creates a product that is more sustainable, efficient, manageable, and physically smaller than other bioreactor prototypes.
According to Hypergiant, the Eos Bioreactor captures more CO2 than 400 trees. The machine uses AI to maximize algae growth by maintaining light, temperature, and other factors.
Hypergiant offers AI products and solutions in a wide range of sectors including energy, aerospace, healthcare, and government.
In the last 18 months, the startup debuted an Iron Man-type helmet to improve safety for first responders and military, a fleet of mini satellites that crunch data on the fly, and an open-source AI model to map and prioritize disaster relief.
For more on visiting the Fort Worth Museum of Science and History during the pandemic, visit fwmuseum.org/visit/plan-your-visit. 

Get on the list.
Dallas Innovates, every day.
Sign up to keep your eye on what's new and next in Dallas-Fort Worth, every day.