Over the years, a number of fast-growing startups—Neuro Rehab VR, Linear Labs, Simpli.fi, Eyevance Pharmaceuticals—have decided to make Fort Worth their home base. These startups have had a substantial impact on job count in Tarrant County, creating 155,307 new jobs from 2013 to 2018.
But according to new research funded by The University of North Texas Health Science Center (HSC), they could have an even bigger impact than that: Startups could be essential to Tarrant County's recovery from the economic fallout of the COVID-19 pandemic.
"As our economy recovers from the effects of the pandemic, this research shows that additional resources should be provided to encourage more job creation in this important but underappreciated segment of our local economy," HSC President Dr. Michael Williams said in a statement.
The research was released recently by Sparkyard, a platform that connects entrepreneurs to applicable information and services through partnerships with area resource providers. It was launched last year by Cameron Cushman, Sparkyard's founder and the associate vice president of Innovation Ecosystems at HSC, when he realized that Fort Worth lacked a legitimate source of information on how to build a business.
Cushman then teamed up with the City of Fort Worth, HSC, and Texas Christian University's Neely School of Business as founding partners to provide resources for Fort Worth-based startups.
In its interest of "cultivating a connected and vibrant entrepreneurial ecosystem in the Fort Worth area," Sparkyard decided to collect metrics that would measure progress.
That's where the new research, compiled into a Fall 2020 Jobs Report, comes in.
The report, which is being lauded as first-of-its-kind research in Texas, aims to show the impact new companies can have on the local economy. Statistics are based on Quarterly Workforce Indicators (QWI) provided by the US Census Department, along with tracked unemployment insurance claims made by new companies as proxy for job creation, per a statement.
"Startups are vital to our economy. New and young firms are the primary source of job creation in the U.S. economy in both urban and rural communities, according to the Ewing Marion Kauffman Foundation," Sparkyard notes in the report. "Now, more than ever, it is critical to recognize the importance of startup firms to the creation of jobs, and support those firms so that they can lead the community back to recovery as job-producing engines."
Overall, the team found that Tarrant County ranks second in North Texas in new business job creation and fourth among large counties in Texas.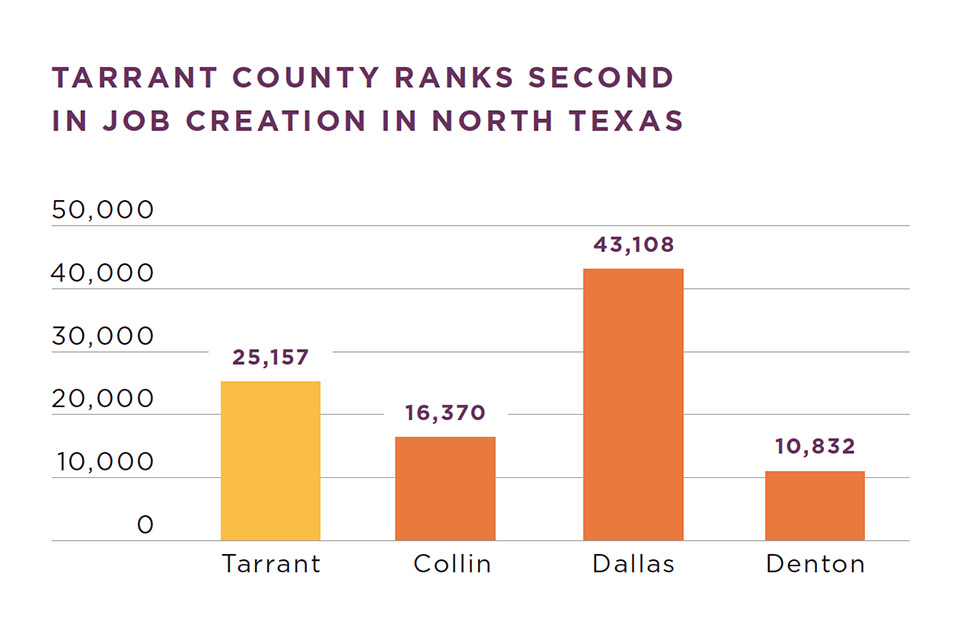 The data shows that new companies (defined as zero to 1 year old) created 25,157 jobs in 2018 in Tarrant County. That represents some 10 percent of all new jobs created.

And, from 2013 to 2018, those same companies created more than 25,000 jobs in the area each year.
In total, that's more than three times as many jobs as the recent Amazon HQ2 relocation was projected to bring to the area, according to Sparkyard.
Sparkyard also found that the trends of the job creation largely mirrors the demographics of Fort Worth in terms of age and level of educational attainment.
This means that the jobs created by new companies were filled by people across all ages, education, race, and ethnicity. There was also a diversity in industry, with food services and healthcare generating the most jobs.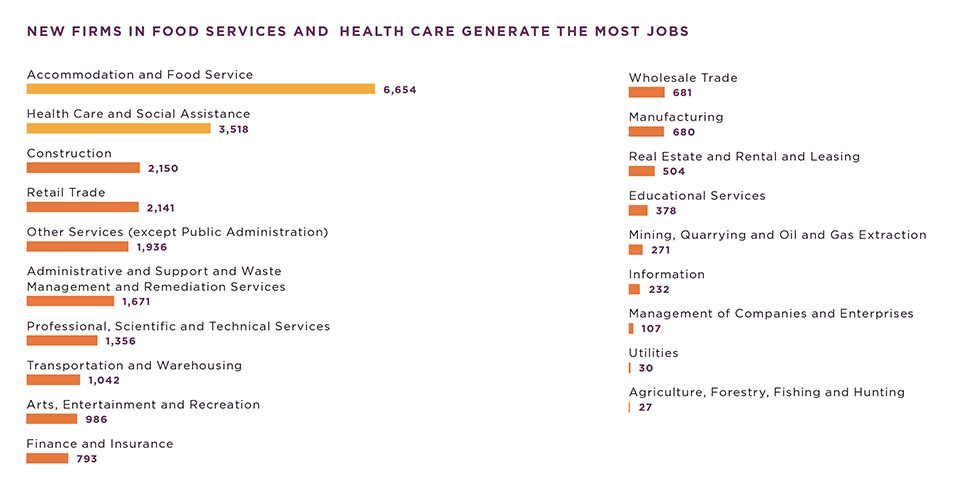 "The data clearly shows that innovation and entrepreneurship are crucial to sparking job creation in Tarrant County," Cushman said in a statement. "This is information that policymakers and economic development leaders can use to make decisions about where to allocate resources as we continue to grow and strengthen our local economy. If our local startups are already creating this many jobs each year, many more jobs could be created by new companies if we invested more in resources to support them."

The report is merely the first step of the team at Sparkyard, Cushman said.
Though it was able to serve as a proof-of-concept for startups' job creation in Tarrant County, the research could go a lot further in understanding the dynamism that entrepreneurial activity has on job creation.
Currently, the research team is pursuing Quarterly Census on Employment and Wages (QCEW) data from the Texas Workforce Commission for a study that would provide expanded details.
This type of work isn't a new feat for HSC, though. Under Dr. Williams, who is a known advocate for developing a more robust and connected entrepreneurial ecosystem in Fort Worth, HSC has been on a campaign to invest in entrepreneurship and cultivate innovation from its students, faculty, and staff.
For instance: HSC's Discovery Clinics provide laboratory access to founders who are enrolled in HSC's Acceleration Lab Program. HSC recently partnered with Bios Partners, a local VC firm, to establish an Entrepreneur-in-Residence program for technology commercialization and entrepreneurship.
Much of its work has also been rounded up into a podcast hosted by Cushman. The Innovate Fort Worth Podcast shares the stories of the city's leading innovators, entrepreneurs, and investors, as well as features the local resources available to bring ideas to market.
You also have to take into account the successful startups housed out of HSC.
Exact Diagnostics, a biotech startup that develops and manufactures diagnostic products to help ensure the validity and consistency of test results, was acquired by Hercules, California-based molecular diagnostic quality control manufacturer Bio-Rad Laboratories for a reported $60 million. This past July, CAGE Bio, a clinical-stage company that uses a proprietary drug-delivery platform to develop products for dermatology, inflammation, and immunology, decided to operate out of laboratory space on HSC's campus.
"The caliber of scientific professionals and academic institutions coupled with the entrepreneurial spirit of the DFW area is a huge attraction to us," CAGE Bio CEO Nitin Joshi previously told us. "HSC offers the perfect launchpad for companies such as ours to establish and grow."

Get on the list.
Dallas Innovates, every day.
Sign up to keep your eye on what's new and next in Dallas-Fort Worth, every day.