How prison set me free: "I used to tattoo the Dallas skyline on my cellmates. I never thought I'd be driving right in the middle of this city," says Ben Cardenas.
He was just released from prison after 20 years, and that was the first thing he said to me when he got into my car. He's a talented artist whose path wasn't painted too pretty when he first got arrested at the age of 27. Today, he's 46 and just completed the Prison Entrepreneurship Program.
PEP is a nonprofit that accepts 500 inmates a year to participate in a grueling, nine-month program to learn everything from proper etiquette to writing a business plan.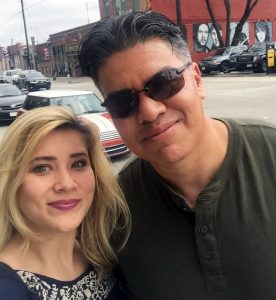 Graduates even receive a certificate for entrepreneurship from Baylor University. For some of these men, it is their first time they walked across a stage in a cap and gown. It's truly life changing and an experience you can't forget.
Ben has been out of prison for roughly 56 days. I asked him if he wanted to eat sushi, to which he replied, "What's that?" I told him to add me on Facebook and he said, "How do I do that?" He was in awe as he looked around at all the buildings and how much Dallas has changed in nearly 20 years. Sometimes I forget that the former inmates have a lot more to adapt to than just freedom.
I had the pleasure of meeting Ben in prison. Most people wouldn't put pleasure and prison in the same sentence, but I do. Although being a mentor in prison is seen as philanthropic work, I see it as a responsibility that I take pride in. Natalie Barney said it best: "Entrepreneurship is the last refuge of the trouble-making individual."
Truth is, when I'm in the prison, the only thing that separates me from the inmates is that I'm not wearing a jumpsuit, and I didn't get caught. The rebellious life I always wanted to live for the sake of an adrenaline rush became a reality I couldn't escape, but entrepreneurship saved my life. I became addicted to drugs in high school and nearly lost everything, but then I discovered a much better high with a bigger thrill: starting a business.
The ultimate goal of PEP is to teach convicted felons how to become entrepreneurs. We teach them how to create their own income, provide job opportunities, and contribute their talents to society in a meaningful way.
The ultimate goal of PEP is to teach convicted felons how to become entrepreneurs.
I remember Ben's business pitch in prison. He called his company "Vinzo Kustoms: Where we bring your visions to life." Well, that's exactly what he's doing with his business, now that he's taking on the world as a new and changed man.
Most times, good karma comes full circle. I had a minor car accident, so Ben stepped up to the plate to do my paint and body repair, despite just getting out of prison and looking for work. We went to a few stores to buy the supplies needed to get him started, and just like that, he's in business, and I'm his first customer.
If you would like to come to the next graduation to see the transformations unfold for yourself, register to join us for the business plan competition: sign up here. Who knows, maybe it will change your life like it did mine.
---
For a daily dose of what's new and next in Dallas-Fort Worth innovation, subscribe to our Dallas Innovates e-newsletter.