When the East Quarter development on the eastern edge of downtown Dallas is completed later this year, it will mark two milestones — the reimagining of a long-overlooked neighborhood and the first project by Todd Interests founder Shawn Todd in collaboration with his sons, Patrick and Philip.
East Quarter encompasses an area north of the Farmers Market and just west of Deep Ellum along streets that mostly converge around 2200 Main St. where the former nightclub Purgatory once operated. 
Todd Interests will transform the area into a mix of restaurants, creative office space, and residences, all connected by wider sidewalks and narrower roadways. 
It's the latest in a long line of impressive real estate investments and developments for Todd Interests that include 400 N. Ervay and One Dallas Center in downtown Dallas.
Shawn Todd — a 1985 graduate of Baylor's Hankamer School of Business with a BBA in entrepreneurship, real estate, and finance — founded the company in 1990 with the goal of acquiring and developing profitable and successful properties across the United States.
Patrick, 28, came to work with his father three years ago, and previously worked as a debt and equity analyst for Holliday Fenoglio Fowler LP. Before that, he managed 3 million square feet of office and industrial space along the East Coast for the Allegiancy real estate firm in Richmond, Virginia.
Son Patrick was told, "You'd be foolish not to join your father's team."
"I didn't even want to do real estate," Patrick says. But, he thought, "maybe I'll enjoy it."
Patrick's previous experience provided a strong background.
"I learned a ton about real estate, debt, and equity," Patrick says. Then, he says, he was told by someone, "You'd be foolish not to join your father's team."
Philip, 25, joined Todd Interests in 2017 after working as an associate at the $70 billion private equity firm Lone Star Funds. There he worked for its credit lending platform LStar Capital. He also worked as an analyst at the Bank of the Ozarks, where he originated real estate deals in aggregate of $1.2 billion across all property classes.
"I come from a lending background," Philip says of his financial expertise.
Todd's daughter, Caroline, 23, works in the real estate industry as a financial analyst for StreetLights Residential.
Shawn Todd is rightfully proud of his children. "They bring their own unique skill sets to the table," Shawn Todd says, also citing what appears to be a family trait — a great work ethic.
The East Quarter project was born when Patrick Todd was returning to the office from a meeting in Deep Ellum. He says he was sitting at the intersection when he noticed all the vacant buildings in the area.
"I was driving from a meeting in downtown … and had a chance to stop and look around at the Commerce intersection," Patrick says. "I saw all the buildings were vacant. I thought, these are some of the finest, most beautiful, architecturally significant buildings in our city."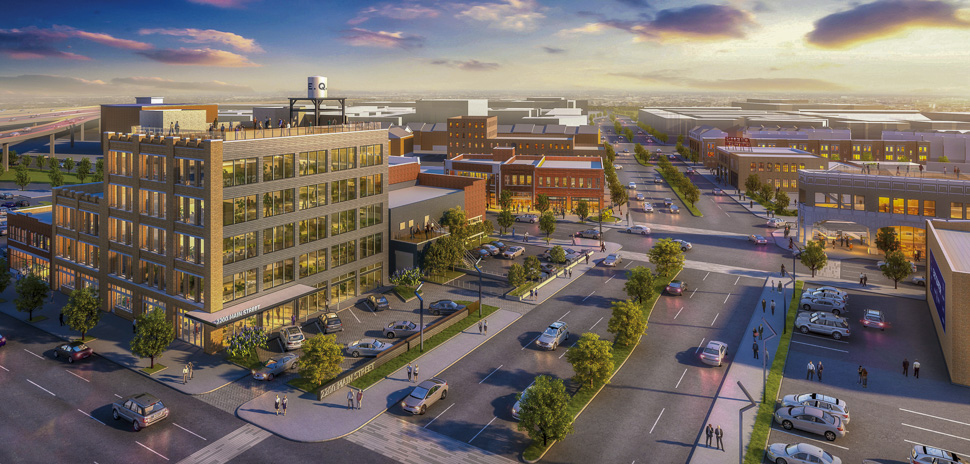 At first, Patrick judged the area by its exterior, but the more he looked into it, he soon realized the buildings were treasures.
"I didn't understand how well the buildings were done in the interiors," Patrick says.
Patrick says he reviewed tax records to see who owned the buildings — there were six different sellers — and the team went to work on making East Quarter a reality.
"I think I was too young not to know better than to dig into it," Patrick says.
Todd Interests uses everyone's "natural giftings" to make a project work, with each member of the team taking on a valuable role.
To accomplish their vision for East Quarter, the Todds tore down the windowless 1980s-era one-story building fronting Main Street and Cesar Chavez Boulevard. Behind that building is the former home of dance club Purgatory — a five-story building that will be transformed into a Class A office building.
In all, East Quarter will have roughly 200,000 square feet of creative office space. 
No vertical construction will be involved in creating East Quarter: It will involve the demolition and renovations within several of the firm's 18 buildings in the area.
The company will spend $2 million to improve the streets surrounding East Quarter, including widening sidewalks, adding landscaping, and reducing Cesar Chavez Boulevard from five lanes to three. Bike lanes on Jackson Street will connect to Santa Fe Trail and to the West End.
Two new restaurant concepts by restaurateur Nick Badovinus will be launched in the Magnolia Oil/KLIF Building — National Anthem will have a rooftop patio, while PMA All Day will offer a breakfast and coffee concept.
Current business tenants in the area include the software company Order My Gear and the branding firm Tractorbeam. Office leasing and property management will be handled by Peloton, headed by T.D. Briggs.
Shawn Todd credits Patrick and Philip as leading the way on East Quarter and other projects, and he says he's beginning a transition for the firm as his children gain more experience.
"My role was very small now, which was very joyful," Shawn Todd says.
East Quarter continues Todd Interests' track record of investing in properties and then turning them into unique landmarks in the city.
Take 400 N. Ervay, for instance, which Todd Interests acquired in 2007.
Originally built in 1929 as the largest federal building in the south, the United States Post Office and Court House is one of the most significant architectural buildings in Texas, Todd says. It is a registered historic national landmark and was home to a federal tax court and to the courtroom of U.S. District Judge Sarah T. Hughes — yes, the same Sarah Hughes who swore in Lyndon B. Johnson as president after the assassination of John F. Kennedy in 1963.
Todd Interests maximized the benefits from Historic Tax Credits to turn 400 N. Ervay into a showcase. Now, the building is home to some of the most luxurious for-lease residences in Dallas. Some 78 residents live in the building.
A functioning U.S. Post Office still operates on the building's first floor, as does a bustling cafe.
Shawn Todd says 400 N. Ervay — home to Todd Interests' offices — is his most satisfying project to date.
"What I learned in this project were life-affirming," he says.
Nearby 400 N. Ervay, One Dallas Center was designed in 1978 by the renowned architect I.M. Pei & Partners and for a time was known as Patriot Tower. The 600,000-square-foot structure encompasses a 30-story tower and parking garage.
When Todd Interests acquired the building in 2012, it had an occupancy rate of less than 10 percent. The firm formulated a business plan, found financing and capital, secured long-term office leases, and closed on the building — all in less than 90 days.
In addition to office spaces on the lower 14 floors that now include the headquarters of Greyhound Lines Inc. and architectural firm HKS Inc., the upper 16 floors were converted to high-end residential.
Todd Interests sold the 275 for-lease residences in the upper floor in June 2015 to an institutional investor and marked the completion of the renovation project in December 2015 when Woods Capital bought the office component and the parking garage.
With projects underway across the country, the Todds stay busy.
"We have great teammates here," Shawn Todd says, a team that is built on "great communication."
"We all block and tackle."
Philip likened the firm's teamwork to football, a sport in which players must work together for success.
"We all block and tackle," he says.
Shawn Todd has had great success by investing in and bringing new life to notable buildings and properties. But he says he doesn't find his greatest satisfaction just in bricks and mortar, shimmering office towers, or redeveloping a forgotten shopping mall.
"It's the people that you meet" along the way that you remember most, he says.
A version of this article appeared in the Dallas-Fort Worth Real Estate Review, Summer 2018.
READ NEXT
OrderMyGear Expands Headquarters with New East Quarter Lease

Reinventing Ross Avenue
With new projects planned in the urban core and multifamily interest extending development of Ross Avenue east of 75 to Greenville, it's looking as if the best is yet to come. Read the rest of the package here, from our roundup of the architects who put a face on the arts district to the latest projects on the radar. 
Get the rundown of noteworthy projects, current and recent.
Recent, active or planned construction on Ross Avenue.
Some of the world's most renowned architects have designed key buildings in the Arts District and Downtown Dallas. Here's a roundup.
Reinvention doesn't end at 75: Ross Avenue is attracting significant interest from multifamily developers in an area between U.S. 75 and Greenville Avenue.

Get on the list.
Dallas Innovates, every day. 
Sign up to keep your eye on what's new and next in Dallas-Fort Worth, every day.
Read the Real Estate Review digital edition on Issuu.
The Dallas-Fort Worth Real Estate Review is published quarterly. Sign up for the digital alert here.