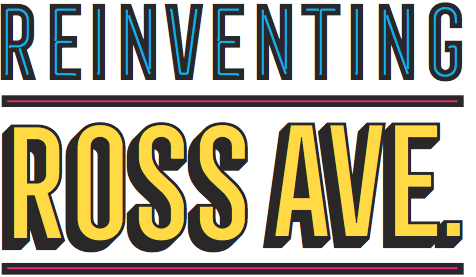 Some of the most important landmark structures on Ross Avenue are undergoing or have recently undergone renovations.
---
Fountain Place, 1445 Ross Ave.: Goddard Investment Group invested $70 million to update the 1.2 million-square-foot interior and build a 10-story garage anchored by restaurants and retail at the iconic 60-story office tower, built in 1986. It also renovated the property's namesake fountains. 

Saint Paul Place, 750 N. St. Paul St.: Quadrant Investment Properties acquired the 22-story, 273,217-square-foot office tower at N. St. Paul and Ross Avenue in 2016. Built in 1983, it was 78 percent leased. Renovations: Upgraded lobby, new second-floor tenant lounge with conference center and outdoor terrace that overlooks Ross Avenue and the Dallas Museum of Art. Renovations were completed in 2017. 

Cathedral Guadalupe, 2215 Ross Ave.: The cathedral church of the Roman Catholic Diocese of Dallas, which opened in 1902, has been in the process of an extensive renovation since 2017.

Trammell Crow Center, 2001 Ross Ave.: JP Morgan Asset Management is spending  $135 million to add amenities to the 50-story existing tower, built in 1984, including ground-floor retail, a grocery, a restaurant, and an outdoor plaza and to add a second phase. Stream Realty is overseeing the work.

Dallas Museum of Art, 1717 N. Harwood St.: In 2016, the DMA unveiled the museum's $4.3 million renovated north entrance, which faces Woodall Rodgers Freeway and Klyde Warren Park. The redo includes new access to the main entrance, an outdoor lawn and dining experience with outdoor exhibit space, walkways for better access from Klyde Warren and interior renovations to the atrium.

Chase Tower, 2200 Ross Ave: Fortis Property Group, owners of the 55-story Chase Tower, built in 1987, will make the skyscraper interact better with the surrounding street with an updated plaza and entry.

Ross Tower, 500 N. Akard St. at the corner of Ross: About two blocks from Fountain Place, the 45-story Ross Tower, originally called Lincoln Plaza when it was built in 1982, was renovated with ground-level retail, pedestrian areas, and new street access, including an outdoor patio and Wi-Fi lounge.
A version of this article was published in the Dallas-Fort Worth Real Estate Review.

With new projects planned in the urban core and multifamily interest extending development of Ross Avenue east of 75 to Greenville, it's looking as if the best is yet to come. Read the rest of the package here, from our roundup of the architects who put a face on the arts district to the latest projects on the radar. 
The thoroughfare transects the northern edge of downtown Dallas, and renovations and new construction are transforming its place as a hub for offices, retail, and residential.
Recent, active or planned construction on Ross Avenue.
Some of the world's most renowned architects have designed key buildings in the Arts District and Downtown Dallas. Here's a roundup.
Reinvention doesn't end at 75: Ross Avenue is attracting significant interest from multifamily developers in an area between U.S. 75 and Greenville Avenue.

Get on the list.
Dallas Innovates, every day. 
Sign up here to get what's new and next in Dallas-Fort Worth.

Sign up for the digital alert here.