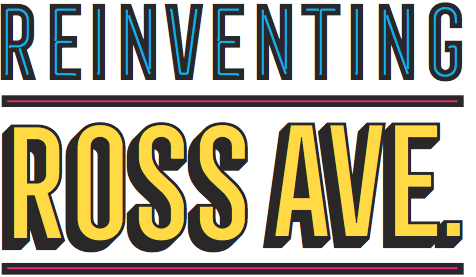 What's in store along Ross Avenue? Major construction, new projects, and a new face to the important east-west roadway.
---
Trammell Crow Center, 2000 Ross Ave.: JP Morgan Asset Management, under the direction of master developer Stream Realty Partners, is building a second phase across the street from the original tower where it is developing retail, a 200-room hotel, and a parking garage. Completion is set for the end of this year. A residential site at Ross and Olive will be sold to another developer.
[Rendering: Trammell Crow]

KPMG Plaza at HALL Arts, 2323 Ross Ave.: The 18-story 515,000-square-foot tower opened in 2015 as the first phase of Hall Arts. It includes 15,000 square feet of restaurant space.

HALL Arts II, Flora Street and Ross Avenue: The $250 million mixed-use 28-story tower, phase two of Hall Arts broke ground in April 2017. It will feature luxury condos with 44 condo units with prices starting at $2 million. The hotel will front Ross Avenue. Completion is expected in the spring of 2019.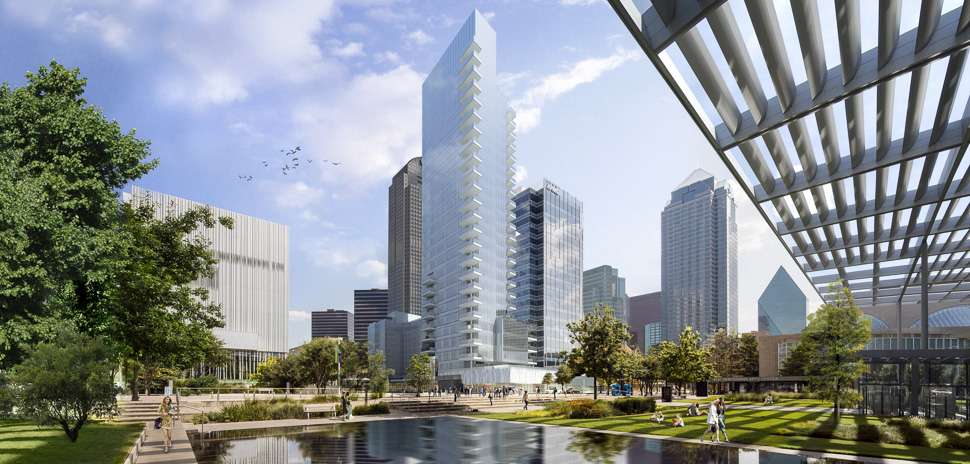 HALL Arts II [Courtesy rendering]

Two Arts Plaza: Planned 12-story commercial tower by Billingsley Co. to include office and retail. No construction date is set.
Two Arts Plaza [Courtesy rendering]
AMLI Fountain Place, 1800 N. Field St.: AMLI is developing a 45-story luxury apartment high-rise on the Fountain Place site. The $150 million tower, which brings the total value of the Fountain Place redevelopment to $220 million, is the tallest building to be constructed in urban Dallas in more than three decades. The new residential tower is scheduled to open in 2019.
AMLI Tower [Courtesy of Cushman & Wakefield]
Atelier | Flora Lofts: ZOM Development, LRTX, and Graham Greene are developing affordable lofts for artists plus additional apartments at Pearl and Flora. Construction was expected to start soon with an opening in 2019. The project, which includes a retail component, will be between the Nasher Sculpture Center and the Morton H. Meyerson Symphony Center

Modera: Mill Creek Residential recently completed apartments at 1800 Hall St., just a block off the Ross corridor. 

The Academic, 3700 Ross Ave.: Leon Capital Group bought the former DISD administration building and is building a 365-unit apartment project in its place. It plans to preserve the main entrance façade of the historic building.
The Academic on Ross Avenue [Courtesy rendering]
Alexan Ross: Trammell Crow Residential bought a tract of land on Ross Avenue between Caddo Street and Haskell Avenue and is building nearly 300 apartment units, its second major project along the avenue. Trammell Crow also developed an apartment complex about a block off of Ross on Bennett Avenue.

Apartments: Austin-based Cypress Real Estate Advisors is building a 300-unit, four-story rental project on the former site of the Credit Union of Texas at 4600 Ross Ave. Expected completion in 2020.
Sources: The Dallas Morning News, Dallas Business Journal, company websites
A version of this article was published in the Dallas-Fort Worth Real Estate Review.

With new projects planned in the urban core and multifamily interest extending development of Ross Avenue east of 75 to Greenville, it's looking as if the best is yet to come. Read the rest of the package here, from our roundup of the architects who put a face on the arts district to the latest projects on the radar. 
The thoroughfare transects the northern edge of downtown Dallas, and renovations and new construction are transforming its place as a hub for offices, retail, and residential.
Get the rundown of noteworthy projects, current and recent.
Some of the world's most renowned architects have designed key buildings in the Arts District and Downtown Dallas. Here's a roundup.
Reinvention doesn't end at 75: Ross Avenue is attracting significant interest from multifamily developers in an area between U.S. 75 and Greenville Avenue.

Get on the list.
Dallas Innovates, every day. 
Sign up here to get what's new and next in Dallas-Fort Worth.

The Dallas-Fort Worth Real Estate Review is published quarterly. Sign up for the digital alert here.