Digital Dallas will be hosting its 50th event, Surround Sound, Wednesday night at The Bomb Factory in Deep Ellum.
It will be a music technology experience, unlike a typical concert where the band kills the lights and plays their set, Michael Pratt, founder of Digital Dallas, told Dallas Innovates in a recent interview.
The event will feature a number of technology companies, including Dallas-based Spacee.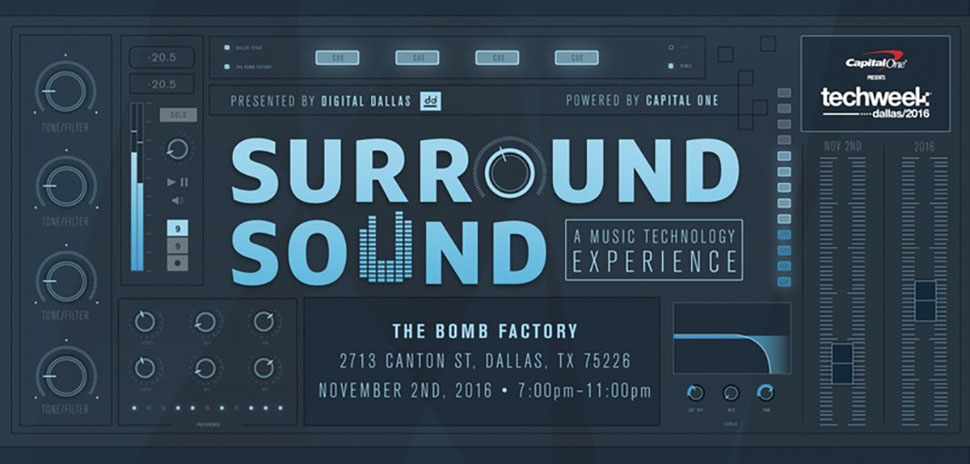 Spacee will be spearheading the interactive side of the Surround Sound experience. Spacee is an IT company that specializes in a blend of interactive display technologies such as spatial augmented reality and responsive reality.
For Surround Sound, Spacee will be producing holographic versions of attendees to interact with one another. We recently caught up with Skip Howard, CEO of Spacee, to tell us more about the exhibit.
Q+A: Spacee
How would you define your company/group?
We call it Spacee, which stands for spatial experiences. We invented what we call spatial augmented reality without any device. No phone, no helmet, no device. How we use it is by projecting on a surface and we use computer vision. Computer vision is basically where you're giving a computer eyeballs and you create rules around what it does when it sees something.
We invented what we call spatial augmented reality without any device. No phone, no helmet, no device.
Our bread and butter is virtual touch, we take computer vision and point it to a surface and we get a 100-point touch. We look at a surface and we say hey if you're within a quarter inch of the surface, we're going to count that as a touch. Through this, we've turned walls and cars into touchscreens.
Anything that is 2D and 3D, we can make interactive.
What sets you apart from others in your field?
There's only a handful out there doing something similar. It's a land grab.
Right now, it is so early and there's so many ways to do this but we have found the best way by perseverance, I believe. We have two patents pending and over 80 provisions. Plus, we've written 47 versions of our own software and we have it working quite well.  We don't consider that we have very many competitors out there.
Tell us about the technology you'll be using at Surround Sound.
We're doing a holographic projection where a camera looks at you and creates a hologram of you and sends you across the room to dance with another human-created hologram. We started that because we had a CEO ask us to make him one for a speech and now we're presenting that technology at Surround Sound.
How will your technology influence the music and live performances? What major changes do you foresee in the future?
For Surround Sound, our technology is clearly focused on the audience, so what we deliver is an enhancement to the experience of Surround Sound.
As far as changes go, we are constantly inventing. Every single week we have an invention. We file a lot of patents and hopefully we have time to explore those.
In the future, we imagine having a digital layer on all physical reality. We have to design it correctly for it to work and it has to be permission based. We want to be the drivers of that. However, I don't think anyone has a crystal ball.
What do you hope attendees take away from your contribution to Surround Sound?
Honestly, being way more impressed with the other startups. The caliber of the companies coming out of this city is really impressive and really strong. Way better than Austin.
We have more people and more talent but we're not loud enough, I guess.
Austin is really neat, but we have a much larger and more innovative pool of startups.
We have more people and more talent but we're not loud enough, I guess.
Is there anything else people should know about Surround Sound or your company?
I would just say that you're not going to be disappointed. Even if tech is not up your alley, everything else will interest you.
You're going to be talking about this for a while.
READ NEXT
Big Design: Dallas-based Spacee Creates New AR Experience
Its technology doesn't require smartphone or glasses for interaction.
---
Delivering what's new and next in Dallas-Fort Worth innovation, every day. Get the Dallas Innovates e-newsletter.