Mapping technology is ubiquitous now—from onboard navigation to hailing an Uber.
The City of Richardson is harnessing that tech to inform its residents of what's going on in the world, to collect information from residents who see instances where help is needed, and to apply data to improve how the city works.
Ending the mystery of public works projects
Anyone who spots a blocked lane or wet cement on a public right-of-way can visit cor.net/projects to identify the nature of the project, when it was slated to start, its completion date, and even the source of money funding the project.
The site is one of several data-driven initiatives Richardson has launched to disseminate information to improve operations and to inform citizens.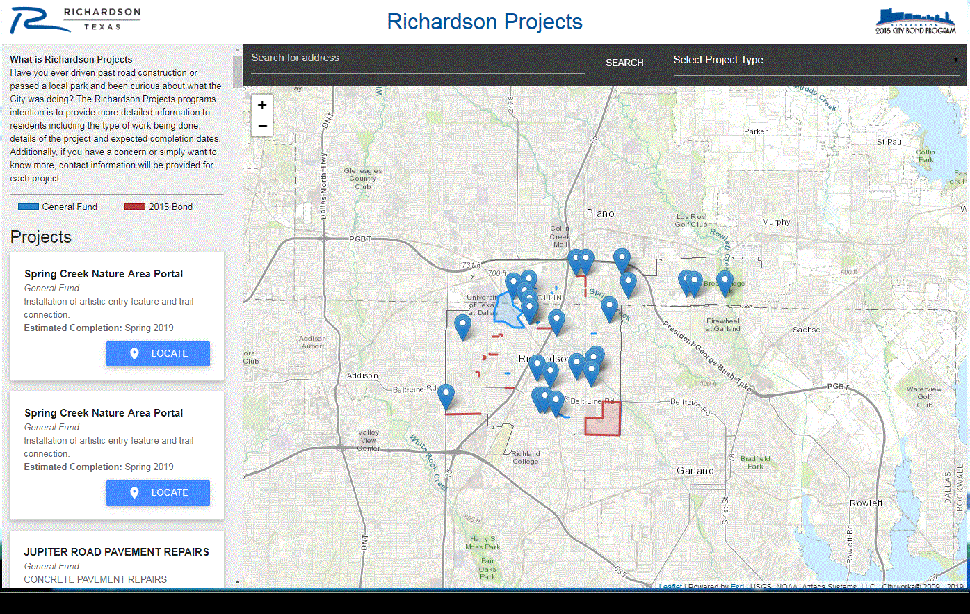 "Our GIS department does a really good job," said Dan Steege, the city's chief information officer, adding that the department has created interactive City Council district maps, and has also mapped evacuation, hazardous materials, and hospital zones for emergency response purposes.
Bond program inspires online map
When voters approved the City of Richardson's $115 million bond sale for public works projects, City of Richardson Director of Communications Greg Sowell anticipated the resulting work would spur a flurry of calls. More than $38 million of that sale was set aside for alley reconstruction, new traffic lights, and battery backups for traffic signal controllers.
"The 2015 issue would be a serial sale, over several years," Sowell said. "We knew there would be questions, so we wanted to have a place for people to find answers."
Sowell pitched the idea to the GIS/public works team, and they executed not only a public-facing online map for bond projects, but also for non-bond-funded public works projects.
"The questions we get most often are, 'what's going on, and how long will (construction projects) take?" Sowell said. "There are internal benefits (to the online public works map), because when people call in, our own people go into that portal, and they can tell that person on the phone."
Generating city data, 'Waze'-style
Since 2013, the City of Richardson has had an app that allowed residents to report public-safety issues they identify directly to city workers.
The MyRichardson app, which has more than 1,000 Android downloads, resembles Waze in that it crowdsources the job of identifying public nuisances—barking dogs, dead animals, abandoned shopping carts—at their location.
Unlike Waze though, MyRichardson allows residents to track the city's progress on resolving the reports.
It even allows residents to report bobcat sightings, which spiked a few years, but have slowed down, according to City of Richardson Director of Communications Greg Sowell. Sowell has told the Dallas Morning News that the city caught 24 bobcats between 2015 and 2018, which might have contributed to the decline in sightings. The GIS department even began a heat map to display bobcat sightings when they surged.
Feeding the data beast
Like other cities, the City of Richardson builds or contributes to several other consumer-facing, data-driven apps and websites, including:
restaurant inspection data for the Yelp! website;
several storymaps, which curate Richardson's parks, public art, and bike route/trail network; and
an open-data portal, which offers shapefiles or data files of Richardson City Council districts, city limits, voting precincts, streets, etc.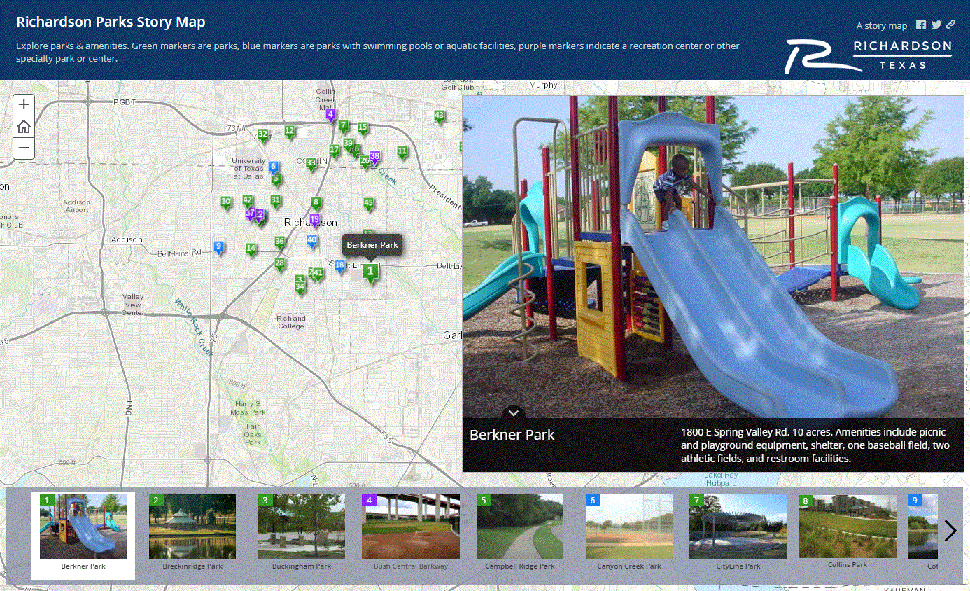 Get on the list.
Dallas Innovates, every day.
Sign up to keep your eye on what's new and next in Dallas-Fort Worth, every day.