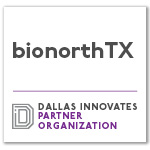 BionorthTX, the North Texas Region's leading industry association for the life science & healthcare community, today announced its Third Annual Life Science Summit will take place on Thursday, October 12, 2017 at The University of Texas at Arlington's Hereford University Center in Arlington, TX. The summit will feature presentations from top industry, community, and educational leaders.
The Summit will begin with opening remarks from Dr. Vistasp M. Karbhari, president of The University of Texas at Arlington, followed by a panel overview of the State of the Industry, "The Future of Healthcare and the Impact of New Technology.""The 2nd Annual Summit last September was a great success with more than 400 area leaders in attendance," said Dr. Duane Dimos, bionorthTX board member and vice president of research at The University of Texas at Arlington. "With such a phenomenal list of speakers and healthcare industry authorities, we believe this year will be equally successful. We are honored to be the host organization again."
Life science experts will converge at the bionorthTX Third Annual iC3 Life Science Summit October 12th.
Panel presenters include Thomas R. Kowalski of the Texas Healthcare and Bioscience Institute (THBI), Tom Luby, Head of JLabs at TMC, and Stuart Flynn, MD, Dean of the MD School of Fort Worth.
Eric Olson, Ph.D., Director of the Hamon Center for Regenerative Science and Medicine and Chair of Molecular Biology, University of Texas Southwestern Medical Center will deliver the lunch address.
Featured again this year will be the presentation of the Annual Dennis K. Stone Life Science Achievement Award by Helen Hobbs, M.D., Investigator of the Howard Hughes Medical Institute and a Professor of Internal Medicine and Molecular Genetics at the University of Texas Southwestern Medical Center.
iC3 will have over twenty speakers from the life science community speaking on state-wide innovations in biotech, commercialization, partnering and capital, and talent. 

Get the agenda here.
"We are proud to announce this year's recipient is Lyda Hill. When I notified Ms. Hill's office about her selection, the response was 'She is thrilled,'" said Terry Foster, Ph.D., and CEO of bionorthTX. "On behalf of bionorthTX, we recognize the significant and positive impact that Ms. Hill has on the life sciences and on improvement of health care. Her unselfish pursuit of improving quality of life is a model for all of us."
Throughout the day, leading industry company executives will discuss Innovation to Commercialization, Innovation to Collaboration and Partnering, Innovation to Capital, Innovation to Communication, Retaining, and Re-Engaging, and Re-investing Talent.
Our program will conclude with a final perspective on Texas Innovation "From the State to the Nation," from Duane Dimos, Ph.D., VP Research, The University of Texas at Arlington and State Representative Rodney Anderson, Texas House of Representatives, District 105.
Other presenters include:
Aliya Khan, Director of Talent Management, Galderma
Danielle O'Neill, Life Science Team Lead Texas, Kelly Scientific
Dennis Cagen, Principal, Caganco, Inc.
Frank Rosinia, M.D., Chief Quality Officer, JPS
Hadden Connor, CEO, Nacuity Pharmaceuticals
Ignacio Nunez, M.D., GYN ABOG Obstetrics and Gynecology, Chairman, Texas Health Arlington Memorial Hospital Board of Trustees
Jay Hamilton, President and CEO, Presage Solutions
Jon Weidanz, Ph.D., Associate VP Research, The University of Texas at Arlington and Co-Founder/Chief Scientist of Abexxa Biologics
Kevin Nelson, Ph.D., Founder and CSO, TissueGen
Melanie Morris, Marketing Manager, Eosera
Melissa Acosta, Ph.D., Director, Office of Clinical Research, JPS Healthcare
Michael Torres, Ph.D., Director of Biology & Co-founder, ReCode Therapeutics
Natalie Lundsteen, Assistant Dean for Career and Professional Development and Assistant Professor, Psychiatry, University of Texas Southwestern Medical Center
Paul Herchman, Board Member, Investor, Founder of Thermi
Tony Johnson, SVP and Chief Supply Chain Officer at Baylor Scott & White Health
The Summit also will feature exhibits from industry supporters and suppliers, along with networking and great food during the breaks. Visit www.bionorthtx.org to register.
About bionorthTX
bionorthTX is an independent, non-profit 501(c)(6) is a member-driven trade association serving and representing the life science industry in North Texas. North Texas is home to 1,000 life science and medical technology related companies, six major universities and more than 26,000 industry professionals. bionorthTX is a Dallas Innovates Partner Organization. 
For information on membership in bionorthTX and upcoming events visit www.bionorthtx.org.