Sustainable construction practices have gone far beyond office and residential buildings, and have become common in industrial, manufacturing and other types of non-office construction in North Texas. Cities and educational institutions, too, have embraced sustainability, producing an array of unique structures — from fire stations, and factories to a presidential library and even a university's football stadium.
Here are some of top projects incorporating sustainable construction practices in public and educational institutions across North Texas.
Kay Bailey Hutchison Convention Center in Dallas
LEED Silver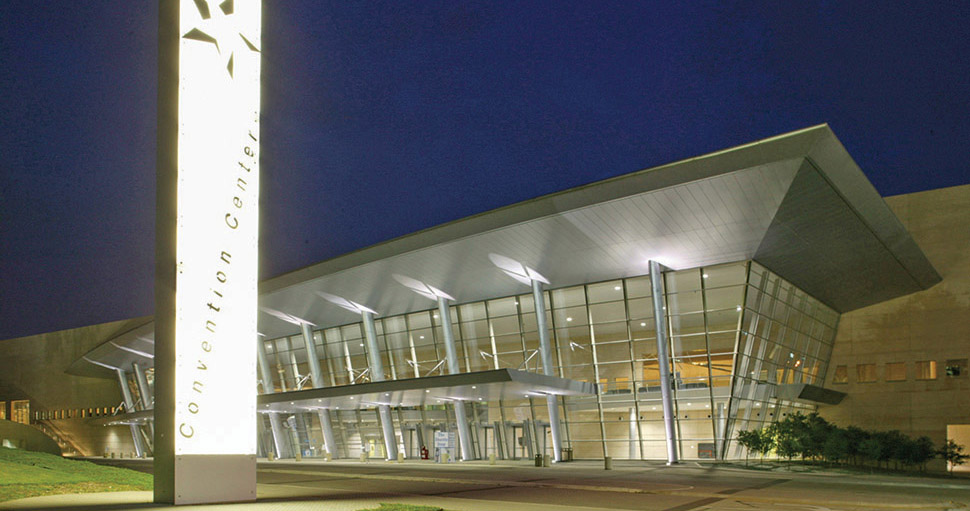 Texas' first LEED-certified building landed in Southlake in 2000 when Sabre Corp. enlisted The Beck Group and HKS to build its 475,000-square-foot campus with sustainable construction methods, water efficiencies, waste reduction, and more. Sabre employees still love the building's sustainability features, HKS's Teske says, and they're proud to be one of the country's first LEED projects.
Moody Performance Hall
LEED Platinum
This Arts District theater with 750 seats utilized simple and smart methods to make it more earth-friendly. Formerly known as the Dallas City Performance Hall, the building faces north, allowing it to use daylight with minimal heat gain. Many recycled materials were used during construction, and little carpet and paint can be seen throughout, which minimizes maintenance.
Sabine Hall Science Building
LEED Platinum
The science hall at Dallas' Richland College uses creative methods to dispose of chemical waste and ventilate classrooms. Construction of the building also used many recycled and sustainable materials. Energy for the 118,000-square-foot education building largely comes from solar panels.
Dallas Love Field Airport
LEED Silver
In 2014, Love Field completed its "Love Evolution" plan—just in time for the newly lifted Wright Amendment—which included renovating 255,000 square feet and adding 637,000 square feet of space with an environmental edge, including waste reduction and water and energy efficiency.
DART Police – Monroe Shops
LEED Platinum
This historic building which is home to DART, achieved a perfect score in LEED's scorecard sections for sustainable sites, water efficiency, and innovation, and also earned top marks in energy and atmosphere, materials and resources, and indoor environmental quality categories.
Dallas Fire Station No. 6
LEED Platinum
Dallas Fire Station No. 6 is an LEED Platinum Carbon Neutral Building on Pennsylvania Avenue. The design of the 12,000-square-foot station is focused on energy conservation with carefully designed solar orientation and window placement, solar hot water, 30 geothermal wells, and PV canopies for shaded parking.
Prairie Creek Branch Library
LEED Platinum
This branch of the Dallas Public Library uses solar energy and a geothermal heat pump system. Efficiencies such as reusing greywater and HVAC condensate and using native landscaping, which doesn't need permanent irrigation, helps the library use minimal water.
DFW International Airport's Operations Building
LEED Silver
The airport's administrative staff moved into the three-story, 154,000-square-foot building in 2015 using light-harvesting LED bulbs and a so-called cool roof designed to maximize shade and reduce energy costs in its open-concept office.
Perot Museum of Nature and Science
LEED GOLD
The Perot Museum of Nature and Science in Dallas was awarded four Green Globes rating from the Green Building Initiative for its sustainability practices including a rainwater collection system. It's a LEED Gold building and certified by the Sustainable Sites Initiative.
Lance Murray contributed to this report.
A version of this article appeared in the summer edition of the Dallas-Fort Worth Real Estate Review.
READ NEXT
The Green Future of North Texas
We may have room to grow in the rankings, but don't write Dallas-Fort Worth off as a leader in sustainable building practices. Industry experts say the region is underrated. Here's how North Texas builders, designers, and cities are pushing green practices forward.
13 Pioneering DFW Projects In LEED
Developers, designers, and cities are pushing sustainability forward.
Placemakers: For Todd Interests, Revitalizing a Downtown Dallas Neighborhood is a Family Affair
East Quarter continues Todd Interests' track record of investing in properties and turning them into unique landmarks in the city.

Get on the list.
Dallas Innovates, every day. 
Sign up to keep your eye on what's new and next in Dallas-Fort Worth, every day.