The University of North Texas has always had an eye on the future. Founded in 1890 in a rented space above a hardware store as the Texas Normal College and Teacher Training Institute, the school aimed to produce educators for what became known as the first industrial revolution.
Now, 130 years later, the Denton-based university system is tightly focused on the needs of the 21st-century workforce. With a focus on preparing students for what's being called the "fourth industrial revolution," UNT is set to build a new four-year campus in the Collin County city of Frisco. Planners say it's a time of tech advances and societal growth that needs the resources of the prestigious Carnegie R-1 research university.
Ground will be broken soon on the  UNT at Frisco campus, a $100 million investment that will start with roughly 3,500 students in classes in 2023 and reach a potential of 25,000 students in 25 to 30 years. UNT said it's working on the plans, which were reviewed by the Board of Regents in November.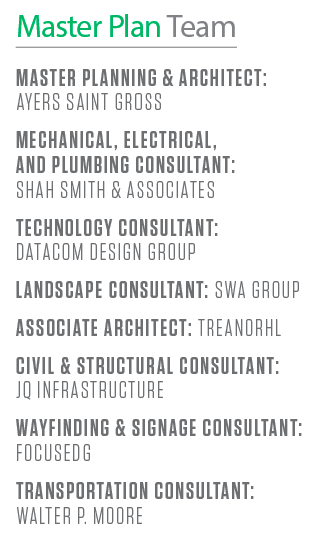 The new campus will focus on achieving the university's goal of work-ready graduates and the city of Frisco's goal of having a university that can help it attract new corporations and businesses to the city.
"You've got a group of folks who have envisioned that we want to bring high-value jobs to our city," said Wesley Randall, Ph.D., dean of UNT at Frisco. "What they realized is the one thing they were missing is a four-year university in Frisco. And if you look deeper into what they're doing, they also realized they needed to have an educational partner that could be there with them to educate workforce at the undergraduate level and the graduate level."
Randall cites what he calls new literacies that students will need to compete for the best jobs: Digital, creative, quantitative, connection, and commerce.
"So in all of the studies that we've done, we've come up with these new literacies for the fourth industrial revolution," Randall said. "We think just like reading and writing, we need to make sure that all of our students comprehend digital, because it's becoming the backbone for all human interaction and exchange."
In the creative literacy, Randall said, "We know that to be successful, whether you're running a nonprofit, a for-profit, or working in government, you need to use the knowledge and ability you have to make changes so that tomorrow, you're able to provide a product that isn't the identical capability of your competitor, it's 5 percent more."
UNT has a lot of expertise in creativity. Its music program has produced 14 Grammy winners, for example.
"The next thing we want all of our students to do is understand quantitative," Randall said. "This doesn't mean they all need to be modelers, but they must be able to measure the impact of change."
"All of our students need to understand communication. They need to understand human-to-human connection"
Wesley Randall
Students must master connection by being good communicators.
"All of our students need to understand communication. They need to understand human-to-human connection," Randall said. "They need to have storytelling. Why? Because they need to have the ability to inspire change or to advocate where change is needed."
It's about articulating an important message, Randall added.
"I need students who are in governmental or non-governmental or charitable organizations who are able to articulate the need for healthcare in an underserved neighborhood," he said. "They must have the ability to inspire change either by explaining desperate need or by explaining new value propositions."
The fifth literacy is commerce, Randall said.
"They must have solid business and analytical acumen," Randall said. "That doesn't mean they need to be out there as an aggressive capitalist, but they have to understand what capital does and what profit and loss is. They have to understand that you know focusing on return on revenue is not as enabling or sustaining as return on investment." he said.
Randall said he has faith that UNT at Frisco will produce the kind of students that businesses will look for as interns and as employees.
UNT plays a critical role in the state and in North Texas, ensuring that the promise of higher education is there for those students who otherwise might not have access to it, Randall said. To accomplish these new literacies, UNT at Frisco will offer classes designed to give its students career success with hands-on learning.
It will be built on the southwest corner of Preston Road and Panther Creek Parkway on 100 acres of land that was donated in 2018 by the city of Frisco. Planners will utilize the natural features of the land as part of the campus' design, Randall said.
For instance, a ridge on the site—the second highest point in Collin County—will be a location to attract industry collaborators, and Panther Creek will provide a water feature on the edge of the property.
UNT at Frisco will be the university's third campus in Frisco. It spent $8.5 million on a research building owned by the Frisco Economic Development Corp. to open its Inspire Park business incubator in 2018, and its HALL Park research location has been open since 2016.
The Texas Higher Education Coordinating Board approved the Frisco campus in January to provide upper-level and graduate courses.
"Our collaboration on this branch campus with the city of Frisco, Collin County, and Collin Community College will have a positive impact on students in the eastern part of our area," said Bob Brown, UNT's senior vice president of finance and administration.
Randall said programs at the new campus will help students achieve internships with companies in the area that are likely to lead to full-time employment. For example, the UNT branch is collaborating with the Frisco-headquartered Dallas Cowboys in its graduate program, giving students what UNT calls "unequaled access to the most valuable sports franchise in the world," by offering a Sport Entertainment Management MBA degree.
Numerous undergraduate degrees offered at the campus will include a BAAS (applied arts & sciences] in biology; business integrated studies with entertainment management track; computer science; consumer experience management; general business; information technology; integrative studies with a focus in strategic corporate communication; interdisciplinary studies with a concentration in early childhood Grade 6, with ESL certification; journalism with a concentration in public relations; logistics and supply chain management; marketing; and psychology.
Graduate programs will include advanced data analytics, business analytics, business administration, design, counseling, engineering management, health services administration, and information science, among others.
UNT said it will seek accreditation approval from the Southern Association of Colleges and Schools Commission on Colleges for the branch campus roughly six months prior to opening.
Quincy Preston contributed to this report.
A version of this story first published in the Fall 2020 edition of the Dallas-Fort Worth Real Estate Review.
---
Read the digital edition of Dallas Innovates' sister publication, the Real Estate Review, on Issuu.
The Dallas-Fort Worth Real Estate Review is published quarterly.
Sign up for the digital alert here.

Get on the list.
Dallas Innovates, every day.
Sign up to keep your eye on what's new and next in Dallas-Fort Worth, every day.