The city of Fort Worth wants to "compete at full-strength on an international stage for businesses, resources, and top talent." To do that, it needs to leverage the strength of all communities in the Panther City—including ones that have traditionally been underserved and disinvested. Now the city has launched a new framework to bring economic vitality to every corner of the city.
The project—called Full-Strength Fort Worth—is a "comprehensive revitalization strategy that prioritizes equity and preservation, celebrates diversity, and creates exciting communities where everyone can thrive," the city announced.
The new framework will combine the expertise of local and national partners with city resources "to create a comprehensive revitalization strategy that prioritizes equity and preservation, celebrates diversity, and creates exciting communities where everyone can thrive."
A 'new vision' for Fort Worth
The goal of Full-Strength Fort Worth is nothing less than a "new vision" for the city, the announcement said—"a vision of Fort Worth where all of its neighborhoods are celebrated as equitable drivers of economic change, allowing the city to compete at full-strength for businesses, resources and top talent."
The initiative is supported by a recent "refresh" of Fort Worth's Economic Development Strategic Plan, which "strongly encourages equity-focused initiatives that also strengthen the local economy."
The ultimate goal:"to create equitable economic vitality and resiliency, while empowering the community and preserving each area's quality of place."
Targeting 'areas of impact'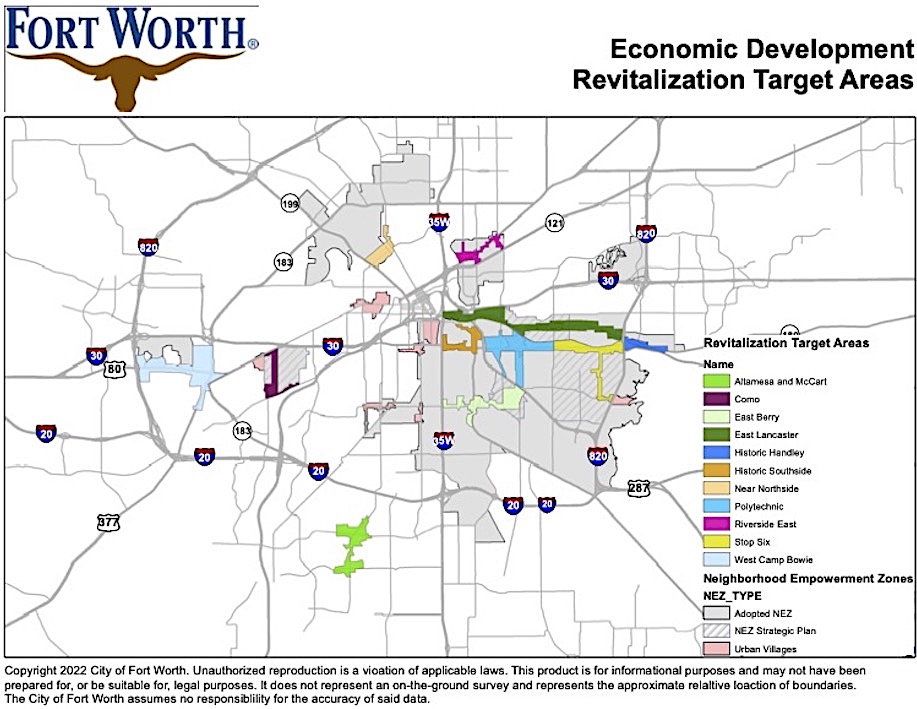 The map above shows revitalization target areas within Fort Worth. "The areas of impact are focused along key commercial corridors within the Central City that are in need of revitalization, including the preservation of historical and cultural assets, redevelopment of pre-existing sites, and business attraction and retention," the city said. "While several of these areas include corridors in Fort Worth's east and southeast areas, there are also additional corridors throughout the city that also require tailored, thoughtful revitalization efforts."
The impact areas include Evans & Rosedale, Como/Horne Street, Stop Six, Near Northside, River East, Altamesa & McCart, East Lancaster, Polytech, East Berry, Historic Handley, and West Camp Bowie.
Offering a 'customized approach' for each community
The city notes that every Fort Worth community has "its own distinct characteristics," so the city's Revitalization Tookit addresses each neighborhood's needs, emphasizes its strengths, and considers its personality.
Overall, with efforts like the city's Main Street America pilot program, Fort Worth has several big goals for making Full-Strength Fort Worth a reality for both the city and its citizens:
Develop high-quality, sustainable investments in underserved communities, providing them with long-term economic resiliency.
Create equitable opportunities and quality of life across Fort Worth's various neighborhoods.
Design quality places and vibrant communities for residents and visitors alike.
Collaborate with communities, local partners and outside organizations to develop strong commercial corridors.
Create new businesses and job opportunities that can be supported by surrounding neighborhoods.
Establish more mixed-income housing opportunities citywide.
Minimize displacement while preserving the community and character of neighborhoods.
Provide communities with access to economic development resources, empowering them to be active in the future of their neighborhoods.
Guide future development by considering and preserving the cultural assets of Fort Worth's historic neighborhoods.
The city's partners in Full-Strength Fort Worth include Main Street America, The Retail Coach, CDFI Friendly America, and Placer.ai.

Get on the list.
Dallas Innovates, every day.
Sign up to keep your eye on what's new and next in Dallas-Fort Worth, every day.