This should alarm you: People with disabilities make up 19 percent of the U.S. population, but they struggle with unemployment rates that are nearly twice as high as those of people who are not disabled.
And, things aren't improving. Employment rates for people with disabilities have been in decline since the 1990s, according to a recent CNN article. Dylan Rafaty of Dallas thinks we can do better.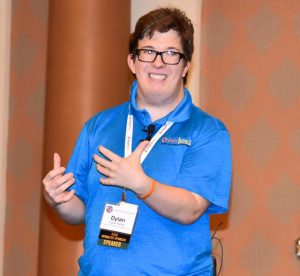 There's a daunting wealth of problems to overcome: lack of transition resources, social distance, companies' limited understanding.
Enter Dallas-based DylanListed, a job site and consulting company that seeks to provide resources and help close the distance between businesses and people with disabilities.
Rafaty, founder and CEO, publicly launched the site in January 2015, although the concept had been in the works for quite some time. Rafaty spent most of his public schooling in special education because of a hearing impairment.
He moved through the system frustrated, unchallenged, and acutely aware that he was falling behind his peers. That was confirmed upon graduation, when had a difficult time finding a job.
He finally got a break when LifeTime Fitness offered him an opportunity, and during his time with the company, he gained invaluable experience and honed his skills in making departments more conducive to specialized customer service.
DylanListed began as a job listings resource (similar to Monster.com, but focused on special-needs and workers with disabilities), but recently added a range of services.
Now, Rafaty provides tools, training seminars, and private consultation to support employers in hiring and keeping workers with disabilities. He focuses on topics such as workplace accessibility, sensitivity training, and communication etiquette.
DylanListed also empowers special-ed students to make a seamless transition from school to the workplace through sessions on self-advocacy, entrepreneurship, accountability, and independent living. For parents and educators of special-needs youth, services include transition training to help support people with disabilities.
"DylanListed is the vision of a national job site that enables communities, nonprofits, colleges, and special-ed candidates to interact and find more inclusive employment and training opportunities," Rafaty says. "We provide innovative tools to support employers in hiring and keeping workers with disabilities, as well as empowering special-ed students to make the transition from school to the workplace."
"I embrace the vision that big things happen in Dallas" _ Dylan Rafaty
Rafaty seeks to close the "social distance" between employers and people with disabilities, and says that 75 percent of employees with disabilities don't require special accommodations.
The nature of DylanListed also is highly inclusive – there are a broad spectrum of disabilities, from physical to mental, from hearing impairments to autism, to injuries sustained by servicemen and women, and Rafaty intends for his company to be useful to as many people as possible.
Rafaty, in addition to being president and CEO of DylanListed, serves as a member on the Texas Governor's Committee on People with Disabilities (Texas GCPD). He also is chairman of the Committee on Social Responsibility for IAICDV.org. In March 2012, he self-published a book about his experiences, Occupy Special Education: Children Should Be Seen and Heard.
His vision is that by 2020, 75,000 qualified people with disabilities will be recruited or advanced through DylanListed. The change, he said, starts here in Dallas.
"I'm a rising social entrepreneur that has constantly challenged myself in finding new material, finding new ways, and finding partners to work with in regards to benefiting and providing inclusion and access to people with disabilities in this area," Rafaty says. "I embrace the vision that big things happen in Dallas."
---
For a daily dose of what's new and next in Dallas-Fort Worth innovation, subscribe to our Dallas Innovates e-newsletter.