After four years of developing the technology for Major Tom, Kubos is finally putting it to the ultimate test—launching it into space. The Kubos payload is expected to launch on a two-stage SpaceX Falcon 9 rocket.
Kubos Corp. is a startup satellite software company that works to fulfill all of a satellite mission's needs, ranging from mission design and onboard software to cloud-based hardware test and mission operations. Major Tom is a cloud-based mission control software that helps operators seamlessly work together with the same tools and processes during both development and actual operations.
We told you about Major Tom in February when Kubos partnered with ISISpace, allowing them to resell the software. Major Tom was created to allow teams to use the same tools, workflow, and processes during both operations and development of satellites.
"The Major Tom platform allows our customers to go from concept to operations with a single software solution and is paving the way for a new era of software-designed satellites," Kubos co-founder and CEO Marshall Culpepper said in February.
Now, Major Tom is taking its first trip into space—and, once the rocket takes off, the software will be part of a historic moment marking the first-ever third mission of a SpaceX rocket core.
The launch was originally scheduled for Nov. 19, but was delayed due to "conduct additional pre-flight inspections," according to SpaceX's official Twitter. A new date of Nov. 28 was chosen, but Mother Nature had other plans. Due to extreme high altitude winds, the launch was set back once again with the next earliest launch window moved to Dec. 1.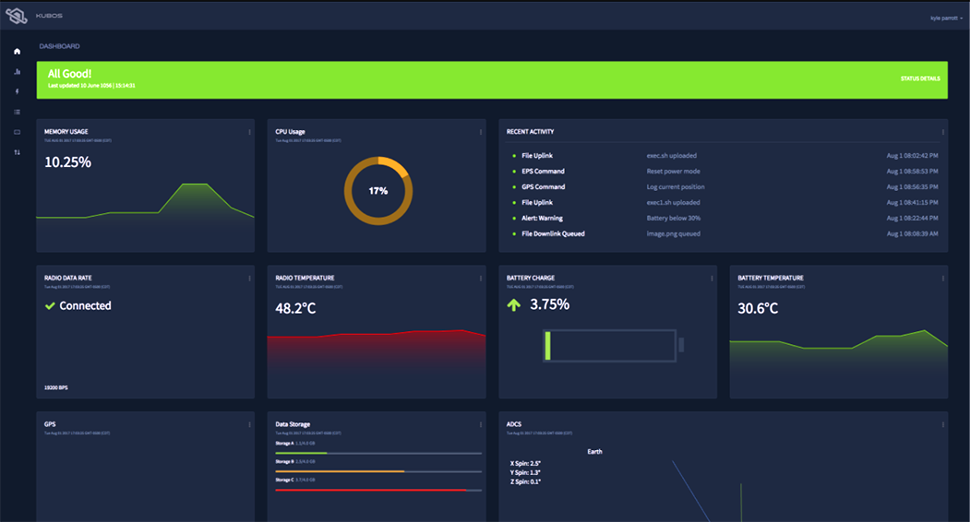 Attendees of the originally scheduled Kubos launch event would have been able to view the Major Tom launch and speak in person with Marshall Culpepper, the CEO and co-founder of Kubos. There was also a scheduled Skype session with the Satellite Mission Director.
RBC Signals integrates with Kubos
In more Major Tom news: Last week, RBC Signals, a multinational company that focuses on space communication services, announced an agreement with Kubos to integrate with the mission control software. The agreement allows RBC Signals to integrate its global ground infrastructure network, space communication platform, and customer scheduling software with Major Tom.
"By combining the power of Major Tom with the global network of RBC Signals, satellite operators will now have an integrated ground solution," Tyler Browder, co-founder of Kubos, said in Geospatial World. "This collaboration brings real value to operators, allowing them to spend more time on the mission and less time on building a ground segment."
In 2017, we told you about Kubos's announcement that it had closed $1.65 million in new funding due to investors such as Silicon Valley's Tim Draper. This money brought the total funding to more than $2.4 million, which has allowed for the expansion of Kubos's initiatives, including Major Tom and the Kubos Hopper, a cloud-based satellite hardware testing service.
The Major Tom space launch is a pivotal step for Kubos, showing that their products really are out of this world.
This article was updated on Nov. 28 to include new information about the new date for the SpaceX Falcon 9 rocket launch. Stay tuned as we continue to provide news on the status of the launch.


Get on the list.
Dallas Innovates, every day.
Sign up to keep your eye on what's new and next in Dallas-Fort Worth, every day.