Deep Ellum, one of Dallas' most iconic neighborhoods, will celebrate its 150th birthday in 2023 and a big, yearlong celebration is in the works.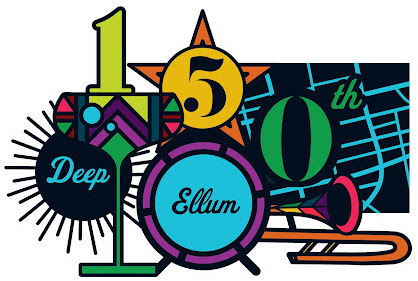 The district was founded in 1873 just east of downtown, and to celebrate the sesquicentennial, local organizations, businesses, and residents are teaming up to offer a year's worth of events, openings, and big announcements.
"This incomparable district has given so much to the city of Dallas and all who've walked its storied streets and sidewalks over the last 150 years," Stephanie Keller Hudiburg, executive director of the Deep Ellum Foundation, said in a statement. "It's incredible to see the entire community coming together to celebrate Deep Ellum's unmatched history for this special anniversary year while working together to shape the neighborhood's future as a continued mecca for creatives, entrepreneurs, and all comers."
Black-tie kickoff on January 19
The celebration will kick off on Thursday, January 19, with a black-tie reception at the historic Pittman Hotel.
In each month that follows, local organizations will host events celebrating the district's history, arts, music, and entrepreneurial legacy—including a parade in June honoring the district's history as a Freedmen's town, a music festival in October, and a storytelling summit in December with Deep Vellum, the local publishing house and bookseller.
Mark Cuban is honorary chair of the yearlong celebration
Dallas Mavericks owner and "Shark Tank" star Mark Cuban has signed on to be the honorary chair of the yearlong celebration.
Beginning in the 1980s, Cuban contributed to the revitalization of Deep Ellum by co-hosting now-famous "warehouse parties," organizers said. In 1995, he co-founded Broadcast.com (then Audionet) in Deep Ellum. The latest venture supported by Cuban in Deep Ellum—the Mark Cuban Cost Plus Drug Company—reaffirms the district's place as a key incubator of creative and entrepreneurial pursuits that disrupt whole industries.
Deep Ellum is home to 400+ businesses
The Deep Ellum Cultural District is home to more than 400 businesses, nearly half of which are independently owned and operated. Many of them have grown to serve the entire region and beyond.
The sesquicentennial celebration will be a collaboration between local groups, including the Deep Ellum Foundation, Deep Ellum Community Association, Deep Ellum 100, Foundation 45, Deep Ellum Radio, The Dallas Mavericks, Preservation Dallas, and Deep Vellum, along with both national brands and local business owners, residents, and property owners, sponsors said in a statement.
'The birthplace of blues in Texas'
Sometimes called the birthplace of blues in Texas, Deep Ellum established itself as a place for creatives to showcase their talents. For example, "Deep Ellum Blues," an American traditional song, refers to Deep Ellum's historical place as an important neighborhood for African-Americans in downtown Dallas. It was home to music legends Blind Lemon Jefferson, Blind Willie Johnson, Lead Belly, and Bill Neely.
Deep Ellum 100 just recorded "The Sounds of Deep Ellum," bringing together top talent in the district out of more than 100 applicants, to honor the 150th milestone. The record will be released on vinyl in 2023.
From galleries to street murals to creative spaces and more
The arts have enlivened the neighborhood through the years as street murals, galleries, and music venues have become staples of Deep Ellum. Also, creative spaces have grown across Deep Ellum as creative professionals seek out the district as a place to establish and inspire their businesses as designers, producers, makers, photographers and more.
Deep Ellum also is home to more than 100 bars and restaurants and 150 murals. Real estate experts said Deep Ellum is experiencing tremendous growth in residential and office development, doubling the units available to live in the neighborhood by 2023 while exponentially expanding opportunities to work in the district and enjoy all it has to offer.
Deep Ellum Community Cultural Center to open
Organizers also announced a major addition to the neighborhood as part of the celebration.
The Deep Ellum Foundation and Deep Ellum Community Association are partnering to open the Deep Ellum Community Cultural Center to mark the anniversary.
That effort is supported by a grant award of $137,500—the second-largest grant awarded in Dallas this year next to the Dallas Museum of Arts. The Community Cultural Center will feature a history exhibit curated by Dr. Alan Govenar, the preeminent scholar on Deep Ellum and author of Deep Ellum: The Other Side of Dallas.
Music is one of the elements that made Deep Ellum what it is, and visitors and locals alike will be able to listen to the music in dedicated listening rooms and learn about the neighborhood's evolution in the center, which will also house local nonprofits, artists, and Deep Ellum Radio.
Deep Ellum was named a state Cultural District in 2020 and is poised to win designation as a nationally recognized historic district featured on the National Register of Historic Places in 2023.
Members of the Deep Ellum 150th Advisory Council:
Adam Medrano, former Mayor Pro Tem, City of
Dallas
Eric Bradford, The Factory
Damany Daniel, The Event Nerd
Ronnie Fauss, Dallas Mavericks
Tony Fundaro, Philanthropy Southwest
Todd Hedrick, Salon Gossip
Shalissa Perry, Downtown Dallas Inc.
Froswa Booker-Drew, Soulstice
Candy Smith, Candy's Cocktails
J.R. Munoz, Will Call Bar and Elm Street Saloon
Jeff Cohen, Vinetower Development LLC
Rajeev Gopalakrishnan, The Pittman Hotel
Kristina Hart, Visit Dallas
PJ Beard, Westdale
Confirmed Sponsors

Asana Partners
Edrington
Larkspur Capital LP
Texas Brand Bank

Get on the list.
Dallas Innovates, every day.
Sign up to keep your eye on what's new and next in Dallas-Fort Worth, every day.