For this year's World Intellectual Property Day, the focus is all about women inventors.
With the theme, "Powering Change: Women in Innovation and Creativity," events in and around April 26 will highlight the contributions women have made through ingenuity. The global celebration was started in 1999 by the World IP Organization.
Dallas marked World IP Day a little early this year with a gathering Monday at Alamo Drafthouse Cinema — Cedars featuring a panel of local female inventors and a screening of "Bombshell: The Hedy Lamarr Story."
Lamarr, an Austrian who made a name for herself as an actress in 1940s Hollywood, was way more than a pretty face. In her work off the screen, she invented a wireless radio communication system, which became the basis for today's Bluetooth technology.
"Brilliant, preserving inventors and pioneers play a critical role in maintaining our nation's scientific edge, improving our way of life, and enhancing our economic prosperity."

Hope Shimabuku
Women play an "essential role" in innovation, said Hope Shimabuku, director for the Texas Regional Office of the United States Patent and Trademark Office, which helped organize the Dallas event along with the American Intellectual Property Law Association.
"Brilliant, preserving inventors and pioneers play a critical role in maintaining our nation's scientific edge, improving our way of life, and enhancing our economic prosperity," said Shimabuku, who worked previously as an IP attorney for Xerox Corp. and engineer at Procter & Gamble and Dell Computer Corp.
She said at the USPTO, every day is like World IP Day.
"The USPTO will continue to do its part to support creators, innovators, and entrepreneurs as they define their ideas in the forms of patents, trademarks, and copyrights," Shimabuku said.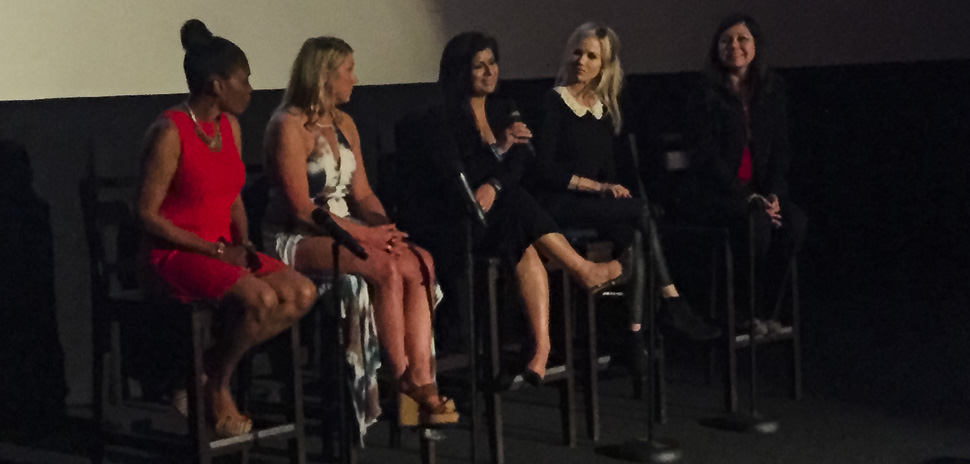 [Photo by Heather Noel]
Following, Shimabuku's brief talk, a panel of local inventors discussed their work, life as an entrepreneur, and the challenges they've faced.
The panelists were: Ricci Bryan, CEO and founder of InfiniSole, a sole and insole grip protector; Romelia Flores, an IBM engineer and "Master Inventor," who has about 37 granted USPTO patents and another 30 patents pending; Emily Huskinson-Heath, CEO and founder of Ring Wrap, LLC; Dr. Yvette Leslie, inventor of The Smarter Hook; and Jenn Zalesky, owner and designer of Game Day Divas.
Here are some takeaways from the discussion:
Flores: I was ecstatic when I received my very first patent, but there was nothing like the pride that I felt when my daughter received her first patent as well. She was one of my proteges and I really enjoyed being able to work with her at IBM and get her inventing. I encourage all of our young people.
Huskinson-Heath: Being an entrepreneur, your day is not very defined. When you go in the morning, what you think is going to happen that day generally is never what happens that day … A bunch of little things add up to a big thing. It sometimes feels like your day gets away from you and it's a ton of little things, but doing all those little things well means a lot and it becomes a big thing.
Zalesky: I wish I would've known more legal guidance from when I developed the product to where I'm at now. It's like you're blindfolded. You don't know really what's going to happen, so having mentors or people that are going to give you this guidance before you even bring your product to market I think is extremely important.
Bryan: Everything I've done to raise my own capital has been nontraditional from my corporate bonus at work to liquidating the equity in my home and my 401K … There are unique ways that you can leverage that aren't well-publicized or well-known. I'm happy to share any of that information to help people own 100 percent of their business.
Leslie: Even after I received my patent, I still didn't consider myself to be an inventor. You have this idea of an inventor being this person in a basement coming up with some crazy contraption because that's what Hollywood shows you.