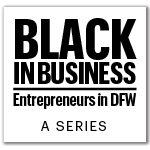 Earlier this year, Texas was ranked as the No. 2 state for Black entrepreneurs to build a business. While there are many factors that make the state, and Dallas-Fort Worth, a great place for founders of color—camaraderie, opportunity, economic incentives—there's still a ways to go when it comes to inclusion.

In our new multi-part series, we speak with Dallas-Fort Worth-based Black entrepreneurs on what all people can do to join the fight against social injustice. You can read the first installment here.
They talk about what conversations companies should be having in regards to diversity, what resources are out there to amplify founders of color, and share their own perspective and personal experiences from the past few months.
Meet the founders below.
Dr. Tye & Courtney Caldwell
Co-founders
ShearShare
Tye and Courtney launched ShearShare in 2012 after a stylist asked to rent a chair in their salon, Plano's 74 by Tye, on a part-time basis. Before the app launched, Courtney manually managed clients. That changed when they discovered investors.
Now, they've completely transformed the B2B beauty industry.
The couple set out on their entrepreneurial journey together to bring resources to independent business people through the convenience of a mobile app that is fast, flexible, and financially beneficial. ShearShare connects "soloprenuer" licensed barbers and cosmetologists with studios renting salon and barbershop space.
It saves stylists money in overhead costs, offers flexibility, and lets stylists gain freedom from long-term contracts. Salons, meanwhile, find money-generating stylists to fill empty chairs.
Last year, the team partnered with Track, a service that tracks taxes, and Elite Beauty Society, a company that provides liability coverage to cosmetologists, to remove some of the difficulties that come with being a one-person business.
What advice would you give to someone wanting to get involved, specifically in regards to entrepreneurship?
Entrepreneurship is first a mindset. Make sure you have a solid plan along with your idea, because execution wins the race. Know that it costs time, money, and energy to be an entrepreneur, so the more you can start the marathon with some capital (most start with their savings account), a good credit score, and an ability to network, the longer the runway you'll be able to build.
It's also imperative to know someone who is or has been an entrepreneur; you'll find that that resource will end up being a huge asset to you because their experience can work to give you a leg up in both knowledge and wisdom. 
What conversations should companies and their leadership be having right now in regards to diversity?
Silence is violence.
All companies should be reaching out right now to their Black employees to let them know that they are valued and appreciated and that the company supports #BlackLivesMatter. These companies should organize groups that will allow Black founders, team members, and leaders to be heard.
In our industry, there is a movement called #PullUporShutUp that is challenging global beauty and barbering brands that sell into the Black community to disclose the number of Black employees and the number of Blacks holding leadership positions. If you post about BLM but then have a team made up of 2 percent Blacks, that's a problem.
It just makes good business sense to build teams that more closely represent the customer you aim to serve, so we're starting to see brands take a very public stand. There is definitely a need for racially sensitive groups that remove systemic racism and injustices within the workplace. So don't just talk and coordinate meetings—leadership has to act.
A wise woman once said, "Don't believe what you hear. Watch what they do." 
What are some useful resources for Black founders?
Blogs and podcasts have served as virtual mentors for us in many ways. If you can't get face time with a prominent individual, you can surely learn a lot by reading their written manifestos or listening to their podcasts online. Arlan Hamilton's podcast, Your First Million, is a perfect example.
I would also contact your local Black Chamber of Commerce, because the pool of influence within that community is strong. Your local BCC will have a list of events that are happening within your local area that provide a multitude of opportunities to meet other Black entrepreneurs and expand your reach.
And, don't be afraid to cold email someone for their insight. Many Black founders, CEOs, and business leaders have faced similar challenges and issues as they got started, so do not hesitate to ask for help.
Danny Martin
Co-founder & CEO
Geekletes, LLC
At Geekletes, Martin and his team provide esports development that helps gamers go pro. It began with the CEO's own interest in gaming and passion to expand the industry.
Originally, the team was located in a repurposed loft in downtown Dallas—also known as "The Dojo"—that housed a photography area, podcast room, gaming arena, and spectator overlook. But with the high demand in esports, and as Geekletes grew its teams, Martin knew he had to move to a larger space.
Geekletes is now housed in a 15,300-square-foot headquarters in DeSoto. It combines education, career opportunities, and competition to act as an "incubator" for esports talent. Martin says there's a huge focus on the classroom aspect: Students can learn about all components of esports, from management to marketing to production.
To date, Geekletes has provided opportunities for a number of players to enter the professional gaming league with some of the best franchises in the industry.
What has your experience been like as a Black founder in esports?
In esports we've always been focused on inclusion. When I first built my small, 2,000-square-foot space in downtown Dallas, we were able to allow individuals to compete inside of our space. People would come from South Dallas to Frisco. There was a symbiotic relationship that was there.
But when we started to see esports stadiums and spaces pop up that were backed by larger investors, we recognized a void. There started to be places in downtown, in Frisco, and in Arlington that catered to the esports community. But there was nothing in the southern sector of Dallas. I looked at it as an opportunity to build an ecosystem.
But I couldn't necessarily just build an arena—I had to make sure it was more geared toward teaching individuals about the space, because a lot of people don't know the game, they just know the opportunities involved with it. So I had to spend a little bit more time training individuals about the benefits of esports.
When I look at the esports world today, it's about giving insight. Once you give individuals opportunities, then you can make people feel comfortable and inspired. If you don't give all individuals opportunity, then they can become discouraged and sometimes give up hope. When someone gives up hope, then they become enraged, and when they become enraged, it's not good for anybody.
When I wake up every morning and come to the esports arena, I look at it as a way to give opportunities to individuals in a space where they may see none.
What conversations should companies and their leadership be having right now in regards to diversity?
Everybody has a different outlook on life. When it comes down to understanding someone's outlook, it only helps if you engage with that person and their communities. When you're looking to speak to several different individuals, make sure you're including individuals that come from different walks of life. It helps everybody feel connected.
Some things we discuss with our staff is: what games do you play, what do you like, what do you like to do, as far as the industry goes. That takes away the barrier of what you look like, what your religion is, and where you come from.
The job that we share is that we have the same passion for gaming. So I tell my staff that we're all in this together—we share one passion and that passion is gaming and helping individuals.
What are some useful resources for founders of color? 
We're planning an event with the 100 Black Men organization. We're really focusing on bringing in individuals and political figures around the nation to talk about police brutality, race, systemic racism, and more.
We want to allow police and law enforcement to be able to share dialogue, and also bring in some of our professional gamers and some celebrities. We will be launching this in the next month.
We've also done events where we bring in a variety of esports perspectives for a healthy discussion. One of the biggest things that anyone can do right now is have a dialogue.
Tiffany Ricks
CEO (& Chief Hacker)
HacWare, Inc.

Ricks built her company to tackle the problem of cybersecurity and hackers from a human standpoint.
HacWare, a minority- and women-owned startup that specializes in AI and cybersecurity product development, has an autonomous product that can detect who's in danger of an attack, which prevents data breaches, increases awareness, and identifies any training gaps.
HacWare essentially acts as a company's "security sidekick." Ricks also has free tools to recover a hacked account and training to prevent phishing.
Last year, the team had a major growth journey, from being chosen for one of the country's top accelerator programs to Ricks being recognized as a Rising Star by the Women's Business Council Southwest.
Coming up this year, HacWare is launching a 100 percent diversity-driven learning management system focused on cybersecurity awareness and is expanding to NYC.
What advice would you give to someone wanting to get involved, specifically in regards to entrepreneurship? 
My advice to future entrepreneurs is to spend time validating the market. I recommend talking to as many potential customers that you can early before you have invested the time and money to build the company.
These initial conversations can help you shape the company. You may also find your early adopters during this customer interview process. Many founders make the same mistakes I made by building the product first or talking to investors first instead of talking to customers. 
When I figured this out it was a game-changer for me and how I ran HacWare.
What are some useful resources for founders of color? 
If minority founders want to learn about fundraising, I think they should look into Transparent Collective. It is a nonprofit led by minority tech founders for minority tech founders. It is based in San Francisco but they recruit companies from all over the world to spend five days learning about investment. I met one of my early angel investors through this organization.
The Women's Business Council Southwest also has a Women of Color networking group.
There is also a Facebook group called Black Founders – Texas.
What conversations should companies and their leadership be having right now in regards to diversity?
Companies should acknowledge the mistakes they have made around diversity and inclusion. 
They should start with the pay gap issue in employee wages. In cybersecurity, black employees make 33 percent less than white employees for the same job and the same professional background. This is absolutely unacceptable!
Branden Williams
Founder & Executive Director
Seeds to Stem

Seeds to STEM (STS) works to evaluate, educate, and develop students in STEM-related fields. With its fresh take on STEM immersion, STS is working to close the gap in low-income neighborhoods throughout Dallas.
Williams himself has been in Dallas since 2011. Though his background is in lab animal medicine and pre-clinical research, when he found himself "in between successes," people encouraged him to teach. He taught eighth grade biology for a year, then over the past three years decided to give STS a real shot, turning it into a premier organization in Dallas-Fort Worth. 
Williams' passion first bloomed when he realized most children of color don't have access to the same experiences in science that he had. When he landed in college at the University of Arkansas at Pine Bluff, he worked at Governor Mike Huckabee's Delta Rivers Nature Center.

He knew that consistent, quality programming needed to exist to raise awareness and provide opportunities for exposure in science. Representation matters—and he wasn't seeing that across the region. As he says, "you can't dream about something you've never seen before."
What experience have you had as a Black founder? And, over the past few months?
At first, it was a challenge. The current climate in America is physically taxing and mentally taxing. It seems like I'm surrounded by high walls with no windows and I can't escape; those walls are constantly closing in and there's something attacking me from on each wall. 
Luckily, I have an amazing wife that keeps me grounded, just asking me genuinely how I am feeling today. It is important for me to have someone to confide in. Access to therapy is hard, especially where I live in Oakland, unless I go to one of the local churches to receive help. 
Being an entrepreneur is developing a scope of work that provides a level of freedom from the normal nine to five job with the autonomy to do what you want. Entrepreneurship is rooted in freedom to conduct business on your own terms. 
What are some useful resources for founders of color? 
It's hard to say. JPMorgan funded a research report that highlighted the disparities and lack of resources in communities of color.
One of the biggest things is that there's a gap in funding. Period. For me, not only do I have my business plan reviewed and vetted by professionals, but I have to provide financials in cash just to be considered for the funding. 
What conversations should companies and their leadership be having right now in regards to diversity?
They have to think about what they're pouring money into, what ventures they're actually funding, and the actual boots they have on the ground in areas that need resources. 
Think of all the companies in Dallas, most of them don't physically work on the ground of underfunded areas. Of course, hiring inclusively so people of color have a seat at the table is always important, but volunteering and funding initiatives in the community is mostly forgotten. 
The root of racism is power; it is humanity's attempt to assert power. White allies need to ask themselves if they're in a position of power, taking away power from a person of color. We know all these disparities exist. Both positions of power need to transform and educate themselves to see a change in the system.
What advice would you give to someone wanting to get involved, specifically in regards to entrepreneurship? 
We all need guidance. If you're in a position to professionally mentor a person of color, do it. Imagine the type of conversations that this mentorship could bring and how much that enriches lives.
It's not giving people of color "a hand-out," it's giving us "a hand-up." My advice would be to simply extend a hand-up to someone that's trying to better the community through business. 
Interviews were edited for brevity and clarity. Alex Edwards and Riley Farrell contributed to this series.


Get on the list.
Dallas Innovates, every day.
Sign up to keep your eye on what's new and next in Dallas-Fort Worth, every day.