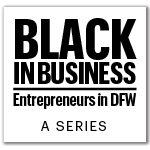 Earlier this year, Texas was ranked as the No. 2 state for Black entrepreneurs to build a business. While there are many factors that make the state, and Dallas-Fort Worth, a great place for founders of color—camaraderie, opportunity, economic incentives—there's still a ways to go when it comes to inclusion.

Those issues are evermore apparent in the current state of the nation. The public outcry over George Floyd's death and a number of other Black Americans at the hand of police officers, has spurred a movement against social injustice and systemic racial inequity.
But for our community of Black startup founders in North Texas, leveling the playing field isn't a "new" fight. Overcoming issues of equality are often just apart of doing business. Many, like Dallas native Arlan Hamilton, have been working to bridge the gap between investment and underestimated founders—and accelerate progress.
Action breeds change. In this multi-part series, we speak with six Dallas-Fort Worth-based Black entrepreneurs on how you can help right now, what conversations we should be having in regards to diversity, and what resources are out there to amplify founders of color. They also share their own perspective and personal experiences from the past few months.
Meet the founders below.
Piersten Gaines
Founder & CEO
Pressed Roots
While studying at Harvard Business School, Gaines noticed that her classmates frequently booked appointments at blow-out bars, totally trusting the stylists when they did so. However, Gaines struggled to find a person or place that she trusted.
So she decided that a luxurious blow-out experience specializing in the textured hair demographic was something the beauty market was desperately lacking and set out to close the gap.
The pandemic forced Pressed Roots, the first dry bar for women of color, to shut its doors two days after opening a flagship location. Because it had just opened, Gaines and her team didn't qualify for most of the government grants and loans. While she successfully re-opened Pressed Roots on May 16, implementing new safety precautions and measures to ensure the safety of staff and guests (Gaines has seen wonderful traction since re-opening), half of her staff has yet to return to work because they still do not feel safe.
What conversations should companies and their leadership be having right now in regards to diversity?
This is the time that companies should really be pushing themselves to not only make their companies more representative of the diversity of the country, but this diversity should be reflected in the management, and executive leadership level, on the board, and the way your company shows up to the world.
For example, if you are a fashion company, 13 of your runway models should be Black; if you are a VC firm, 13 percent of your portfolio companies should be Black founders; even if you have a podcast, 13 percent of your guests should be Black.
Being proactive about setting these targets is not easy, because it will force recruiters and the deal sourcers to go beyond their usual methods of sourcing talent.
Go beyond your network to source talent. Stop the only warm intros rule. Make connections with historically Black organizations that have the talent—get creative with the way that you are thinking about making your company more diverse, and more inclusive for those minority groups in your organization.
Finally, each company should begin investigating pay inequities in the organization.
What are some useful resources for Black founders?
SoGal and NewAge Capital are two great resources for Black Founders in Dallas. SoGal is a non-profit organization that was developed to be a resource for diverse founders, and NewAge Capital is a VC firm that invests in Black and Brown founders.
The leaders in the Dallas arms of these two companies are not only well connected in the entrepreneurship space, but are very supportive and want to see a more equity in the distribution of resources for entrepreneurs. They have been very helpful for me in connecting me to the right places to raise money and get the word about my business out to the people who can be helpful in Dallas.
For those who are wanting to support or get involved with these great organizations, you can volunteer as a SoGal mentor or present at a SoGal lunch & learn or invest in NewAge Capital's latest fund.
Craig Lewis
Founder & CEO
Gig Wage
Those in the gig economy are fortunate to have Lewis, who's tech startup navigates the money side for contractor-dependent businesses. The payments platform offers software for companies and contractors and APIs so developers can integrate with ease. Last year, the team signed a multiyear contract with a Fortune 10 company, released its API, and launched new products, including a 1099 service.
Personally, Lewis says he's doing fine right now as an optimistic, positive person. He's on his A-game. But, it takes a lot more to be fine right now.
So, Lewis and his team at Gig Wage decided to use their own skill sets and pent-up energy to step up and help. They've been spending nights and weekends building a platform that helps educate people on "qualified immunity." (You can read about the movement here).
A Minimum Viable Product (MVP), the project will automate the ability to apply pressure to Congress, so that people can push to end a "precedent set by the Supreme Court to make it almost impossible for government officials and cops to be convicted."
What experience have you had as a Black founder in tech?

The statistics are out. Less than 1 percent of venture capital goes to us (Black entrepreneurs). The reason that's important is because if you look over the last 20 years, the greatest source of wealth creation is VC-backed Black tech companies. That's where wealth is being created.
We literally haven't seen that type of wealth creation since the 1930s Texas oil boom. If you want to create generational legacy in wealth fast, it's been in tech. Look at the Amazon, Facebook, Microsoft, Apple; they are all venture-backed companies, and you can even go down to the smaller cap companies. 
If Black entrepreneurs aren't getting in that kind of venture capital current, it's hard for us to go out and generate substantial returns for our families. That's why it sucks. 
Although venture capital is a small asset class, it's one that we need to be in because I think it will help close some of this income inequality that exists. It's definitely a problem. I've been able to raise a couple million dollars at this company, but it definitely hasn't been the traditional path. It's taken a lot of effort, grind and grit. I've had to be very capital-efficient and as innovative as possible to do a lot with the little.
It remains a problem. 
Venture capitalists are being called to the carpet right now, and I've been doing some of that myself on Twitter. I think we're definitely holding up a mirror and saying, "What are you really doing to prove that you believe that black lives matter?" 
Since George Floyd's murder, there's been an inflection point in every industry, which are asking the question of what they can do—venture capital and tech is no different.
What advice would you give to someone wanting to get involved in the fight against social injustice?

Our White allies have been asking me this question: investors, advisors, everybody. Take what you do really well—it's typically what you do at your day job—and ask yourself how you can apply that skill set to this problem.
If you take what you do well, you're naturally much more likely to continue doing it over an extended period of time. One of the things I'm calling on people is, "Will you be talking about this in February 2021?"
Look at yourself in the mirror and ask yourself if you truly want to help, how can you apply your skills to the injustice that exists in police brutality? How can you keep Black people alive and give them a chance at due process? 
Protesting is great, voting is great—do your thing. But those things happen in one-off, isolated moments. What is the thing that you do well all the time, and how can you apply that to this cause?
What are some words of wisdom for other Black founders?
Just keep doing what you've been doing. We're used to working close to the bone with a little bit of nothing and figuring out how to get it done. Allow this opportunity to power your boldness. Drum up more courage now to say things more directly, like the big ask or request.
Keep being amazing and keep doing what you're doing, but just be bolder.
One of the things about being a CEO in tech and venture capital is that these are big, bold visions we're supposed to have. We've been trunked in the past, and our voices have been quieted.
This is the time to be bold, not necessarily only about the injustices that are happening, but the amazing things that we're doing. Stories can be told about our successes, wins, innovations, and traction. Stay focused.
But, do whatever you need to do right now. If you need to rest, take a mental break, go to therapy—this is a very traumatic and stressful time, and a lot of pain is being built up. Be bold, be aggressive. It'll be amazing. 
Anthara Patrice
Founder & CEO
MyBeautyFill
Patrice, a native of Dallas, has been in the beauty industry for more than two decades. But in 2016, she nearly lost her life at the hands of her future husband. Out of a passion for representing fellow Domestic Violence survivors and serial entrepreneurship, she founded MyBeautyFill to "help those survivors establish financial independence through beauty entrepreneurship."
Mybeautyfill provides SAAS beauty solutions for beauty enterprises, brands, and professionals. The intent is to connect brands and professionals to consumers directly through appointment scheduling, video consulting, and business management. It also allows beauty professionals and indie beauty brands to grow with a referral only, hidden Domestic Violence resource area. 
What advice would you give to fellow Black entrepreneurs?
Pursue your passion, but with purpose. Ensure your business model is sustainable and scalable outside of being a solo owner & operator.
If you seek accelerators, research the program team and their funding track record. A lot of programs are taking advantage of underrepresented founders' lack of opportunity through intimidation and retaliation. 
What are some useful resources for founders of color?
 – Kauffman Foundation Entrepreneurship course  
– Consumer Technology Association 
– SCORE 
– Alumni programs of Colleges/University 
– FoundersGym 
– New Voices 
– Moguldom 
– AfroTech 
What conversations should companies and their leadership be having right now in regards to diversity?
Companies should discuss the discomfort in identifying established biased company culture detailing management styles, culture discrimination, and lack of acknowledgement of systemic oppression through the 74 percent Black people earn versus a white employee.  
On the startup end, consider truly diversifying your portfolio.
Black Female founders are the fastest-growing entrepreneurs, yet the least funded at .02 percent. That's less than half a slice of a large pizza.
It's insulting to throw $50,000 at established, multi-billion dollar industries because the founder doesn't look like you or isn't a family referral. 
L. Michelle Smith
Founder & CEO
no silos communications llc
No silos communications llc is the parent company for six media, content, talent development and strategic communications consulting brands, all fueled by tech. Smith herself has more than two decades of experience as an award-winning communicator and integrated marketer at global agencies, and is a certified executive and business coach. She is also the creator, executive producer, and host of The Culture Soup Podcast.
Most recently, Smith answered a call at Dallas-based AT&T, which needed someone to build their D&I corporate communications capability from scratch. She did that in two years, then built another innovative business model to compliment it in inclusion marketing.  
But Smith's speaking business was impacted substantially because of the COVID-19 pandemic considering events and travel were cancelled. For context, she did 30 speaking opportunities across the country last year alone. So while she continued to receive invitations for online events, she had to lean into other lines of business to make up for the slowdown.
What advice would you give to someone wanting to get involved right now, specifically in regards to entrepreneurship?
Obviously, access to capital is the best way to stay viable during a time of unprecedented change and crisis, but I've found that outright funding isn't always the best answer. My approach as a service provider really has more to do with the value of human connections. 
So, if those with influence and connections can connect me with their networks, key decision-makers who require my services, be it organizations or individuals, that is golden. New business not only creates cashflow. When I deliver, it creates delighted clients who refer. 
That's a multiplier that keeps businesses running. I believe that is better than any loan I'd have to pay back. Reinvesting my own revenue into my business is the optimal position.
What are some useful resources for Black founders?
As a business coach, I encourage my clients to lean into technology that will automate low-level processes that will save you time and money. I'm amazed at how some of these workflow, CRM and other applications cost little to nothing and are so user friendly.  Some of my favorites are 17hats.com, Bonjoro (for which I am a brand ambassador), Mailchimp, and Zapier.
One of the issues many new entrepreneurs have is the tendency to try to do everything themselves. They fear they don't have enough money to hire, so they just overload themselves. 
True entrepreneurs build with the goal to put people and processes in place so that they can scale for growth and take time off without worry. When you don't have money for people, invest in tech for your processes. I've also found that the local colleges and universities are a great resource for young, hungry, and, in many cases, talented workers who may not cost as much as a new graduate or someone else who is already in the job market.
What conversations should companies and their leadership be having right now in regards to diversity?
 As an executive coach, I'm currently urging corporate leaders to level up on their cultural intelligence quotient (CQ). Most people are familiar with IQ and even EQ (emotional intelligence quotient). However, IQ and EQ are nearly useless without CQ in our current societal context. 
We live in what I call a "new mass market", and you can see a reflection of that as the protestors continue to pour into the streets.
One in every two babies born in 2012 was a baby of color. This is Gen Z. The most multicultural adult generation is millennials. I urge my clients to strike the word minority from their lexicon because the numbers no longer support the term. 
Women make up more than 50 percent of the population and when you layer on LGBTQIA, accessibility markets, and others, we have a swirling of cultures with substantial buying power. That combined with the decision-making purchase power of women, the impact of the collective is in the buying power multi trillions (via Nielsen).
Everyone works. So that means they are your employees. To understand the issues of today and how you should lead during this time mandates you understand more than your own culture.
Danyel Surrency Jones
Co-Founder & CEO
POWERHANDZ Inc

Jones is a creative strategist, philanthropist, trailblazer, "Vision Chaser," and leader of POWERHANDZ, a global product designer that focuses on human performance, injury recovery, and injury prevention in athletic training and rehabilitation.
Prior to that, she held several executive leadership roles for medical giants Philips Medical Systems and Medtronic Surgical Technologies. She took that experience to entrepreneurship, and was able to build a sustainable business model at her own venture.
While she's the CEO of POWERHANDZ, Jones is also the president and co-founder of the company's nonprofit entity, The Power To Give Foundation, which works to provide athletic and academic programs to youth in underserved communities. She's also a TEDx speaker and will be speaking in this year's event.
What advice would you give to someone wanting to get involved right now, specifically in regards to entrepreneurship?
If you want to be an entrepreneur, the first thing you must adjust is mindset. The word CEO should be replaced with RESILIENT. No matter what color you are, there is an elevated level of resilience one must possess in order to rally advocates, influencers, supporters, and customers around your vision.
Next, don't short change your idea. Develop a business plan that includes scaling and expansion into other countries. If you don't start with a tech platform, phase one in. An entrepreneur's number one responsibility is to see the vision beyond no's and beyond boarders.
What conversations should companies and their leadership be having right now in regards to diversity?
It's a critical time for companies to discuss what I refer to in my TEDx as "The Black Elephant In The Room." It's time to be bold and brave and no longer ignore the 14 thousand-pound, 13-foot high elephant standing in the room.
No longer can we allow the uncomfortable conversations, biases, and stereotypes to create road blocks for advancing talented women, developing diverse succession plans, and creating policies and leadership coaching that change the perception of Black candidates as risky, to appreciating Black brilliance.
The action plan is clear: Follow the same blueprint and go-to market strategy used to launch new products, but replace it with a diversity and inclusion campaign that becomes the DNA of your organization, starting in the board room.
What are some useful resources for founders of color?
As a Black Founder, it is important to find resources, resources, resources. Please note, this can be one of the most challenging areas for an entrepreneur, especially a double minority entrepreneur and those that don't come from privilege or pedigree. Your ecosystem will be different and you must step outside of your comfort zone to network with people that have programs customized for you and those that aren't customized for you. Just like your approach to your business, finding resources that work for you should be a strategic, well thought out plan.
Funding: Make a list of companies and institutions that focus on grants, women, tech, Black Founders. The nonprofit called Black Founders was started in 2011 and it serves to offer mentorship, advice and funding resources. In addition, please connect with all funds that focus on equality, such as New Voices, Backstreet Capital, TechStars and Women In Tech.
Mentorship: I would recommend SCORE, LinkedIn and developing relationships with experienced professionals in your space.
John Tomlinson
Founder & CEO
Equalizer Games LLC
Tomlinson is a football coach and author turned tech founder. From his career as a high school, college, and NFL coach, Tomlinson combined that passion with technology to create teach football players individualized positions through a mobile and online gaming app.
The tech allows players to transfer what they learn to the field in a fun and cognitive way. The first app for release is The Quarterback Equalizer, which helps "aid quarterbacks from neighborhood teams and schools to collegiate and professional levels better understand how to dissect an opponent's defensive coverage."
It's the first in a series of games that will allow users to better understand the nuances of football so they can execute concepts better and faster.
What advice would you give to fellow Black entrepreneurs?
Stay committed to your vision that's leading you towards entrepreneurship. Constantly flush out your motives and daily stay connected to your "why."
Also surround yourself with people that want to see you grow and improve your vision. While the journey is a tough one, make sure you're constantly working on daily wins. A friend of mine likes to call them, "Microwins." Find one aspect daily that moves you towards your entrepreneurship goal. 
What are some useful resources for founders of color?
I highly suggest a book I recently read called "It's About Damn Time" by Arlan Hamilton. She wrote a book on her journey as an entrepreneur that constantly heard the "no's." She constantly stated that it only takes one yes to get you to the next level. She is 100 percent correct. 
I'd also suggest doing research through your local SBA, as well as going online to research successful local companies that may be similar to your startup. As you go through this research, it's highly likely that a mentor will come out of your research from the SBA or from a local business owner. Don't be afraid to have questions ready to ask once you can secure a sit down with the business owner.
Accelerators are helpful as well, but it's important to understand all that they can provide and to make sure from your research. The accelerator can help your business grow to the next stage. You don't want to exit an accelerator without gaining more traction for your business, some type of funding, or new relationships that can help you build your business to the next stage.
Remind yourself that every day is a step in progress and you want to make sure you're evolving. Although it may be slow, you are progressing forward, so this is the attitude to take into any program you sign up for and your expectation should be the same of the program. They should help you grow.
What conversations should companies and their leadership be having right now in regards to diversity? 
Companies and their leadership teams should have a hard and honest conversation about reviewing everyone that applies as opposed to just bringing in people that you are comfortable with or look like you. Since when has comfort been a prerequisite to growth in life? As far as I know, never!
From 25 years of coaching and aspiring to coach in the NFL full-time after multiple experiences, I have had my greatest lessons in the belly of discomfort. I am a full-time business owner that puts every resource into Equalizer Games. There is no life raft and there hasn't been a "play it safe" exit ramp since we've been on this highway seeking funding and partnerships to build our tool and company.
It is imperative for companies to stop being comfortable and take a hard look at diverse backgrounds to better find individuals that have like minded aspects towards their company. You'll never find this out if you're totally focusing on comfort and an "outside-in" approach. We should always have the "inside-out" strategy.
You'll never know the quality of a human being by just looking at their exterior. Take the time to not be lazy. Simply sit and ask questions. Go beyond the assumption and do a deeper dive.
As I stated earlier from Arlan Hamilton, many of us only need one "yes." That "yes" will come from first being uncomfortable to do the research and give those of diverse backgrounds a chance. Sit and dialogue to see if their goals meet your goals as a company. Be honest with yourself—be uncomfortable.
Interviews were edited for brevity and clarity. Leah Frazier, owner of Think Three Media, contributed to this series.


Get on the list.
Dallas Innovates, every day.
Sign up to keep your eye on what's new and next in Dallas-Fort Worth, every day.