Artists who prefer a large canvas have the opportunity to showcase their work in the 42 Murals Project 2017, which will have a new twist over the original murals project in 2015.
42 Murals is the brainchild of real estate developer Scott Rohrman who owns 39 buildings in Deep Ellum.
The idea for 42 Murals began in 2015 after Dallas artist and corporate art curator Lesli Marshall introduced Rohrman to Adrian Torres, a painter from Spain. Torres had been hanging out in Deep Ellum for several months, declared that the place felt like home, and asked Rohrman if he could paint a giant mural of elephants near Main and Exhibition.
It started a stampede, one might say. Rohrman's phone started ringing off the wall about the phenomenal mural and soon he put out a call on his website for more artists. He got 225 submissions and enlisted 42 to paint 42 murals on his properties.
"This year we will focus on portraits; we haven't decided to make it exclusively portraits, but portraits will be the focus."
Scott Rohrman
"Before we ever started the mural project, we knew we wanted to do multiple rounds of murals so we could have new art placed in Deep Ellum on a periodic basis, so this was in the original plan," Rohrman told Dallas Innovates.  "All the artists agreed to the condition that they knew their mural could not be guaranteed to stay up for an extended time.  We have to have the flexibility to take down murals for many reasons including but not limited to construction, the need to show the original brick on buildings sometimes, remodeling, and for new murals."
Now Rohrman has put out the call for mural artists again, but with a twist.
"This year we will focus on portraits; we haven't decided to make it exclusively portraits, but portraits will be the focus," he said. The definition of a portrait will be loosely defined and "will embrace all forms of portraits including abstract and other 'twists and turns' on the portrait theme," he said, but he also adds that he'll leave the door cracked open for some non-portraits as a possibility.
The door is even open to other property owners to approach him if they are interested in hosting one of the murals on their building.
"If other property owners want to allow the 42 Mural project to have murals on their buildings, we are happy to talk to them, but we have planned to use the buildings we own since we have control of those buildings, and we do not want to put any pressure on anyone else to allow a mural," he said.
ROHRMAN HOPES TO PRESERVE MOST-BELOVED MURALS
Also potentially new this year: Some method for judging the most beloved murals, which will be preserved indefinitely. Rohrman said he hopes to figure out some form of public voting in which the vote isn't compromised.
"I am not sure what the best (voting) method is, but we will try to find out which murals are really well liked.  In any event, the goal is to put up great artwork in Deep Ellum and to enjoy it.  Hopefully people will embrace the effort to have art in public spaces and will support the project."
Feeling called to paint on a big canvas? You don't have much time to apply. The deadline is March 30. Submit your entry to [email protected] and get the answers to FAQs about the project here. Any age, location and background is welcome to submit, but the project will favor North Texas artists.
Artists submitting a proposed illustration must show exact color and representation of what will be painted. The 42 Murals Project 2017 will assign walls to selected artists but each artist will have the right to determine whether to proceed after they are assigned.
This year's murals are expected to be smaller, but will be at least 6 feet by 6 feet and could be as large as 20 feet by 30 feet.
Here some other examples of the 42 Murals: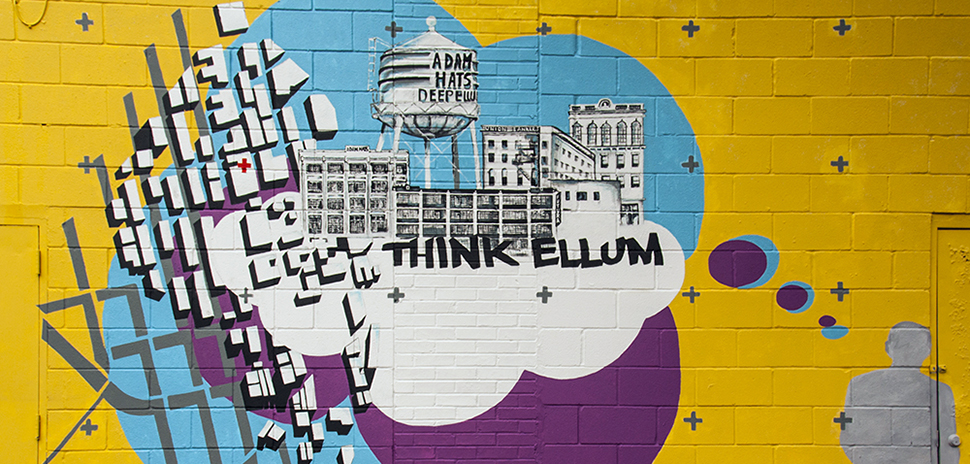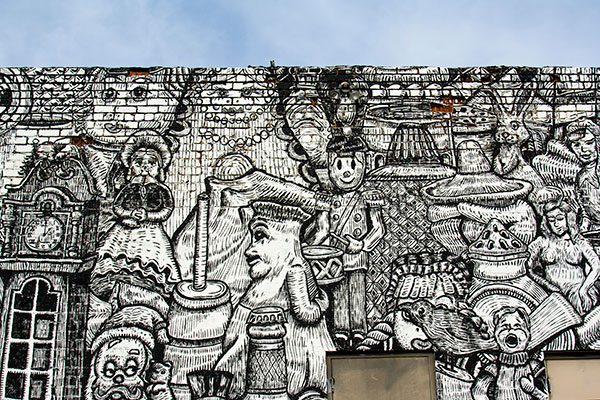 ---
Delivering what's new and next in Dallas-Fort Worth innovation, every day. Get the Dallas Innovates e-newsletter.