The inaugural Venture Dallas conference this week was about connecting entrepreneurs with investors. But, the 300-plus attendees were also treated to possible answers to an overarching question: What industry will become synonymous with North Texas?
"We have an opportunity to be the electrification capital of the world," Brad Hunstable, CEO and founder of Fort Worth's Linear Labs, said Wednesday during his presentation at the Design District's Hall on Dragon. "We have the pieces if we brand it properly to stake it, name it [and] claim it as a region."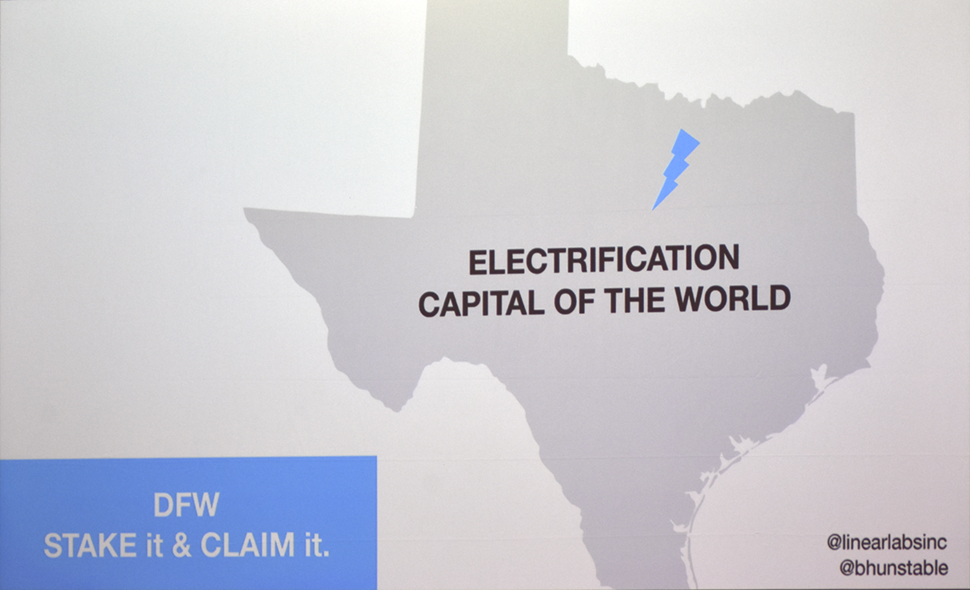 Hunstable said the high-efficiency electric motors his company is designing could help make the area the hub of powering stuff with electricity.
"We have a branding problem in Dallas-Fort Worth," Hunstable said. "We're not really known for anything."
Having sold in 2016 his San Francisco-based video streaming technology to IBM for $130 million-plus, the West Point-trained engineer funded research by his dad, Fred, that produced an electric turbine—machinery that turns energy from spinning devices into power for doing work—that the younger Hunstable says gives electric vehicles 10 percent more range than regular magnet motors.
Beyond his own business, Hunstable cited the presence of large local presences of big players in mobility such as Toyota, which since 1997 has sold a hybrid gasoline-electric car called the Prius. He added that he's working a deal with Lockheed Martin for "33,000 meter motors that's hopefully going to be bundled as we move forward."
Transportation
Hunstable's comments caught the attention of Mike Berry, president of the Dallas-based real estate and logistics giant Hillwood, which Hunstable said was an investor in his last company.
Speaking on a later panel, Berry said Dallas-Fort Worth is poised to become known for creating technology for moving people and freight from points A to B, whether by flight, on roads or most anything else.
"Our interest today is to answer (moderator Anurag Jain's) question, why North Texas and how do we grow North Texas not just as the future for urban air mobility, but really as the future of innovation for all of mobility," Berry said.
AllianceTexas, Hillwood's 26,0000-acre development near Fort Worth, recently announced it will be testing grounds for technology-piloted vehicles ranging from autonomous cars and trucks to drones as a "mobility innovation zone."
Hillwood is working with technology giant Uber to build infrastructure for local skyports for landings and takeoffs of Uber's Elevate budding air-taxi service.
"Our goal is to be able to in the course of the next several months—not years, months—be able to start some testing publicly as a way of showing (less noise) and safety and reliability," said Wyatt Smith, head of Elevate's business development.
The Federal Aviation Administration, which regulates air traffic and safety, is changing how it does business to work effectively with new tech, according to Scott Drennan, vice president of Bell's innovation team.
"The FAA is transforming in a way that many companies that you deal with are transforming," he told the audience. "They're really using innovation as a new lever to move forward with these technologies."
Much like with Hunstable's talk, the mobility discussion left the crowd buzzing.
"I thought the mobility panel was power-packed," Joe Beard, Perot Jain's managing director, said. "We literally had the experts in mobility services, hardware, and infrastructure on that stage."
Finance
Another emerging area of expertise in North Texas is financial technology, or "fintech" for short.
Competing against giants like Fiserv, Plano's Alkami has grown to more than 400 employees since its 2009 founding by supplying technology that large U.S. banks and credit unions use to serve their customers digitally.
"Ultimately, everyone will go to electronic delivery" of financial services, said Stephen Bohanon, the founder who oversees its product direction, strategy, and sales efforts.
The business has raised more than $230 million through five rounds of funding. Asked by moderator Vik Thapar if the latest infusion of $55 million put Alkami "in the unicorn-ish world"—meaning a valuation of $1 billion-plus—S3 Ventures' Charlie Plauche replied, "in that range."
S3, based in Austin, is a long-standing investor in Alkami.
"Alkami is still somewhat under the radar in Dallas-Fort Worth," Thapar said. "Their story shows that companies approaching unicorn status can be based in Dallas-Fort Worth."
Esports
Perhaps the most surprising growth industry in DFW, at least for many parents, is esports, or multi-player video games.
"I have three teenage boys … I got an athlete, a rock climber and a builder, but the gaming thing runs through every single one of them," said Randy Chappel, who spearheaded investments by private equity titan Ken Hersh's family in the field. "And my three boys watch literally no TV."
Though Hersh made his fortune founding what is now called NGP Energy Capital Management in Irving, his family holds an interest in Envy Gaming, an operator of competitive gaming teams.
It also backs the Dallas Fuel of Activision Blizzard's Overwatch League. The team's inaugural event in April sold 4,500 tickets as the local squad took on top rivals from across the globe.
"It is so loud in that arena," Chappel said.
Entrepreneur Brandon Warman, founder of shoppable recipe startup Cooklist, put esports as a key takeaway after listening to Hersh, asking, "Did you know that Dallas is an esports capital?" 
Warman added that the Venture Dallas conference was a success, in his view. That kind of enthusiasm for a first-time event "proves that there is a thriving and growing tech scene in Dallas-Fort Worth," he says.

Get on the list.
Dallas Innovates, every day.
Sign up to keep your eye on what's new and next in Dallas-Fort Worth, every day.