United Way of Metropolitan Dallas and CoSpero Consulting, a local social impact firm, have announced the second cohort for Together for Tomorrow, a collaborative problem-solving group of service providers that aims to "reimagine how they go about creating social change."
The cohort, designed to promote organic collaboration, is part of the United Way of Metropolitan Dallas Nonprofit Success Institute, an initiative to build capacity in local nonprofit organizations that are working to address critical problems in the areas of education, income, and health.
Rooted in economic mobility, the second cohort, sponsored by Blue Cross and Blue Shield of Texas, consists of 11 nonprofits. Over half of the participating organizations are represented by leaders of color.
Together, they will be tasked with working to develop innovative solutions to remove barriers to obtaining living-wage jobs for Black and Latinx adults in Dallas County. 
This focus area was chosen based on the turbulent unemployment rates in Dallas County that have doubled between October 2019 and October 2020, according to a news release. The cohort's organizing leaders also note data that shows people of color are twice as likely to be economically insecure compared to their white peers.
"Financial stability is a key ingredient of a steady, successful life," said Ashley Brundage, executive director of Housing Stability and SVP of Community Impact at United Way of Metropolitan Dallas, in a statement. "Along with education and health, it's one of the building blocks of opportunity. This cohort supports our community goal to increase by 20% the number of young adults who earn a living wage, adding nearly $800M in wages per year in North Texas."
The cohort initially launched in November 2020 and is scheduled to meet virtually twice per month from November to March for a series of interactive creative problem-solving workshops. After each session, members are paired together to take action and complete relevant weekly activities. 
The objective of Together for Tomorrow's second cohort is for each member to have a viable solution that their organization can implement immediately. Organizations will also have the opportunity to develop new organizational partnerships and a chance to win a $5K prize grant to support the implementation of the most innovative and impactful solution, as voted on by cohort peers.
"The Together for Tomorrow initiative is the type of transformative project that Blue Cross and Blue Shield of Texas is proud to support," said Sheena Payne, BCBSTX's director of Community Investments, in a statement. "All of the participating organizations have been working in this space and know how to achieve the kind of meaningful and measurable results that touch those populations that we are trying to impact. It's also important that we continue to aid community-based organizations that are finding solutions to the critical problems in the areas of education, income and health in North Texas."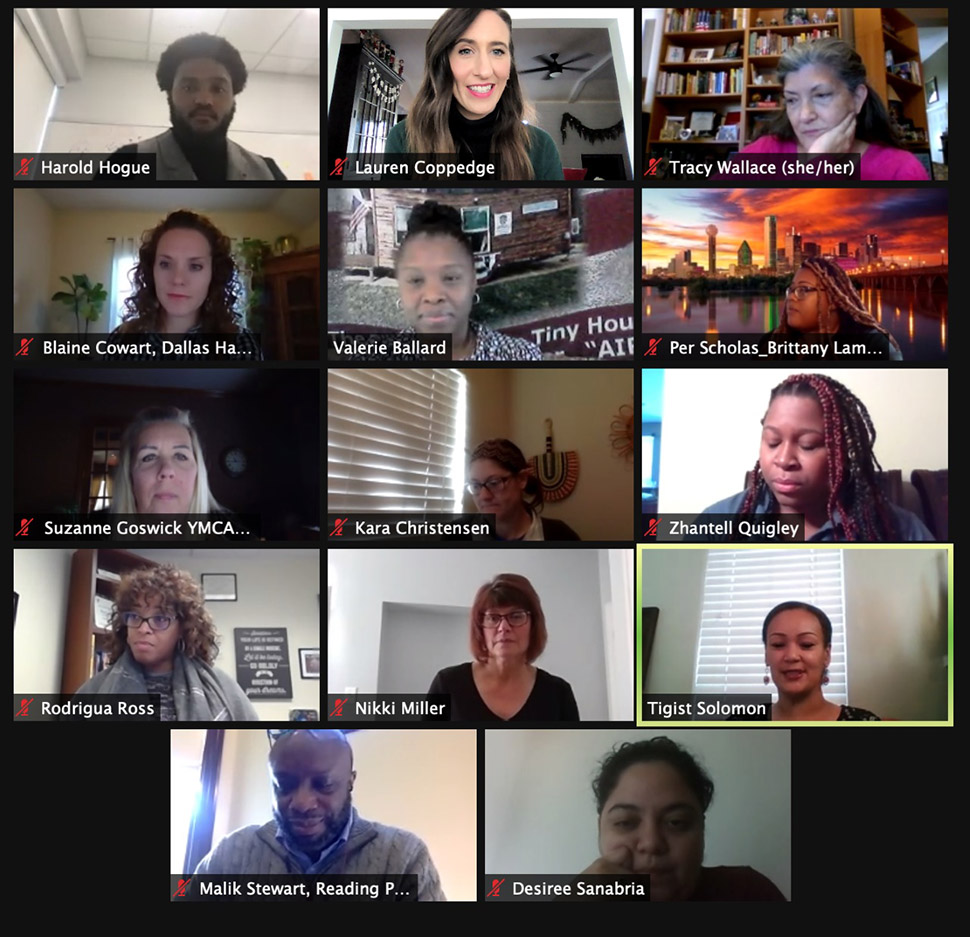 Here are the current members of the Together for Tomorrow cohort:
Achieve
Founded in 1951, Achieve has a long history of serving individuals with disabilities in the Dallas area. While Achieve's programs have evolved throughout the years, it is currently working to empower individuals with disabilities and barriers to work to achieve their highest level of employment and independence. Achieve accomplishes its mission through workforce development programs that include a series of work center programs, vocational adjustment training (VAT), work experience, and mobile work crews. 
CitySquare
CitySquare is a nonprofit that offers a comprehensive array of social services addressing four key areas related to the persistence of poverty: hunger, health, housing, and hope. While having grown from a humble beginning in 1988, CitySquare today remains committed to equality and inclusiveness, and recognizes that fighting poverty involves bringing together the entire community in the heart of our city. Its social service programs provide more than 50,000 human touches in Dallas and Paris, Texas.
Dallas Area Habitat for Humanity
Dallas Habitat transforms families and revitalizes neighborhoods through affordable homeownership opportunities, financial education, advocacy efforts, and neighborhood empowerment programs. With housing often being one of the greatest expenses for families, Dallas Habitat serves and empowers families via pathways out of low-asset poverty. The nonprofit supports and helps families prepare for ownership and navigates them through what is otherwise a complicated process. 
Green Careers Dallas
Green Careers Dallas is a nonprofit that provides solar installation training to residents of South Dallas. By creating economic opportunities in underserved neighborhoods, Green Careers aims to empower and energize the community. Through its training program, Green Careers connects individuals to valuable career opportunities within the growing green economy and works toward disrupting poverty.
New Friends New Life
New Friends New Life restores and empowers formerly trafficked teen girls and sexually exploited women and their children. NFNL emerged in 1997 when an exotic dancer entered a local church seeking help. Eventually, she started bringing friends, formed a group, and began helping more women escape sexual exploitation. These initial efforts blossomed into what NFNL today provides: 400 women, teens, and children with education, job training, interim financial assistance, mental health, and spiritual support. Its evidence-based programs help survivors recover from complex trauma, rebuild their lives, and thrive. 
NFTE Network for Teaching Entrepreneurship
NFTE empowers young people to own their futures by promoting more equitable access to economic opportunity through effective entrepreneurship education. It partners with schools, community groups, and youth development organizations to bring entrepreneurship education to under-represented learners. Students are encouraged to create their own business ideas, develop an entrepreneurial mindset, learn to think critically, and build the skills needed to plan and launch a startup.
Operation Tiny House, Inc.
Operation Tiny Home is a nonprofit that assists people struggling with severe housing instability to maintain a life of dignity through custom high-quality tiny housing solutions and empowerment training programs. Focused on providing basic needs, such as secure and stable housing, Operation Tiny House is dedicated to building communities that are transformed through the empowerment of individuals.
Per Scholas
Per Scholas works to build a thriving workforce with equitable access to education. By providing skills training and access to employer networks and individuals often excluded from tech careers, Per Scholas envisions a technology-based workforce as diverse as the customers it serves. Over 11,000 graduates have launched successful careers in tech to date through its no-cost technical training, and it plans to continue advancing economic equity by connecting skilled talent to leading businesses. 
Reading Partners
Reading Partners has been a part of the Dallas educational landscape since 2012 when it launched its program at George W. Truett Elementary School and Roger Q. Mills Elementary School. Since then, Reading Partners has placed thousands of community volunteers in low-income schools to help kids master basic reading skills. Its strong partnerships with school districts, including Dallas ISD, Fort Worth ISD, Uplift, KIPP, and others, ensures that all students in north Texas—no matter their background—have the opportunity to lead happy, healthy, and successful lives.
Urban Specialists
Urban Specialists offers activities that provide alternative life experiences, transforms values, attitudes, morals, and ideas. The organization's training and methodology ensures a safe and productive environment for participants to evaluate their values and learn to change behavior. Focused on transforming urban culture, Specialists creates activities that emphasize goal-setting, self-exploration, visualization of an alternative future, development of personal relationships, and pathways to opportunity. 
YMCA of Metropolitan Dallas

 
The YMCA of Metropolitan Dallas is a nonprofit that serves almost 200,000 people annually via programs, outreach, and events throughout Collin, Dallas, Denton, Ellis, Hopkins, Palo Pinto, and Rockwall counties. The organization's six YMCA facilities, two camps, and hundreds of program sites puts Christian values into practice through programs that build a healthy spirit, mind, and body for all. The YMCA offers health, lifestyle, youth, and community outreach programs regardless of income. 

Get on the list.
Dallas Innovates, every day.
Sign up to keep your eye on what's new and next in Dallas-Fort Worth, every day.