Of all creatures that have gone extinct, the dodo is a byword for "gone forever." When something's totally lost, the saying goes, it's "deader than a dodo." But today, Colossal Biosciences basically said, challenge accepted.
The startup paired its latest funding announcement with the news that it aims to "de-extinct" the large flightless bird, which was hunted out of existence on the Indian Ocean island of Mauritius in 1662.
"The dodo is the symbol of man-caused extinction," Dallas-based Colossal Co-Founder and CEO Ben Lamm told Dallas Innovates. "It's only fitting that Colossal works to reverse that."
The Texas-based company previously announced plans to "de-extinct" the woolly mammoth via an elephant-mammoth hybrid, as well as to bring back the Tasmanian tiger. Its investors include everyone from the CIA to Paris Hilton to a long list of VC firms and billionaires like former Legendary Entertainment CEO Thomas Tull.
Colossal raises $150M Series B for $225M total funding to date
Before we can adjust to the new possible phrase "alive as a dodo," Colossal has more news to share: It announced an oversubscribed $150M Series B funding round led by United States Innovative Technology Fund, with participation from Breyer Capital, WestRiver Group, Bob Nelsen, Animal Capital, Victor Vescovo, In-Q-Tel, Animoca Brands, Peak 6, BOLD Capital, and Jazz Ventures, among others.
With the raise, Colossal's valuation is reported to be over $1 billion—making it Texas' newest unicorn.
Since its September 2021 launch, Colossal has raised $225 million in total funding. The company said it will use its new funding "to continue to advance genetic engineering and pioneer new revolutionary software, wetware and hardware solutions, all of which have applications to de-extinction, conservation, and human healthcare."
Reversing 'human-inflicted biodiversity loss'
"The World Wildlife Fund found that in the last 50 years, Earth's wildlife populations have plunged by an average of 69% at the hands of mankind," Ben Lamm, co-founder and CEO of Colossal, said in a statement. "By gathering the smartest minds across investing, genomics, conservation and synthetic biology, we have the opportunity to reverse human-inflicted biodiversity loss while developing technologies for both conservation and human healthcare."
Launching an Avian Genomics Group to bring back the dodo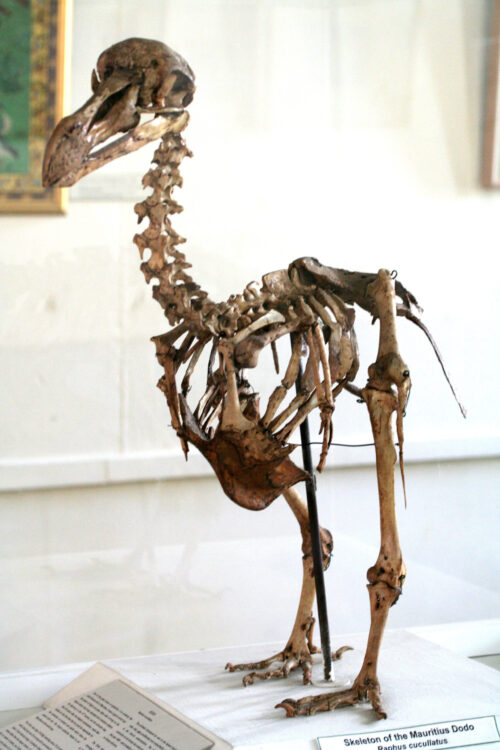 Colossal has launched an Avian Genomics Group to help it bring back the dodo—and perhaps lay the groundwork for de-extincting other lost bird species. In the last 50 years, the world's bird population has dropped by more than 3 billion, according to the Cornell Lab of Ornithology,.The IUCN Red List shows that more than 400 bird species are either extinct, extinct in the wild, or critically endangered. Colossal aims to reverse this trend through its "genetic rescue techniques" and "de-extinction toolkit."
Beth Shapiro, Ph.D., Colossal's lead paleogeneticist and a member of its scientific advisory board member, says reversing the loss of the dodo could be a step toward correcting a grave human mistake.
"The dodo is a prime example of a species that became extinct because we—people—made it impossible for them to survive in their native habitat," Dr. Shapiro said in the statement. "Having focused on genetic advancements in ancient DNA for my entire career and as the first to fully sequence the dodo's genome, I'm thrilled to collaborate with Colossal and the people of Mauritius on the de-extinction and eventual re-wilding of the dodo. I particularly look forward to furthering genetic rescue tools focused on birds and avian conservation."
CEO Lamm says that as with the mammoth and Tasmanian tiger projects, "all the core technologies exist" to bring back the dodo.
"Some of these need to be adapted to and optimized in birds," Lamm said. "One of our scientific advisors, Mike McGrew, has successfully cultured primordial germ cells in chickens. We're collaborating with him on how to expand to other bird lineages to develop tools to protect other endangered bird species."
"Since the closest living relative of the dodo is Nicobar pigeon, this work is a critical step in the dodo project," Lamm added. "Since this process has worked to birth live ducks through the insertion of duck PGCs into chickens, we're confident that this part of the project is just a function of time and focus."
Research could lead to biofuels, gene therapy, vaccines, and more
It's about more than the dodo.
For one thing, "re-wilding" formerly extinct species could restore and improve habitats that have long missed them. "Our guiding vision is to restore extinct species and protect endangered species that play integral roles within their ecosystems," Lamm said. "Returning extinct keystone species to their original habitats can help restore ecosystems impoverished by their absence and add to biodiversity."
Also, Colossal says its efforts could help boost "the U.S. high-tech advantage." Its gene editing technologies "will make waves across sectors—in agriculture with new biofuels and preserving biodiversity, as well as in human health through improved gene therapy and vaccine development," the company said.
"We hope to create technologies that have a material effect on human healthcare," Lamm added. "On our path to de-extinction, we're developing new software, wetware, and hardware innovative technologies that can have profound impacts on both conservation and human healthcare."
'Cutting-edge advancements' in biotech
"Dr. George Church and Colossal's deep work in genomics is creating some of the most cutting-edge advancements in biotech," said Thomas Tull, chairman of the USIT Fund, which led the new $150 million Series B raise. "Their innovative technology has important applications for scientific discoveries, including biomedicine, and we look forward to supporting this crucial work."
Dr. Church, a renowned geneticist and co-founder of Colossal, says breakthroughs in genetic tech are already paying off for the world.
"Methods for reading and writing DNA are helping make Earth a healthier place to live, medically and environmentally," Church said in the statement. "Genetic technologies are already protecting us and our food sources from infectious and inherited diseases. A society embracing endangered and extinct gene variants is one poised to address many practical obstacles and opportunities in carbon sequestration, nutrition, and new materials."
Colossal spun out a software platform in September 
In another recent move, Colossal spun out an independent company in September focused on "empowering scientists to reach discoveries and breakthroughs in less time and with less effort." The new company, Form Bio, launched with a $30 million Series A round. It offers a software platform for managing and visualizing large datasets— bridging the gap between data and discovery for use cases including pharmaceuticals, gene and cell therapy, manufacturing efficiency, academic research, and more.
"A platform like this can be a great commercial success, because it's solving a big need, and we can add a lot of value to companies," Form Bio Co-Founder Kent Wakeford said at the time, adding that it's equally important "to help scientists treat or cure diseases that will have an impact on people's lives."
CEO Lamm told us he believes "there are additional opportunities we're developing in the lab that could spin out in the coming years" as well.
Adding a conservation review board and expanding its scientific advisory board
Colossal recently launched its Conservation Advisory Board, adding members including Forrest Galante, Virginia Riddle Pearson, Iain Douglas-Hamilton Ph.D., Former Lt. Governor of Alaska Mead Treadwell, permafrost researcher Jim Coates, Alaska's Head of Fish and Wildlife Commissioner Doug Vincent-Lang, and Former Director of U.S. Fish and Wildlife Honorable Aurelia Skipwith, J.D.
To help advance conservation research, Colossal has also forged partnerships with WildArk, Aussie Ark, Save the Elephants, Elephant Havens, The International Elephant Foundation, Re:Wild, and the AZA's SAFE.
Colossal said it has also expanded its Scientific Advisory Board to include noted scientist Christopher E. Mason Ph.D., Doris A. Taylor Ph.D., Rachel J. O'Neill Ph.D., Austin Gallagher Ph.D., Tom Gilbert Ph.D., Mike McGrew Ph.D., Matthew Wooller Ph.D., and Duane Froese Ph.D.

Get on the list.
Dallas Innovates, every day.
Sign up to keep your eye on what's new and next in Dallas-Fort Worth, every day.