The Arts Community Alliance (TACA) has had a notable beginning to summer, with a successful 45th TACA Silver Cup Award Luncheon in May at the Omni Dallas Hotel that raised more than $700,000. And TACA announced its fourth Catalyst grants distribution, in addition to a milestone fundraising year for fiscal year 2023 that ended May 31, all with the goal of strengthening arts in Dallas.
The $700,000 raised at the luncheon came via sponsorships, table and ticket sales, and donations to the organization. The luncheon has been celebrated since 1979, and the TACA Silver Cup Award spotlights two philanthropists each year for their volunteerism and extraordinary support for arts and culture in North Texas.
"The 2023 TACA Silver Cup Luncheon was an unprecedented success for the arts community in Dallas," Maura Sheffler, Donna Wilhelm Family president & executive director, said in a statement. "We owe a tremendous debt of gratitude to our co-chairs, Elaine Agather and Andy Smith, for their commitment to surpassing our fundraising goal making this year's event honoring Gene Jones and Joe Hubach our most successful to date."
Agather said that the community has benefitted from this year's honorees.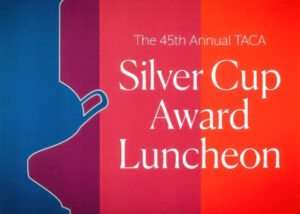 "It was a privilege and honor for Andy Smith and me to serve as the co-chairs for this year's TACA Silver Cup Luncheon. We had two extraordinary honorees, Gene Jones and Joe Hubach, who have both given so much to our community," Agather said in a statement. "They were clearly the reason we exceeded our goal which is great for our arts organizations in North Texas!"
Smith also lauded the honorees' contributions to the community.
"Each year we come together to celebrate two incredible arts philanthropists and volunteers for their contributions to making Dallas a vibrant arts community. With Joe Hubach and Gene Jones, I can't think of two people more deserving of this year's TACA Silver Cup," Smith said. "I thank them for their unique and long-lasting contributions, and Elaine for her collaboration and energy. I'm proud of our shared passion for arts and culture in our community."
Sponsors and contributors
This year's event was presented by JPMorgan and Texas Instruments. Additional sponsors were Bank of America, Cami and John C. Goff, and Canyon Ranch, serving as champagne reception sponsors; The Dallas-Fort Worth Lexus Dealers Association as valet sponsor; The Dallas Foundation, Nancy and Jeremy Halbreich, Janie and Cappy McGarr, and Lydia and Bill Addy as program sponsors; Haynes and Boone as community spirit sponsor; Lee Ann and Alan B. White as floral sponsor; Gittings as portrait sponsor; and PATRON and WRR 101 as media sponsors. 
Other sponsors included:
Presto Sponsor – ($75,000): Gene and Jerry Jones Family Foundation
Vivace Sponsors – ($25,000): Carol and Kevin March, Terri and Mike West, Darla and Mark Whitaker, Mary and Rich Templeton, Melissa and John Szczsponik, and The Eugene McDermott Foundation.
Allegro Sponsors – ($15,000): Jennifer and Peter Altabef, Nancy M. Dedman, Locke Lord/Carol and Don Glendenning, The Marianne and Roger Staubach Fund of The Catholic Foundation, and Gayle Stoffel. 
Concerto Sponsors – ($10,000): Diane and Hal Brierley, Dallas Opera, John Dayton, Holly Mayer, Cindy Feld, Jennifer and John Eagle, Kim and Greg Hext, Amy and Michael Meadows, Joe Hubach and Colleen O'Connor, Susan and Larry Hirsch, Melinda and Jim Johnson, Nancy Cain Marcus and Sanford R. Robertson, Mrs. Joan Schnitzer, The Rosewood Corp., and Donna Wilhelm Family Fund.
Sonata Sponsors – ($5,000): Cheryl Alston, Greg and Ashley Arnold, Broadway Dallas, Comstock Resources Inc., Linda and Bill Custard, Dallas Symphony Orchestra, Ebby Halliday Foundation, Laura and Walter Elcock, Bess and Ted Enloe, Caren Prothro, Ernst & Young LLP, James & Gayle Halperin Foundation, Marguerite Steed Hoffman, Sheilon King, Gabrielle Kurlander and Chris Street, Tara Lewis, Deborah McMurray and Glen Davison, Nancy A. Nasher and David J. Haemisegger, Christopher LaGrone and Matthew Peters, Kathy and Greg Nelson, Jeff Netzer and The Netzer Family Charitable Foundation, O'Melveny & Myers LLP, Perkins Coie LLP, Margot B. Perot, Sarah and Ross Perot, Jr. Foundation, Micki and Mike Rawlings, Katie Robbins, Catherine and Will Rose, Deedie Rose, Jennifer and Andy Scripps, and Sewell Automotive Companies.
Rhapsody Sponsors – ($3,000):  Anne and Larry Angelilli, Tamara D. Baggett and Alfred Luna, Susan and Bill Montgomery, Kate and Keith Newman, Andy Smith and Paul von Wupperfeld, Southern Methodist University, Southwestern Medical Foundation, Jill E. Tananbaum Family, Texas Ballet Theater, and Winstead PC.
Minuet Sponsors – ($1,500): AT&T Performing Arts Center, Communities Foundation of Texas, Dallas Black Dance Theatre, Junior Players, Sonja McGill, Spencer Fane LLP, Deborah and Jim Nugent, Karol Omlor, Sammons Center for the Arts, Anne and Steven Stodghill, Undermain Theatre, and Dr. and Mrs. Kern Wildenthal.
Donations In Honor Of: Anonymous, Kelli Ford, in honor of Gene Jones, Fanchon and Howard Hallam, Linda W. Hart, Lisa and Peter Kraus, Sharon L. McCutchin, Joyce Mitchell, The Aileen & Jack Pratt Foundation, in honor of Gene Jones, Helen and Frank Risch, Diana and Sam Self, Ron and Phyllis Steinhart, Gillian M. Teichert, and Trustee, Bank of America N.A.
Grants designed to strengthen arts in Dallas
TACA supports excellence and impact in the arts via grant-making, capacity-building, and thought leadership. Since its founding in 1967, TACA has worked to establish North Texas' cultural community as one of the strongest in the nation.
It said the organization's growing investment in the arts translates to new premieres and productions, impactful residencies and community initiatives, and more opportunities for artists and audiences to connect — all striving to make Dallas a dynamic city and a great place to live and work.  
Also, TACA announced this month that 45 Dallas County grantees will share $400,000 in its fourth round of Catalyst grants, which are distributed without restrictions and designed to support high-performing arts organizations that are strengthening Dallas' vibrant arts identity.
"The generous contributions from the Gene and Jerry Jones Family Foundation, both in support of TACA and last month's record-breaking TACA Silver Cup Award Luncheon, helped us cross the million-dollar mark for grant-making this fiscal year," Sheffler said. "Their gift allows us to achieve a grantmaking milestone for the first time since 2018, excluding the pandemic. Further, it allows TACA to make a historic investment in our arts community for this Spring Catalyst grant distribution. We are immensely grateful to the Jones family and our other Catalyst Club donors."
TACA said its Spring 2023 Catalyst grantees include the following, listed in alphabetical order:
Agora Artists
American Baroque Opera Company
Artstillery
AT&T Performing Arts Center
Bishop Arts Theatre Center
Bruce Wood Dance
Cara Mía Theatre
Dallas Black Dance Theatre
Dallas Chamber Symphony
Dallas Children's Theater
Dallas Contemporary
Dallas Museum of Art
Dallas Opera
Dallas Symphony Orchestra
Dallas Winds
Deep Vellum Publishing
Echo Theatre
Emerge Coalition
Fine Arts Chamber Players
Greater Dallas Youth Orchestra
Kitchen Dog Theater Company
Lone Star Wind Orchestra
Lumedia Musicworks
Make Art with Purpose
Nasher Sculpture Center
Orchestra of New Spain
Orpheus Chamber Singers
Pegasus Contemporary Ballet
Pegasus Media Project
Plano Symphony Orchestra
Prism Movement Theater
Sammons Center for the Arts
Soul Rep Theatre Company
Sweet Pass Sculpture Park
Teatro Dallas
Texas Winds Musical Outreach
The Cedars Union
The Women's Chorus of Dallas
The Writer's Garret
Theatre Three
TITAS/DANCE UNBOUND
Turtle Creek Chorale
Undermain Theatre
Uptown Players
Verdigris Ensemble
"Our heartfelt gratitude to The Arts Community Alliance (TACA) for selecting Pegasus Media Project as a Catalyst Grant recipient," Niloo Javiland, executive director of the Pegasus Media Project, a new Catalyst grantee, said in a statement. "This generous support will greatly enhance our ability to continue providing exceptional public arts programming and education initiatives to the Dallas community. We are deeply appreciative of TACA's commitment to fostering creativity and supporting organizations like ours in making a positive impact through the arts."
Catalyst Club
The Jones family joins a roster of other significant donors in TACA's Catalyst Club, a new major donor membership, engagement, and appreciation program. Built on TACA's historical origins as a social club for the arts, the Catalyst Club is designed exclusively for TACA donors that give or pledge $25,000 or more in annual support of the organization. The current 2022-2023 roster of TACA Catalyst Club includes:
Communities Foundation of Texas
Mary McDermott Cook and Grace Cook (of The Eugene McDermott Foundation)
DFW Lexus Dealers Association
M.R. & Evelyn Hudson Foundation
Jim and Melinda Johnson
Jerry and Gene Jones (of the Gene and Jerry Jones Family Foundation)
Kevin and Carol March (of The March Family Foundation)
Greg and Kathy Nelson
Keith and Kate Newman
PNC
Clayton and Lacy Sands (of Rosewood Corporation)
TI Foundation
Donna Wilhelm
TACA said that since the Catalyst Grant inception in 2021, it has awarded a total of $1,324,500 in funding as a complement to its ongoing Pop-Up Grant program and the TACA New Works Fund focusing on new artistic works by BIPOC, LGBTQ+, and/or female artists.
GALLERY
Scenes from the TACA Silver Cup Luncheon. Photos provided by TACA.

Get on the list.
Dallas Innovates, every day.
Sign up to keep your eye on what's new and next in Dallas-Fort Worth, every day.