Today the U.S. Secretary of Education, Miguel Cardona, announced the 59th class of U.S. Presidential Scholars, recognizing 161 high school seniors for their accomplishments in academics, the arts, and career and technical education fields. Two of the awarded scholars are from North Texas—and both attend the Booker T. Washington High School for the Performing and Visual Arts in downtown Dallas.
Of the 161 high school students honored this year, 20 were named U.S. Presidential Scholars in the Arts—which means that the Dallas arts magnet school alone accounted for 10% of those 2023 medals.
Booker T's Zariyah Perry and Cole Willis are named Presidential Scholars in the Arts
Booker T. Washington High School students Zariyah Perry and Cole Willis (above) are among this year's U.S. Presidential Scholars in the Arts. Perry is a theater student at the school; Willis is a film student.
To select the honorees, the White House Commission on Presidential Scholars selects scholars annually based on their academic success, artistic and technical excellence, essays, school evaluations and transcripts, as well as a demonstrated commitment to community service and leadership.
Of the 3.7 million students expected to graduate from high school this year, more than 5,000 candidates qualified for the 2023 awards based on their outstanding performance on the College Board SAT or ACT exams or through nominations made by chief state school officers, other partner recognition organizations, and YoungArts, the National Foundation for the Advancement of Artists.
"The 2023 U.S. Presidential Scholars in the Arts represent the next generation of storytellers and changemakers in our country, exemplifying both academic excellence and artistic ingenuity spanning the visual, literary, and performing arts," Clive Chang, President of YoungArts, said in a statement. "YoungArts is incredibly proud to celebrate these young artists today and to amplify their unique voices as they grow to become our nation's most influential cultural ambassadors."
Perry and Willis are the only North Texas students to be named Presidential Scholars this year. Three other Texas students were also named among the 161 honorees, honored for their accomplishments in academics: Hannah Guan, a student at the BASIS San Antonio Shavano Campus in San Antonio; and Zhuo Qi Chen and Siddhu Pachipala, who are both students at The Woodlands College Park High School in The Woodlands.
Applications open in June for 2024 awards
The U.S. Presidential Scholars award—one of the nation's highest honors for high school students who exemplify academic excellence, leadership qualities, and community service—is presented on behalf of the President of the United States and honors up to 161 graduating high school seniors of high potential each year, YoungArts said. Students who would like to be considered for U.S. Presidential Scholars in the Arts must be YoungArts award winners. Applications for the 2024 YoungArts competition will open on June 6, 2023 at youngarts.org/competition.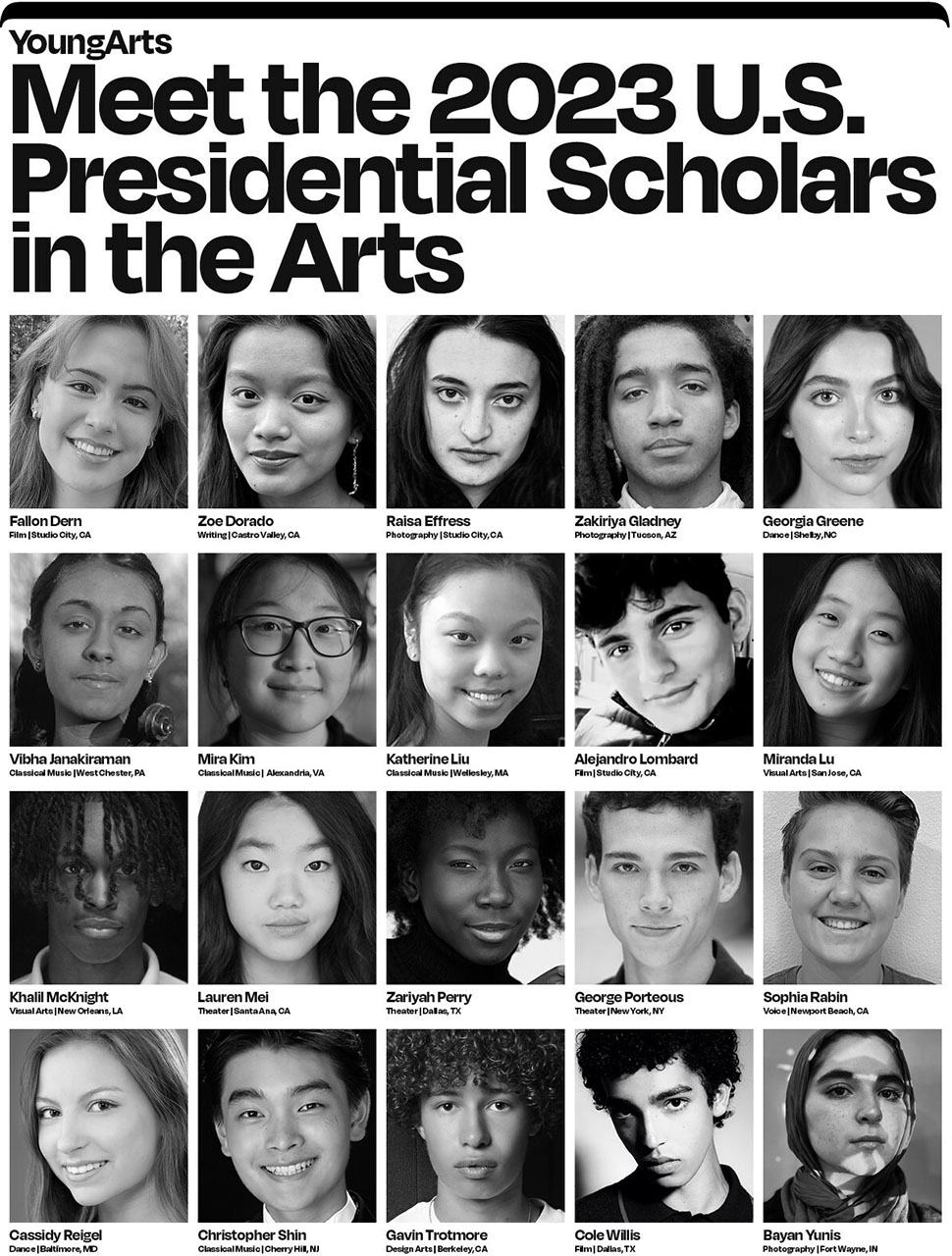 Get on the list.
Dallas Innovates, every day.
Sign up to keep your eye on what's new and next in Dallas-Fort Worth, every day.