Think about this — you're sitting in your living room when there's a visitor at your door bringing you a set of important papers for your signature, or your much-anticipated pastrami sandwich from the deli.
For Arlington residents, some day soon, that special delivery could arrive not via a human, but by robot.
On Tuesday, the Arlington City Council approved a resolution to support and encourage private companies in the field of autonomous technology to come to the city to test and deploy robotic delivery devices in a real-world environment. No timeframe for the start of testing has been set, the city said.
"We believe by providing an environment where vendors can deploy early technology, we will be able to learn and better prepare for the future."
Alicia Winkelblech
"We recognize that transportation technology is changing quickly," said Alicia Winkelblech, Arlington's assistant director of strategic planning. "We believe by providing an environment where vendors can deploy early technology, we will be able to learn and better prepare for the future."
Autonomous technology is nothing new for the city.
Last year, it because the first city in the nation to offer an ongoing public autonomous shuttle service, and as a result, Arlington said it has gained a reputation for its willingness to explore technology-based mobility solutions.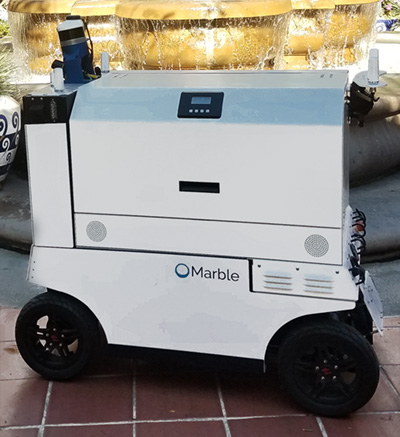 In a release, the city said it has been approached by companies that are interested in deploying robotic delivery technology — or Personal Delivery Devices — under pilot programs.
The city said that as it developed its resolution, the San Francisco-based last-mile mobility company Marble provided it with valuable information on technology development, commercial applications, and the social benefits of personal delivery devices.
The city is not funding the pilot programs, but will provide "a supportive institutional environment for vendors," Winkelblech said in the release.
"Arlington's approach to implementing technology is similar to a startup: forward-thinking, innovative, and agile," Marble CEO Matt Delaney said in the release. "The resolution provides Marble with the oppourtunity to test and explore capabilities and benefits that our robots can have on society."
ROBOTIC DELIVERY DEVICE WILL TRAVERSE CITY SIDEWALKS
The city said that companies will be allowed to operate autonomous, electric robotic delivery devices on city sidewalks to deliver packages.
The devices are slow moving and typically travel 3 to 4 miles per hour on short trips. They will require the intended recipient to enter a code to access their delivery.
The city said its resolution discourages the use of the devices during special events within the city's Entertainment District, and limits the preferred size of the unit to a width of 26 inches.
A resolution approved earlier in June authorized the competitive sealed proposal procurement method for on-street autonomous vehicle service.
READ NEXT
Autonomous Transit: Arlington Glimpses the Future, Like 'Uber with Robots'

Get on the list.
Dallas Innovates, every day. 
Sign up to keep your eye on what's new and next in Dallas-Fort Worth, every day.