Walgreens is teaming up with Wing, a sister company of Google, to unveil a new drone delivery service that will fly directly to customers—and Dallas-Fort Worth is where it will happen first.
The goal is to cultivate a model that would allow Wing to expand into densely populated metropolitans across the U.S. The Alphabet subsidiary will stage delivery drones at retail locations, allowing each store to host a small fleet from the parking lot, roof, or space adjacent to the building.
When customers receive their order, it will come in small containers that Wing said act as "tiny hangars."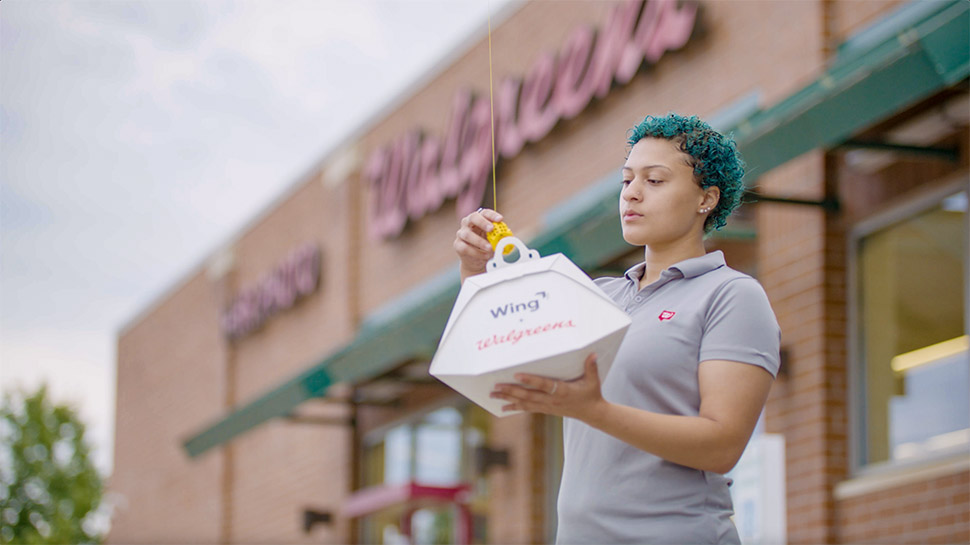 Walgreens will be the first retailer in the country to use the new approach, with Wing overseeing operations. The inaugural set-up will be at Walgreens stores in Frisco and Little Elm.
How it works
Previously, Wing's service was limited to smaller towns with less crowding and complexities. But its flight planning and routing capabilities make it capable of operating in more densely populated areas, like Dallas-Fort Worth.
The lightweight, co-located operation will consist of highly automated delivery drones. Customers can use the Wing app to pick eligible items to order, then decide where to have them dropped off around their house. The delivery can take just minutes, depending on proximity.
Walgreens employees will process all orders and load the packages onto the drones, which can carry up to three pounds, before takeoff.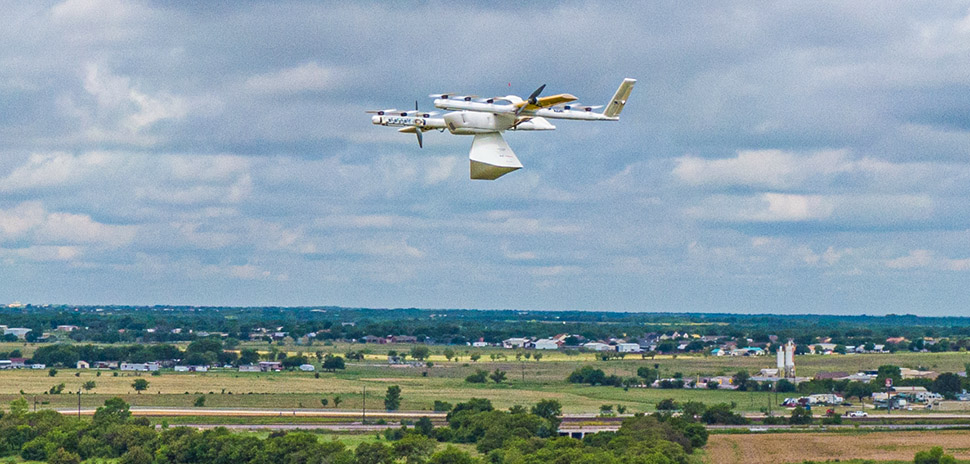 Wing's Uncrewed Traffic Management (UTM) system assists the aircrafts in safe delivery. It also helps them navigate the skies.
Since the model's creation in 2021, Wing says it has completed more than 100,000 deliveries across three continents.
Wing recently began testing a first-of-its-kind service from a shopping center rooftop in Logan, Australia. Through a partnership with retail property group Vicinity Centres, the model takes advantage of traditionally used space, while expanding offerings for retailers by co-locating with them.
That method will be used here as well.
Wing and Walgreens will start with a small number of practice flights next week, hoping to garner feedback from the community. In the next few months, the partners expect to start commercial services.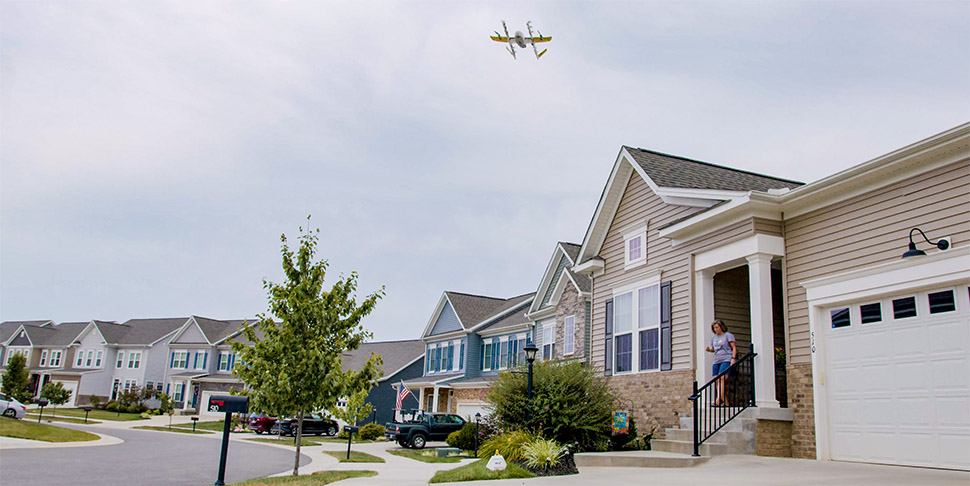 Wing partners with Hillwood
Separate from the Walgreens partnership, Wing is collaborating with Dallas-based real estate company Hillwood to launch another drone delivery facility at Frisco Station. It'll be a first-of-its-kind commercial service for a major U.S. metro—with a small number of flights starting Oct. 25.
The mixed-use development in Frisco will have the same capabilities, but will also be used to research new use cases for the service. Wing also plans to use the site for community demonstrations, educational opportunities (like school field trips), and public tours.
---
READ NEXT Hillwood's Bill Burton: Autonomous Activity Is Coming. And DFW Is Well Suited to Benefit From It
---
Since June, Wing has been testing flights at Hillwood's Flight Test Center in AllianceTexas, a place for public and private stakeholders to commercialize urban air mobility and uncrewed aerial system solutions.
"Hillwood's AllianceTexas Flight Test Center provided a unique opportunity for us to conduct research and development efforts this summer, and now Frisco Station is an excellent spot for one of the first drone delivery facilities in a major U.S. metro," Jonathan Bass, Wing's head of marketing and communications, said in a statement. "We look forward to launching the commercial service here in the coming months, and to the continued partnership with Hillwood and Frisco Station.
Drone photos courtesy of Wing.

Get on the list.
Dallas Innovates, every day.
Sign up to keep your eye on what's new and next in Dallas-Fort Worth, every day.