In honor of Earth Day on Sunday, we're taking a look back at some of our past stories focused on the environment.
From renewable energy and sustainable wine growing to an artist's plight to protect the ocean and a crowdfunding platform for agricultural investments, here are six stories about efforts to be kind to our world. 
---
How a Dallas Meeting Will Help Bring Renewable Energy to a Pacific Island Country
Dallas organizations GridMarket and EarthX are teaming up with the Republic of Palau to help the nation go green. By 2025, Palau wants 45 percent of its energy use to come from renewable sources. Read more about how Dallas got involved with the Pacific Island country here. 
---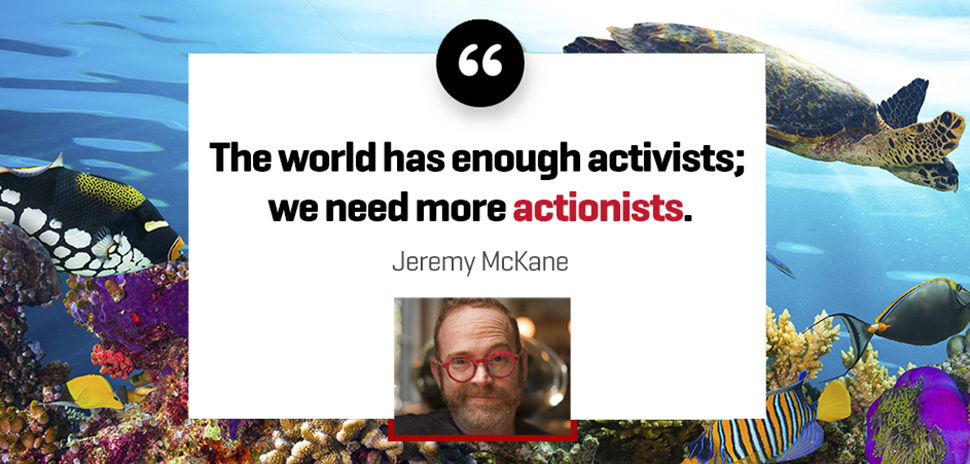 Artist/Director/Technologist Jeremy McKane Aims to Protect Our Oceans With Blockchain
Jeremy McKane has been showcasing pollution in our oceans with his underwater photography work for years. His new blockchain, The Ocean Fund, measures the effectiveness of marine-protected areas. Coupled with his interactive art installation, LUCiD, McKane illustrates on all fronts how important protecting our oceans is — and how little of it we're actually protecting. Read the full story here.
---
Fort Worth's BRIT Recognizes Sustainable Winegrowers in International Contest
Fort Worth's Botanic Research Institute of Texas (BRIT) seeks to bring awareness of problems such as conservation within the wine-making industry as well as reward those growers with sustainable and environmentally conscious practices. The international competition is the only one of its kind, according to Chris Chilton, BRIT's director of marketing. Read the full story here.
---
Future of the Home Is 'Less Toxic,' 'More Sustainable,' TreeHouse CEO Says
With locations in both Dallas and Plano, Treehouse helps North Texas homeowners design environmentally conscious homes. It offers solar panels, smart thermostats, nontoxic paint, and more, as well as the stores themselves being completely sustainable and driven by its own solar power. TreeHouse CEO Jason Ballard, said the store will continue to educate homeowners on the toxins and chemicals found in many popular home improvement products, along with offering alternative products. Delve into the Austin-based company's most recent location in Plano here.
---
Crowdfunding: Fort Worth's Harvest Returns Working to Simplify Agriculture Investments
Texas real-estate investor Chris Rawley realized the difficulty of investing in agriculture with a coffee plantation in Panama back in 2014. This led to Harvest Returns, a crowdfunding site specifically farmers who are focused on specialty crops, organic farming, or nontraditional livestock operations. Read the full story here.
---
SMU Prof, Local Agencies to Fight South Dallas' Food Desert With New Seedling Farm
A Southern Methodist University professor and a collection of community partners stepped up to combat South Dallas' food insecurity issues with a new seedling farm last November at the Martin Luther King, Jr. Community Center's Freedom Garden. The farm unites Owen Lynch, associate professor of organizational communication at SMU Meadows School of the Arts, with community organizations such as Bonton Farms, Big Tex Urban Farms, Texas A&M AgriLife, Jubilee Park Community Center, and Lincoln High School. Read the full story here.
---
READ NEXT
Looking for things to do to celebrate Earth Day 2018? Here are 16 events around the region.
Get on the list.


Dallas Innovates, every day. 

Sign up here to get what's new and next in Dallas-Fort Worth.