Health Wildcatters held its second Texas Healthcare Challenge hackathon last weekend with the goal of creating solutions around innovation and challenges in healthcare.
The event included 112 participants, along with facilitators, mentors, and members of the North Texas healthcare industry. Team Trial Connect came away with the $1,000 top prize, four teams received $250 finalist prizes, and two teams won IBM Cloud Computing credits.
On Friday night, the participants met, pitched problems to be solved, and formed 17 ad hoc teams. The teams then spent all day Saturday working on solutions and iterating their ideas. After judging in the early evening, the winners were announced for a total prize package valued at more than $360,000.
---
READ NEXT Health Wildcatters Hacks Healthcare with First Texas Challenge
---
"I believe giving healthcare consumers the opportunity and access to work on a broken system will give way to incredible innovation," Health Wildcatters CEO Hubert Zajicek told Dallas Innovates. "These individuals with various backgrounds are all consumers of healthcare and have experienced the system's flaws firsthand. They understand the pain points, but we've allowed them to collaborate to create better solutions for all people."
The winning teams include:
First Place and IBM Winner: Trial Connect, a platform to connect patients to clinical trials and vice versa
Finalist: Medi Krunch, which aggregates health data in its various forms to better manage and predict a person's future state of health
Finalist: Yumlish, which promotes healthy food choices by simplifying food decisions for those with type 2 diabetes
Finalist: Angel+, an app-based, on-demand, non-emergency, transportation service staffed by EMTs to help patients and their families combat high ambulance costs
Finalist: MTB, a platform to connect individuals for grief support from people in similar situations
IBM Winner: Health Gurus, which created real-time patient monitoring solution using wearables and predictive analytics to treat conditions before they get worse
IBM Winner: Alz-Care, a solution to combat the repeated anxiety attacks experienced by patients with Alzheimer's disease
"It was a fantastic event with great mentors and participants. Everybody was very supportive and positive," said Patricia Bubner, PhD, a senior scientist & consultant for Biopharma, Biotech, Food Tech & Health Innovation.
Bubner was on the first place team, Trial Connect. She traveled all the way from San Francisco to specifically participate in Health Wildcatters' hackathon. She also happens to know Zajicek through ASCINA, an independent network of Austrian scientists and scholars in the U.S. that Zajicek co-founded.
"I was impressed by the high-caliber investors and mentors, and the quality of the talks that were given throughout the event," she said. "Also, the judges panel was impressive and their questions were to the point. The solutions developed by the different teams that participated were so creative and many of them have a high potential to make an impact on healthcare."
Yasir Bashir, a senior data science architect at Saxony Partners, echoed the sentiment. He was a team member of one of the IBM winners, Health Gurus.
"We did incorporate IBM Watson into our solution because of IBM's IoT Platform," Bashir said. "Since our solution includes connecting to multiple devices, we were looking for IoT platform which allowed us to connect and consume data from devices, out of the box."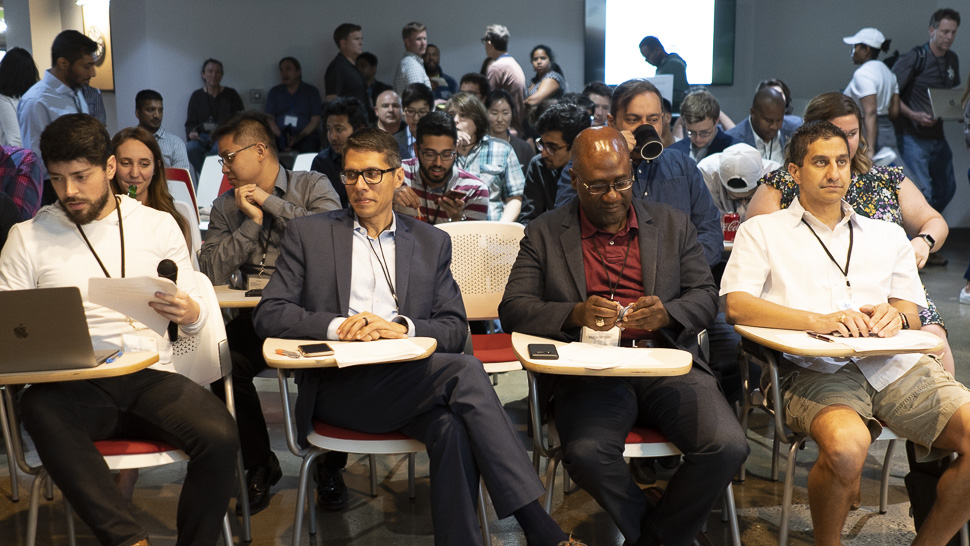 Event sponsors included IBM, SignalPath, and the Southwestern Medical Foundation. Event manager Lance Manning said Health Wildcatters was grateful for the sponsors' support and that HWC is looking forward to the next challenge scheduled for February 2020.
"The range and variety of solutions we witnessed coming to life over the weekend were incredible," Health Wildcatters Operations Program Manager Loren Bolton said. "It demonstrates the power of pulling people together, from various backgrounds, to solve problems that in many cases they've experienced on their own."
Meet the teams
All photos courtesy of Health Wildcatters.

Get on the list.
Dallas Innovates, every day.
Sign up to keep your eye on what's new and next in Dallas-Fort Worth, every day.