Meet the forward-thinking creatives and visionaries who are pushing boundaries. These innovators are among the Future 50 in Dallas-Fort Worth, selected by our editors for their groundbreaking technologies and solutions that are disrupting the status quo.
From the art sector to advertising and esports to restaurants, the 2023 Future 50 innovators are making waves in their respective industries with their creativity and ingenuity. Take, for example, Jack Gibbons, CEO of FB Society, whose experiential concepts are pushing the boundaries of the culinary world, delivering unique and sustainable experiences to diners. Meanwhile, Pedro Lerma, Founder and CEO of Lerma/, is revolutionizing the advertising industry through Inclusivista, his new consultancy focused on creating more inclusive campaigns. Read on for more.
The Future 50 in Dallas-Fort Worth were featured in Dallas Innovates 2023 magazine. Check out the full list here.
By Quincy Preston, David Seeley, Glenn Hunter, Sandra Engelland, Lance Murray, Maroof Ahmed, and Leslie Barker.
Photo of Pedro Lerma by Michael Samples.
---
FUTURE 50 | CREATIVE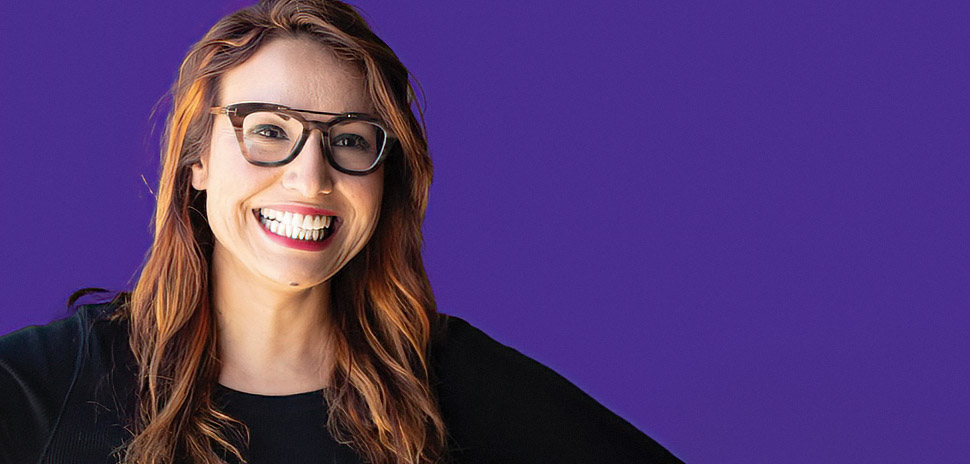 IMMERSIVE IMPRESARIO
Ilknur Ozgur
Executive Director
Artstillery
Ozgur believes multicultural storytelling can spark awareness in Dallas communities. She brings this to life through Artstillery, which uses advanced technology to uplift marginalized voices with immersive arts experiences—pushing the boundaries of what performance looks like.
"Our first production in the summer of 2016 was a grassroots production of 'Family Dollar,'" Ozgur says. "We had no marketing plan—it was all word of mouth and one short media clip. Our friends at Junk Kings grilled hot dogs and served canned beers and sodas to support us."
Artstillery has seen even Ozgur volunteer her time since 2016. But operational funding from Santander USA has enabled Ozgur to devote full-time focus for 2022-23.
"When we first started advocating for Artstillery, no one really understood what we were doing," Ozgur says. "We never intended to be in a category with everyone else—we just wanted to be really great storytellers and have the best time doing it."
Coming next: "nolongerland," a production that will travel DFW, and "Flamenco y Frida." —D.S.
---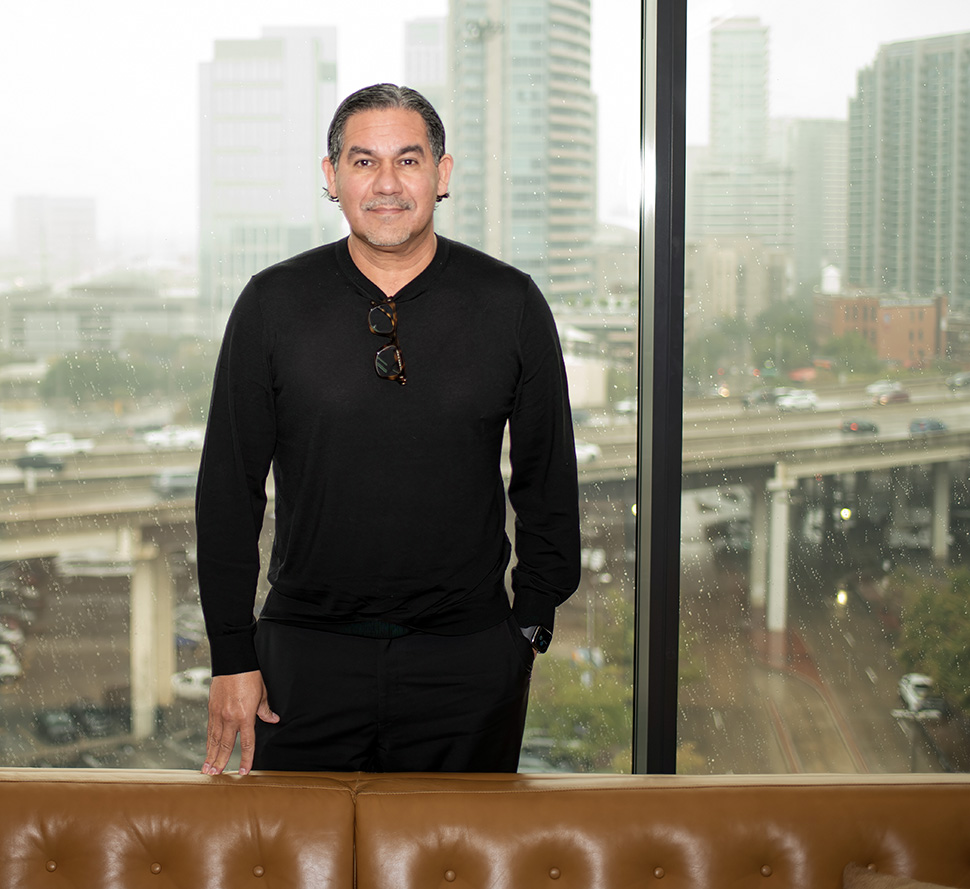 MULTICULTURAL MAESTRO
Pedro Lerma
Founder and CEO
Lerma/
What's it like to be on a "rocket ride," as Lerma describes the goings-on at his branding and advertising agency Lerma/? Start with exhilarating and exciting, multicultural and magical, and you get a hint of how things are at Lerma's agency these days. 
For starters, last July Ad Age named the firm its Gold Small Agency of the Year. Team members, linked by talent, energy, and chemistry, recently passed the 100-member milestone. And new business, including three Super Bowl ads, abounds. In sync with what Lerma calls a "societal evolution toward more multiculturalism," his firm produced a Home Depot commercial in Spanish that exudes joy and celebrates family. 
Recognizing that many clients need guidance on how to be more representative of today's marketplace, the agency launched Inclusivista, a "next-generation" consultancy focused on diversity, equity, and inclusion. Along with RO2 Media CEO Rodrigo Vallejo, Lerma also founded YouNite Media at Lerma/'s offices at the Luminary Building in downtown Dallas' West End Innovation District. 
YouNite, a minority-owned, automated, demand-side media platform, gives advertisers the ability to reach 250 million general market, Hispanic, Black, Asian, and LGBTQ members of the population. 
The goal: forging meaningful connections between brands and consumers while helping brands meet their supplier diversity investment goals. "We make commitments on what we can deliver," Lerma says, "and we work hard to ensure we live up to those promises and that we exceed expectations." —L.B.
---
ESPORTS ENTREPRENEUR
Hector "H3cz" Rodriguez
CEO
OpTic Gaming
OpTic's esports team The Dallas Fuel won the 2022 Overwatch League world championship late last year. That's just the latest win for Rodriguez, who founded Frisco-based OpTic in 2009 and later merged with Dallas-based Envy Gaming in 2021.
Rodriguez says OpTic is transforming the industry by creating relationships "at a one-on-one level in 90 countries and from all 50 states" with experiences that "wow" beyond fans' expectations.
That's just one reason why OpTic—which operates its own showplace at Esports Stadium Arlington—was named Esports Organization of the Year at Esports Awards 2022. —D.S.
---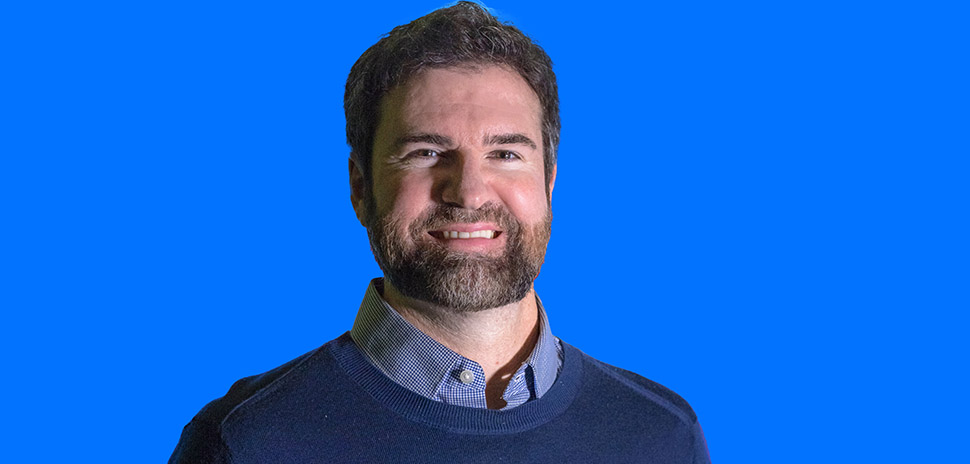 INTERACTIVE VIRTUOSO
Steve Deitz
Founder and CEO
900lbs
Can you run faster than Patrick Mahomes, quarterback for the NFL's Kansas City Chiefs? Can you outrun Moriah Jefferson, a guard for the WNBA's Dallas Wings? Or how about a cheetah, maybe?
In all probability, no, no, and no. But you can certainly give it a try, thanks to the interactive expertise of Steve Deitz and his crew at 900lbs. They're the wizards behind the Speed Wall in the Lamar Hunt Family Sports Hall at Dallas' Perot Museum of Nature and Science, where patrons can pit their own paces against these speedsters.
The Speed Wall is just one of many projects—including an augmented-reality Vespa experience and digital scorecards for mini-golf—that Dietz's tech-driven, interactive design agency has created for clients ranging from Amazon Web Services and the Dallas Cowboys to Red Bull, Volvo, and Pepsico.
Deitz cites communication—with employees, clients, and players in the market—as key to the success of Dallas-based 900lbs, founded in 2008. All-team meetings discuss business results and the social impact of its work through the eyes of clients, he says. 900lbs isn't just about temporary "Wow!" moments and leveraging cool new tech. It's more about achieving "results that can drive digital transformation and more subtle kinds of incremental social impact." —L.B.
---
RESTAURANT RACONTEUR
Jack Gibbons
CEO
FB Society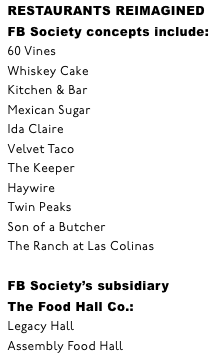 If you've dined at FB Society's long list of experiential restaurants, you must be full. And Gibbons hopes you're satisfied—because they're all concepts he's either co-founded, incubated, or overseen in his 12 years at the Irving-based eatery innovator.
How do he and his team come up with the concepts? "It all begins with an idea," Gibbons says, "oftentimes ideas that are born from travel around the world." The goal: creating "experiences never imagined" and bringing them to life.
"Innovation is the heartbeat of our business," he says, and the beating pulse is in the FB Lab, where soon-to-be concepts and futuristic fantasies are "baked" and tested until they're ready for launch.
"We're always in discovery mode," Gibbons says. "We innovate in every way imaginable." That's led to "sustainable sipping" at 60 Vines, where the wine tap system alone saves over 100,000 wine bottles, corks, and labels from landfills each year, and where used corks donated by guests are recycled into artworks, wine totes, and more.
With Son of a Butcher named one of QSR Magazine's "America's Hottest Startup Fast Casuals" for 2022—and with $88,000 raised so far to help rebuild restaurants damaged by war in Ukraine—FB Society is poised for growth.
"We have as much fun as the work we do," Gibbons says. "We believe there is no idea 'too big.'" —D.S.
A version of this story was originally published in Dallas Innovates 2023.
Quincy Preston, David Seeley, Glenn Hunter, Sandra Engelland, Lance Murray, Maroof Ahmed, and Leslie Barker contributed to this report.

Read Dallas Innovates 2023 online
Take a journey into the heart of North Texas business. Our annual magazine takes you on a tour of the innovative and creative forces shaping the future.
WHAT ARE YOU INNOVATING? Let us know.

Get on the list.
Dallas Innovates, every day.
Sign up for our daily digest to keep your eye on what's new and next in Dallas-Fort Worth.