One thing NASA veteran Lesa Roe has learned six months into her role as the first female chancellor of the University of North Texas System — higher education is not all that different from working for America's space agency.  
"Quite frankly, where I thought it would be a lot different, there's a lot of similarities," Roe told Dallas Innovates.
" … automation is changing what we need for the future with the students."

Lesa Roe
For both universities and NASA, partnerships and finding operational efficiencies are essential. And innovation? Fundamental, she said.
"At NASA, we were feeling change and disruptive forces with new emerging space entrants and all of those things even automation; automation changing the way we do our missions," said Roe, who previously worked as acting deputy administrator for NASA. 
"Well now, same thing in higher ed because automation is changing what we need for the future with the students."
But, no matter what tomorrow's jobs or classrooms look like, Roe said there are three key skills she thinks students need to develop  — problem solving, creativity, and communications.
"What we are trying to do is we are weaving the opportunity for those in almost every class that we have," she said.
In the past decade, combined enrollment in the university system — which encompasses University of North Texas in Denton, UNT-Dallas with its UNT Dallas College of Law, and UNT Health Science Center in Fort Worth — has increased more than 25 percent to nearly 44,000 students.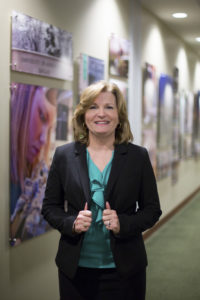 As chancellor, Roe is focused on furthering that enrollment growth and producing career-ready students, which she said won't be achieved through a "one-size-fits-all" approach. 
Roe also is planning to serve as a one-on-one mentor in a new scholarship program for first-generation students.
She was the first in her family to attend college graduating with a bachelor's and master's degree in electrical engineering.
If it wasn't for a career center on her college campus, she may never have thought about a working at NASA.
Growing up, she said she excelled in math and science, but aspiring to a career at NASA?
"I really didn't know that was something in the realm of possibility for me," Roe said.
When she applied and received a co-op position at the space agency, those doubts melted away. It began a career that spanned more than three decades and many more historic firsts.
"Every vehicle that flies today — commercial and military — is flying with technology that came through NASA Langley wind tunnels."

Lesa Roe
She worked on 38 space shuttle and International Space Station missions in various capacities and served as manager of the ISS Research Program.
"Kids entering college this fall will never know a time when humans were not in space because it's been continuously operated with humans for 18 years now. I was involved in putting the very first research facilities up there," Roe said. 
She was named the first female director of the NASA Langley Research Center, where she presided over many aeronautical breakthroughs such as the X-43A Hypersonic Flight Program and research on vertical lift and electric power for planes.
"Every vehicle that flies today — commercial and military — is flying with technology that came through NASA Langley wind tunnels," Roe said.
Through the Bridging Gaps Scholarship Program, Roe hopes to introduce young students to possible career paths and advise them to not put limits on their dreams.  
As someone breaking gender barriers in the workplace, she recognizes the opportunity to be a role model for young women in particular those interested in science, technology, engineering, and math fields.
"It helps for them to see me in it," Roe said of her career in STEM. "To see me with a family with three kids and I did that all while climbing the ladder. It's all doable."
LISTEN IN
Lesa Roe is co-hosting a monthly podcast with FOX 4's Shannon Murray, covering science, technology, and other topics of interest to the Dallas-Fort Worth community. Listen in at https://soundcloud.com/untsystem.

Get on the list.
Dallas Innovates, every day. 
Sign up to keep your eye on what's new and next in Dallas-Fort Worth, every day.