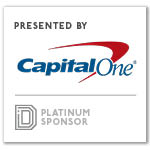 A vibrant community requires an ecosystem of people, businesses and nonprofit partners coming together especially during times of crisis. Right now, nonprofits are on the frontlines tackling the rapidly changing needs of the most vulnerable populations impacted by COVID-19. In this four-part series, Capital One is shining the spotlight on nonprofits supporting food and hunger relief, workforce development, digital access and small businesses support. Through our $50 million commitment to address the rapidly changing needs of our communities during this pandemic, Capital One remains committed to make a positive impact for change.
Since shifting to a work-from-home environment, educators and parents alike have been grappling with how to provide their students the skills, tools and resources they need to be successful, and one thing is clear. The need for resilient, innovative leaders who can manage unexpected turns is more critical than ever. In just a few months, nonprofits have quickly rolled up their sleeves and pivoted their approach to combat learning lag and ensure our region's future leaders continue to thrive. We've seen resiliency, ingenuity and creativity unleashed as these organizations continue to navigate uncharted waters.
Capital One had the opportunity to speak with a few community leaders on bridging the gap for our future workforce and providing skills training for those who need it most. Here's what they had to say.
---
Meet the Experts
JENNIFER BARTKOWSKI
CEO
Girl Scouts of Northeast Texas

Girl Scouts of Northeast Texas (GSNETX)—more than 24,500 girls and 8,000 adult members strong—make the world a better place with each courageous and confident member. By nurturing innovation and leadership skills, girls advocate for their ideas and thrive in the 21st century
---
JD HOYE
CEO
NAF

NAF is a national network of leaders who work together to ensure high school students are college, career and future ready. NAF's educational design includes industry-specific curricula, work-based learning experiences and relationships with business professionals, culminating in a paid internship. More than 110,000 students attended 620 NAF academies last year.
---
STEPHANIE VALADEZ
Dallas Managing Director
Per Scholas

Per Scholas was founded 25 years ago with a mission to open doors to transformative technology careers for individuals from often overlooked communities. The organization closes the "skills gap" and creates a diverse technical workforce by creating opportunities for women and people of color.
---
HARRY LAROSILIERE
Plano Mayor
Plano Mayor's Summer Internship Program
Since 2014, more than 450 high school students have interned at various vibrant businesses in Plano during the Plano Mayor's Summer Internship Program (PMSIP). The life-changing work experiences gave students the necessary skills to successfully transition to college and beyond.
---
ROSE CHIVERS
Dallas/Fort Worth Site Director
Year Up

Year Up ensures young adults gain the crucial support and technical skills to launch successful professional careers, while providing American businesses with bright, motivated young talent. Program alumni earn 53% more on average than similar young adults.
---
In a virtual environment, creating engaging experiences and reinforcing mental health are top of mind.
NAF: During this unprecedented time, it's even more critical to ensure that our future leaders develop the proficiencies they will need to thrive in this remote workplace environment. While there is no replacement for in-person experiences, there is a lot we can do remotely to uplift our students and ensure they feel confident in adapting to trying times. By going virtual, students have the unique chance to find opportunities outside their communities.
GSNETX: Our girls face a crisis that will last far beyond this pandemic. We are aligned with schools to address the significant summer learning loss students are facing, especially in STEM, through our virtual programming. Girls are facing social isolation, so we accelerated a mental health initiative to address anxiety and launched a diversity, equity, inclusion and access strategy to promote a sense of belonging for girls and families at Girl Scouts also giving our adults the support tools they need.    
PMSIP: It's been a challenging year, but I'm really proud of this year's intern class and the employers and sponsors who have found ways to make it work despite the disruptions. We have shifted traditional events virtually and many of our interns are working with nonprofits to help those affected by COVID-19. They are trailblazers who will gain unique skills and a firsthand view of how to work in a virtual workforce. 
Technology is critical to unlocking opportunities, but many communities lack digital access.
YEAR UP: Our transition to digital has had a significant financial impact on our organization, as we have invested in purchasing additional technology and are leveraging a significant amount of funding to support student financial hardship. We launched a COVID-19 website, introduced new virtual tools and shipped hundreds of laptops, Wi-Fi hotspots and headsets to our young adults. There are talks of developing a post-pandemic model in which at least half of our instruction and coaching would be done virtually, allowing us to respond to employer needs and scale up the number of young adults we serve.
PER SCHOLAS: Employers need technically adept workers as the nation recovers. Despite COVID-19, the total number of tech job postings in the quarter still exceeded those in the first quarter of 2019, proving employers are very interested in skills that contribute to the maintenance and shifting of a company's technology infrastructure. To aid in the digital divide, we have provided nearly 500 technology devices, including laptops, webcams, portable Wi-Fi devices and headsets to facilitate remote learning. We also helped students manage sudden instability. About 51% of Per Scholas students reported they were facing financial hardship due to COVID-19, and 46% of those who were employed before the pandemic lost their jobs. The pandemic has increased the racial disparity we already see in the DFW community. People of color are more likely to experience job loss. We now have social work services and financial coaching available to all students.
NAF: Technology is the lifeline for opportunity, and learning and working from home have become more important than ever. The 21st century skills we are continuing to develop are around technology, communication, creative thinking, emotional and social intelligence, problem-solving, adaptability and digital aptitude. Leadership also continues to be critical during this time for the well-being of organizations and to ensure employees feel supported.
GSNETX: Successful programs require the appropriate technology, engaged facilitators, interactive curriculum, and for younger girls, involved parents, but access to/comfort with technology is not equitable across our region. We've had to prepare both virtual and home-delivered programs, so all girls can have access. We anticipate virtual will be a channel that will stick with us for the future, and we will continue to work tirelessly to make sure all girls have access to these resources.
Collaboration is key to meeting community needs.
YEAR UP: Over 5 million young adults are cut off from any real path to a stable career—despite having the talent and drive to achieve more. To truly close the Opportunity Divide, we must focus on the root causes, like systemic racism, exclusionary hiring practices and other deeply entrenched barriers. Year Up advises a broad range of employers, providers and policymakers to solve their workforce challenges and expand economic opportunity. This rests on tight coordination and partnership between government, business and nonprofit organizations that serve the most vulnerable.
PMSIP: Capital One has been instrumental to the success of the Plano Mayor's Summer Internship Program from the very start, and we also partner closely with Plano ISD Superintendent Sara Bonser who is a huge proponent of the program. The exposure is especially powerful for students who are the first generation in their family to attend college. We find our corporate and nonprofit employers are just as excited about the program. Their hope—and my hope—is that upon finishing college these talented young people return to Plano to begin their dream jobs and make significant contributions to our community.
Here's how YOU can help
Volunteer
Be a mentor
Be a guest speaker
Host an intern/employer event
Host a (virtual) corporate site visit
Hire a graduate
Donate/invest in training
Refer students to the programs
Have more questions?
Girl Scouts of Northeast Texas: To join or volunteer, visit gsnetx.org/join.
NAF: Visit https://naf.org/interns or sign up to volunteer (go.naf.org/DFW).
Per Scholas: Contact [email protected] to partner or learn more.
Plano Mayor's Summer Internship Program: For more information on hiring/underwriting an intern or becoming a sponsor of the 2021 program visit https://planomayorsinterns.org/ or contact Program Director Vicki Wait, [email protected].
Year Up: Visit https://www.yearup.org or contact Dr. Jasmine Collier, Director of Institutional Giving, at [email protected] or 469-680-3147.

Get on the list.
Dallas Innovates, every day. 
Sign up to keep your eye on what's new and next in Dallas-Fort Worth, every day.