What started as a virtual reality video game for two University of Texas at Dallas students has evolved to become a virtual and augmented reality studio, working with corporate clients to produce content for games, mobile apps and marketing.
Called Immosis, the startup also has the distinction of being the first undergraduate-led startup to participate in the incubator program at the Venture Development Center at UTD. It's also the first to emerge from the Software Startup Launch track at UTD.
Founders Brian Hoang and Marwan Kodeih already put themselves on the map by creating a virtual reality zombie shooter game called Amelia's Curse in 2017. The horror game immerses players in a claustrophobic environment where they have to fight off the undead with a gun.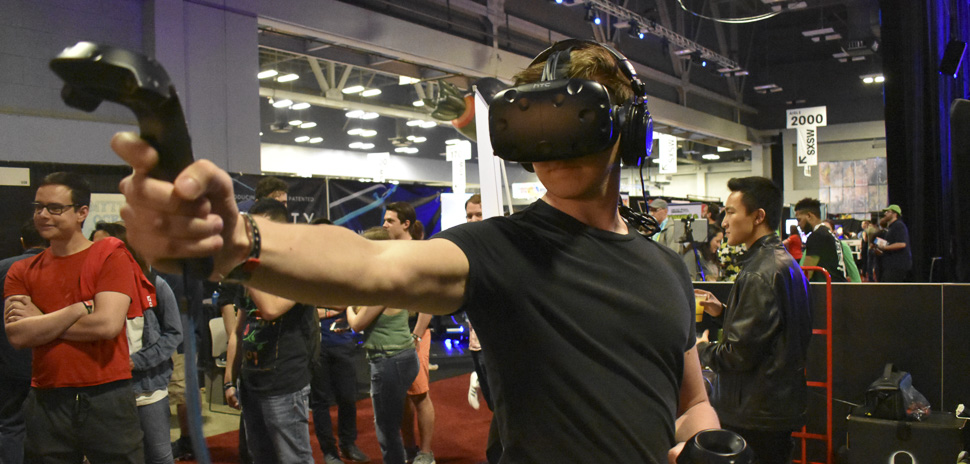 The realism of a 360-degree environment elicited screams from the people who tried it at South by Southwest 2017 in Austin. The VR goggles mean people can't look away—they are trapped in that world.
"There's no escape," Hoang said. "People get scared and they really get into it." 
Brian Hoang 
"There's no escape. People get scared and they really get into it."
While they've launched the early access version on Stream and hope to have the full game finished by the end of the year, Hoang and Kodeih quickly learned that VR gaming is still too expensive for the average consumer.
An HTC Vive or Oculus Rift needed to play the game cost $800 in 2017. The price has gone down this year but it's still pricey. And then the customer has to have a computer that can power the intensive VR graphics.
"From a consumer perspective, it's very hard to achieve critical mass. There's so many barriers," Hoang said. "You have to have the hardware, there's clunky wires and you have to buy the games separately."
With the business to consumer market still developing, Immosis decided to take its talents to the business-to-business crowd where they've found a receptive audience with capital to spend.
In December, Immosis pivoted to become a content creation studio, making everything from hands-on immersive tutorials for clients to VR physical therapy programs to help people relearn skills. They also did motion capture on professional dancers and athletes to show proper form and posture through AR.
"It's human training that involves complex and precise movements," Hoang said.
The studio work started gaining traction the past few months to the point where Hoang, a senior majoring in software engineering, said he believes Immosis will be a sustainable business when he graduates in May. Kodeih graduated with a bachelor's degree in computer science earlier this year so he already works with Immosis full time.
"We're trying to get our name out there as much as possible," Hoang said. "Demand is increasing by the day. Trying to get more clients, that's the priority. We've seen good growth, especially how we started from nothing."
The health-care field alone is wide open for potential VR uses for everything from surgical simulations to preparing patients—especially children—for what an MRI or other experience will be like, said Jon Shapiro, director in the office of research and director of the Venture Development Center at UTD. He's been a mentor for Immosis.
"It's [health care] going to be a good market for them. You have an endless supply of people who are going to have procedures."
Jon Shapiro
"I'm helping [Immosis] get along in the health-care space," Shapiro said. "It's going to be a good market for them. You have an endless supply of people who are going to have procedures."
The company has a team of 12 now, including interns and part-timers, working on different projects. No matter what type of content they are working on, the goal is to immerse the user—hence the name of the company, which is Latin for a state of immersion.
Now a year and a half old, Immosis moved to the Venture Development Center at UTD where it has its own private cubicle around other mature startups.
In addition to SXSW, Immosis has exhibited at DreamHack, A-Kon PAX South, and AnimeFest.
Creating realistic characters that move around in a 3-D, 360-degree environment can be challenging.
"You have to worry not just about code but also 3D modeling, texturing, rigging, animating  and motion capture," Hoang said. "There's a huge artistic bent to this that most consumers and businesses don't realize."
And there's also a balance in there because too much detail could overload the computer.
"You're optimizing the art to make sure it doesn't crash the system but you also want it to look pretty," Hoang said. "It takes a skilled artist to balance it delicately."

Get on the list.
Dallas Innovates, every day. 
Sign up to keep your eye on what's new and next in Dallas-Fort Worth, every day.