Fort Worth just landed a whopper: the first-ever brick-and-mortar store from the popular direct-to-consumer platform Karl's. 
Online, Karl's offers a wide array of products from fishing tackle to rods and reels to apparel and outdoor living accessories. You can also find blog posts like Karl's Summer Striped Bass Fishing 101 and the quirky backstory on Karl's "Chief Fishing Officer," Karl VonDibble.
At its new, 2,500-square-foot "flagship" store at 1621 River Run in Fort Worth, Karl's offers "interactive, tech-enabled experiences" that show how different baits can be used to catch fish. Much of what is offered online is here in the store, including products from Mystery Tackle Box, The Googan Squad, BioSpawn, 10,000 Fish, HUK, Shimano, Daiwa, and Lew's.
'An experience that hasn't been seen in the outdoor category'
"The Karl's Fishing & Outdoors flagship store promises to deliver an experience that hasn't been seen in the outdoor category," said Teeg Stouffer, director of retail experience for the store's parent company, Catch Co. "The clean, simple design and tech-enhanced features make it an intimidation-free shopping experience—even for those who are new to fishing and outdoor activities."
The store is located just a fly cast away from the Clear Fork of the Trinity River—in WestBend, a 278,000-square-foot retail, office, and dining destination in Fort Worth's University District. With trails leading to the river, the store plans to host "fishing lessons and meetups, including philanthropic events and entertainment."
'Bassmobile' rolls up today through Sunday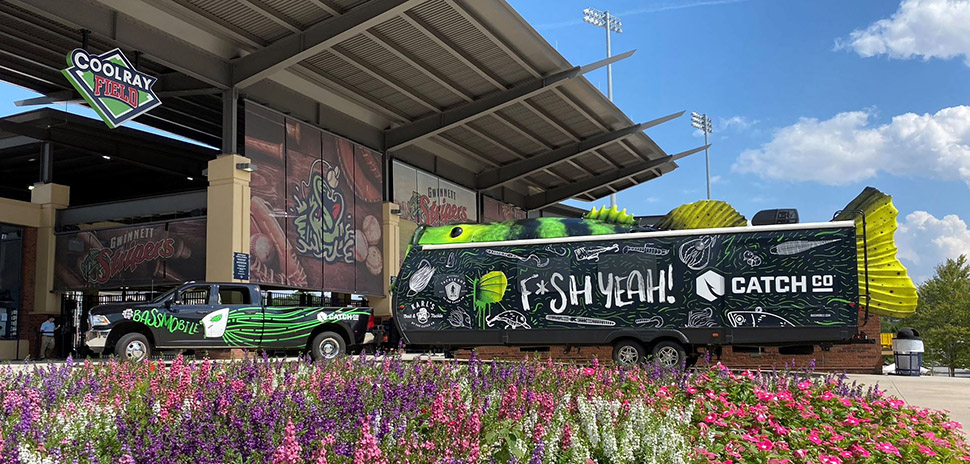 Aimed at both novice and seasoned anglers, the store held a ribbon-cutting on Tuesday. Something else rolled up today: a 40-foot "Bassmobile" from its parent company Catch Co., a giant bass on wheels that will remain at the store through Sunday.
The Bassmobile started out as a regular Outback travel trailer, like many you may have passed on the highway. Here's a video on how Catch Co. turned it into a bass.
More stores planned across U.S.
Karl's plans to roll out stores in other locations across the U.S. A second location at Mall of America in Minneapolis is slated to open later this year.
"When we started Catch Co. 10 years ago, our goal was to help people discover quality products that would help them get outside and enjoy nature," said Ross Gordon, founder and CEO of Catch Co., in a statement. "Opening our first Karl's Fishing & Outdoors store takes our mission to the next level by creating a shared space for anglers and outdoor enthusiasts to connect, learn about new products, and ultimately embrace their passion for the outdoors."
Karl's 'Chief Fishing Officer'
No, that's not a photo from someone's Match.com profile above. It's Karl's "Chief Fishing Officer," Karl Von Dibble.
He made an appearance at the store's "o-fish-all" opening Tuesday, and got a great intro roll-out video from the brand showing his evolution from baby (complete with beard and "first-ever rod") to a Karl's spokesperson who exemplifies the brand's fun- and outdoors-loving sensibility. 
A mission to 'rescue people from the indoors'
Karl's parent company, Catch Co., was founded in 2012 by fishing enthusiast Ross Gordon. The company says it's on a mission to "rescue people from the indoors" with its membership-based online platform and its new Fort Worth Karl's store, which also offers memberships for in-store and online discounts.

Get on the list.
Dallas Innovates, every day.
Sign up to keep your eye on what's new and next in Dallas-Fort Worth, every day.