Texas grocery giant H-E-B announced the call for entries in its 10th Annual H-E-B Quest for Texas Best in which participants can compete for a combined $70,000 in cash prices and the opportunity to have their products on the shelves of H-E-B stores statewide.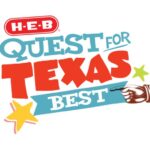 Applications will be accepted from February 22 through April 6.
"As we continue to expand the opportunities for small businesses in Texas and diversify our supplier base through programs like Quest for Texas Best, we look forward to seeing what our fellow Texans bring to the judges' table during the 2023 competition," James Harris, senior director of Diversity & Inclusion and Supplier Diversity for H-E-B, said in a statement. "Now in our 10th year, we are constantly amazed at the innovation and execution of unique ideas presented by our fellow Texans."
Over the past decade the grocer said that it has discovered more than 960 unique products throughout Texas — from cookies, coffees, and roasted crickets, to empanadas, pickles, and pho, to salsas, spices, and everything in between, the company said.
Non-food submissions have included beauty items, toys, home goods, household necessities, gardening supplies, coolers, and more. San Antonio-based H-E-B has reviewed more than 5,500 samples of the most creative Texas-made products and awarded nearly $2 million in prize money complemented by marketing, mentoring, and supplemental support, H-E-B said.
Virtual info sessions offer tips for submitting products
The company, which has been expanding rapidly in Dallas-Fort Worth, said that to prepare for Quest, participants will have the opportunity to visit with H-E-B Sourcing and Supplier Diversity leaders about product development and best practices for submitting their product during special virtual information sessions March 8, 9, 16, and 30.
Registration is required and space is limited to competitors only. To reserve your informational meeting space, review competition details, and learn more about the two-minute video requirement, please visit the Quest website.
Interested suppliers and manufacturers must submit details about their products at the website by 4:59:59 p.m. on April 6 for consideration, H-E-B. said.
After the call for entries period is over, H-E-B's Business Development Managers will select the top applicants who will present their products before a panel of judges selected by H-E-B on Aug. 9 at Fair Park in Dallas.
The judges will determine the top four winning products and award $25,000 to the Grand Prize winner, the title of "Texas Best", and placement on store shelves; $20,000 to the first-place winner; $15,000 to the second-place winner; and $10,000 to the third-place winner.

Get on the list.
Dallas Innovates, every day.
Sign up to keep your eye on what's new and next in Dallas-Fort Worth, every day.