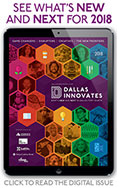 Here's the thing about innovation: It's new, it's exciting, and it leads to trends in a variety of industries. Here is one of the major trends that will be evident in innovation in the coming months.
The Gig Economy

The Gig Economy is the biggest macro trend in the U.S. workforce in over a century, and the Dallas region is primed to lead the movement, according to Clarisa Lindenmeyer of Proximity+Power. That's thanks in large part to millennials being the largest generation in today's workforce and cloud technology, she says. "The workforce of the future is demanding products and services that are designed for them," she continues.
Dallas-Fort Worth, on demand
McKinsey estimates that 50 percent of the U.S. workforce will be independent contractors by 2020. Here are a few local startups betting on a new future of work.
Gig Wage

Gig Wage is betting big on the future of work, bringing Uber- and Lyft-like gig payment, to small- and medium-sized businesses. "We build technology that meets the demand of on-demand workers," says Founder Craig Lewis.
Shift Smart
The marketplace connecting part-time workers with open shifts across multiple platforms is helmed by President and COO Patrick Brandt.
Menu Runners

Food delivery service and tech platform MenuRunners was launched by Founder Doneric Norwood in 2014.
Skratch
The Skratch app makes it easy for teens to find part-time jobs (walking dogs, yard work, and more) in their neighborhood.
This story first appeared in Dallas Innovates 2018, an annual magazine that showcases Dallas-Fort Worth as a hub of innovation. Read more about the region's game changers, disruptors, creatives, and our new frontiers in the digital edition.

Get on the list.
Sign up to keep your eye on what's new and next in Dallas-Fort Worth, every day.