Startups do a lot of pitching. Whether it's a Shark Tank-style competition or just a quick elevator spiel. Often there's money, fame, and glory at stake, so it's serious business even if it's been done to death.
Digital Dallas, however, wanted to do something different: Roasting startups with an improv troupe at the Dallas Comedy Club.
"You guys will remember all five startups because of this, I promise you," said Michael Pratt, president of Digital Dallas and founder of marketing analytics startup Panamplify.
The "victims" were Fetch, Glass-Media, Modular, PICKUP, and Skratch.
Just like the event, the introductions were short — just enough to give the comedians ammunition to fire back. Here's some of the jestful banter that packed a punch. 
The sizzle pitch: Fetch solves the problem of apartment complexes having to store e-commerce packages in their leasing offices. Instead, the startup stores the packages, notifies the customer, and lets the customer pick a time when it's convenient for the package to be delivered. The company wants to expand to Houston in July and Austin in August.
Overheard in the roast: "I have so many things I would rather be doing. I ordered toilet paper, but I don't want to have to go to the front door. We need a dog to go get the package and bring it back. What do they call that, there's a word for it?"
"Do they get their packages? I don't know. Long as my check clears. I'll bring the packages, but I won't look you in the eye."
Talking about the future growth: "One day, hopefully… Houston. The mosquito capital of the world!"
The sizzle pitch: Blockchain is fascinating technology that allows payments, contracts, and other secure transactions to occur without a third party. It's decentralized, but there's not a lot of regulation and the user experience isn't always great. Modular seeks to make blockchain platforms accessible to anyone. Its first Ethereum platform will be called Blossom.
Overheard in the roast: "What is cryptocurrency? Is that money that dead people would use in the crypt? Or is it from Krypton?"
"I have a word that it reminds me of — bankruptcy."
During a mock bank robbery: "Give me all your money!" 
"I don't have any actual money, it's all just digital currency."
"Give it to me now!"
Man pretends to throw non-existent money into a pretend bag.
Making a pitch: The pitch is incoherent and mumbling, but the comedian blurts out "Ethereum" every few words to get people's attention. "This is a bunch of distributed networks, like a lotus, or a blossom. I don't know exactly what it does."
The sizzle pitch: The Skratch app makes it safe and easy for teenagers to find gigs nearby. Payments are processed in the app, all the adults posting jobs have had background checks done, and teenagers get performance ratings for their work. It could be mowing the lawn, tutoring, or babysitting. The company has expanded to 30 ZIP codes in North Texas.
Overheard in the roast: "You're too late. A very similar app launched last week called Infantile. We're going to put them to work at an even younger age."
The sizzle pitch: Glass-Media creates a point of presence digital storefront that's interactive, updated in real time, and bright enough to work in direct sunlight. It can display promotions, product information, and other relevant information to help retailers get noticed.
Overheard in the roast: "Who is your biggest competitor?"
"It's TV."
"This is just a glorified PowerPoint."
"But I fought the sun and I won!"
Glass-Media calls the TV old and the television responds: "I heard you work with Fossil so who's the old one here, huh?"
The sizzle pitch: This startup puts pickup trucks and their drivers to work moving boxes and other large items. Customers can hire a PICKUP driver just by clicking the app. The driver picks up and delivers the package and will put it wherever the customer wants inside the home. All the drivers are background-checked and many are military veterans or firefighters. The business has partnered with many retailers as a white label delivery service. Currently, the service is available in 16 markets.
The improv troupe didn't throw any shade at PICKUP — it was too busy poking fun at the other startups.
GALLERY
Photos by Yvena Chowdhury.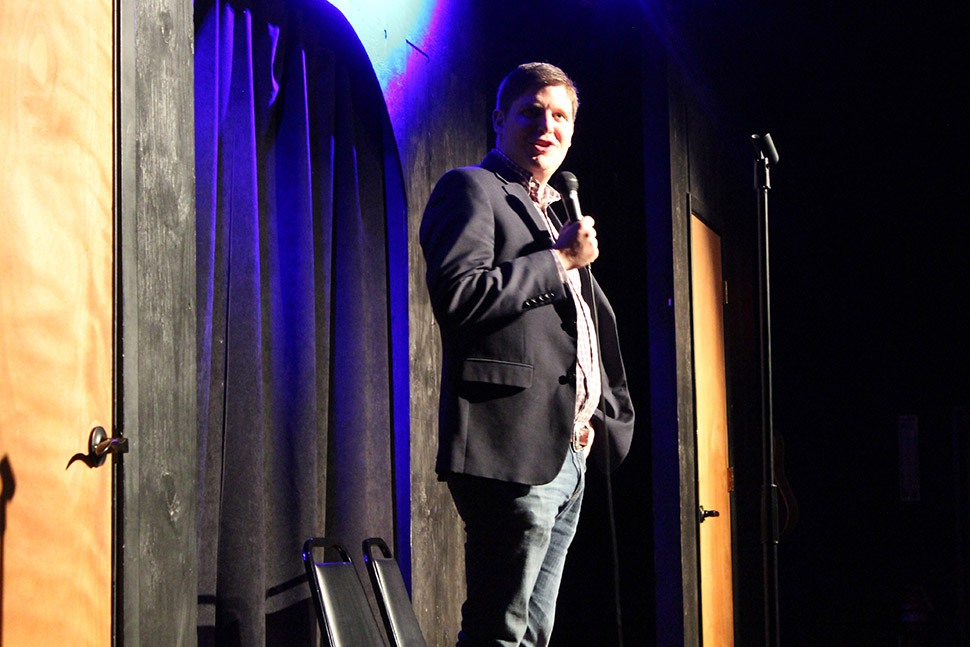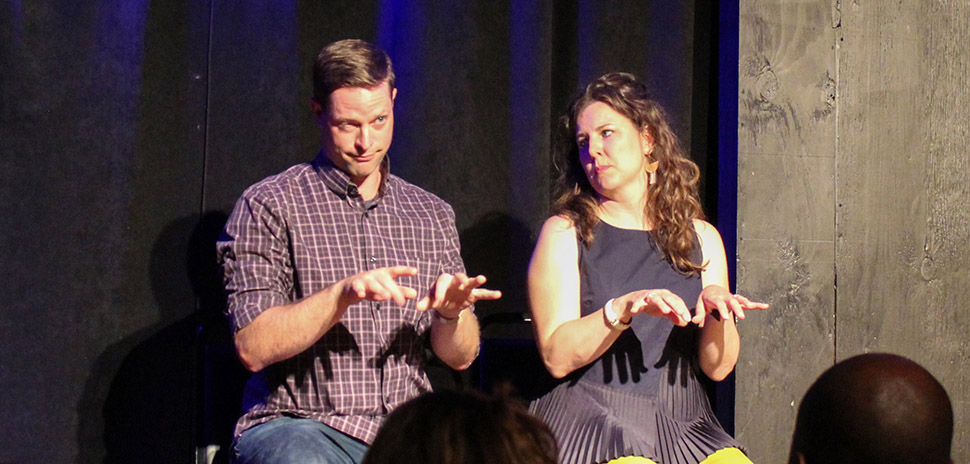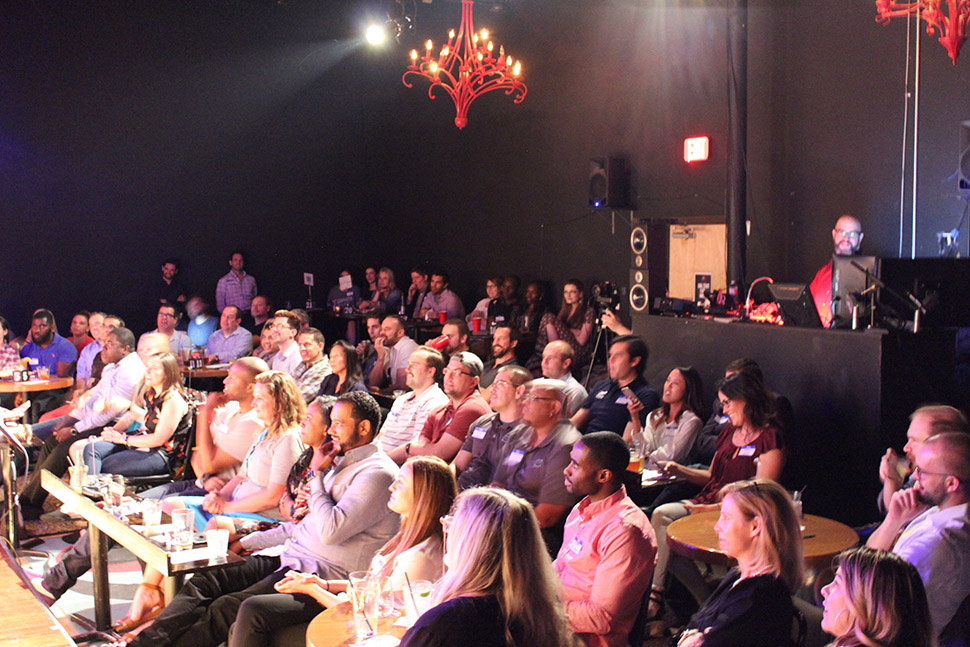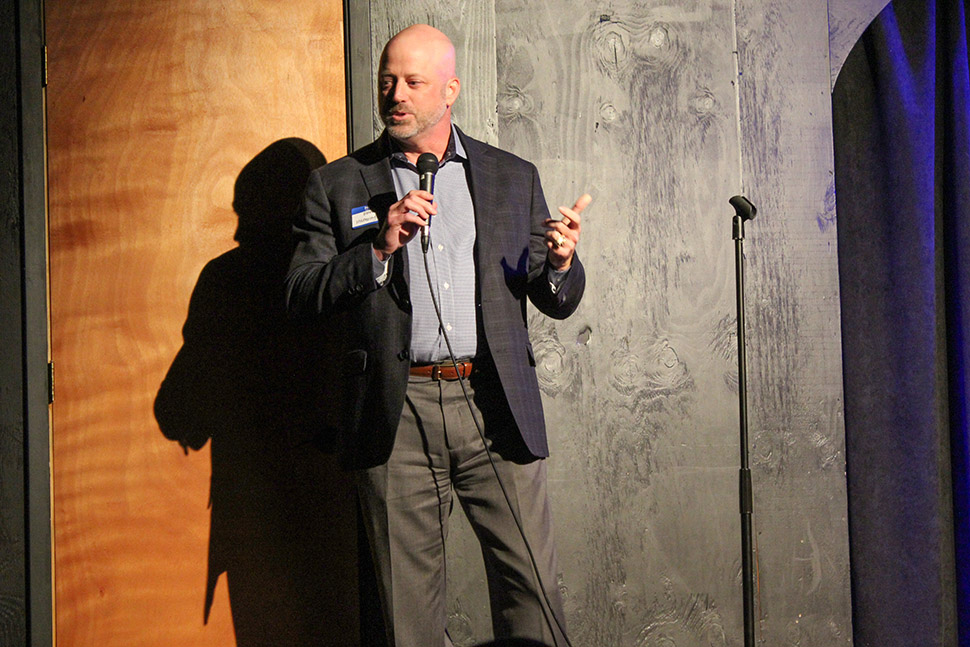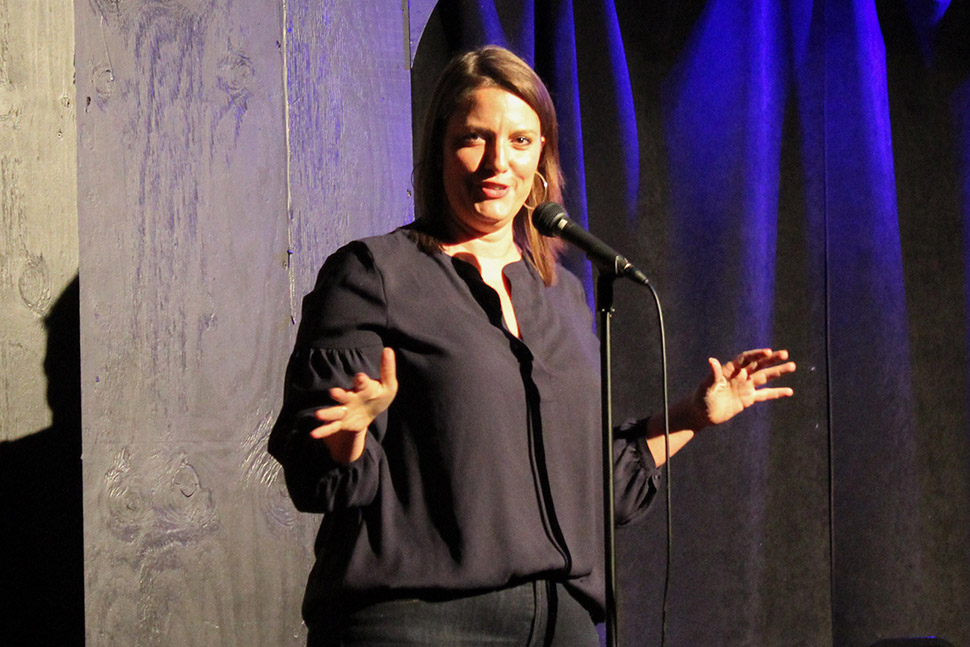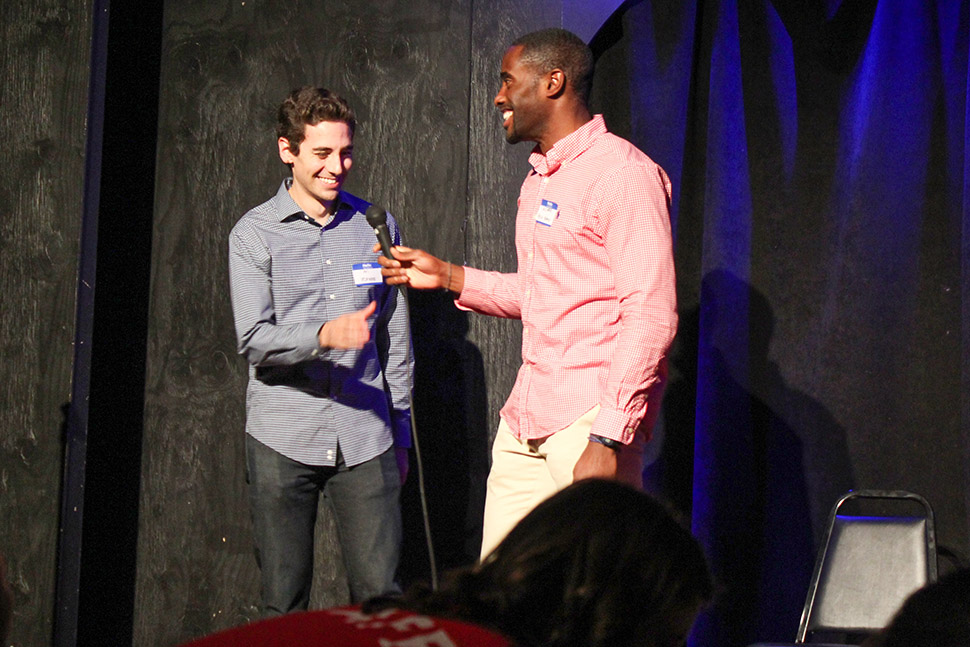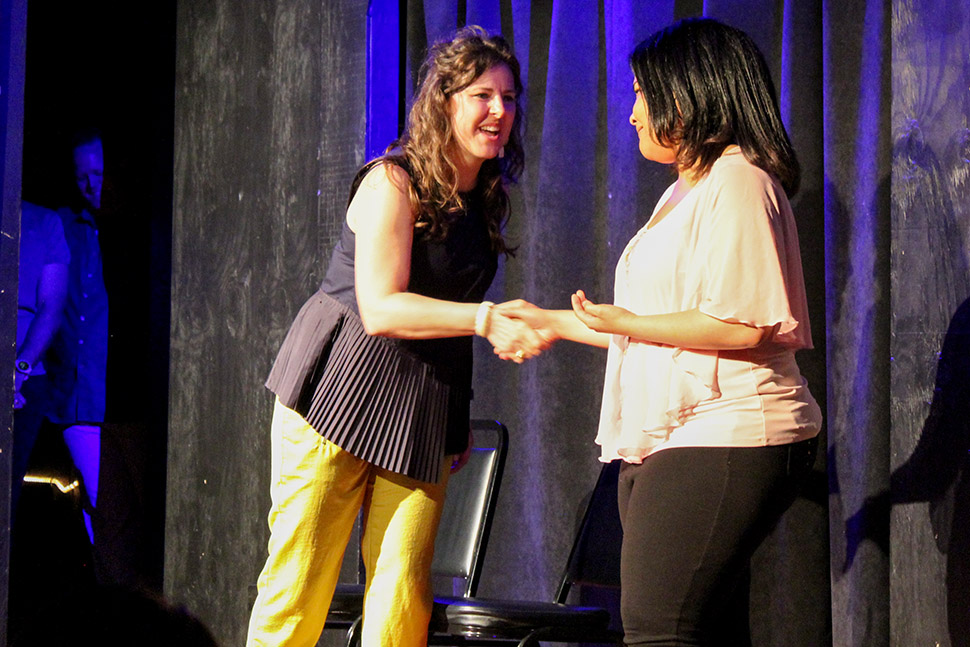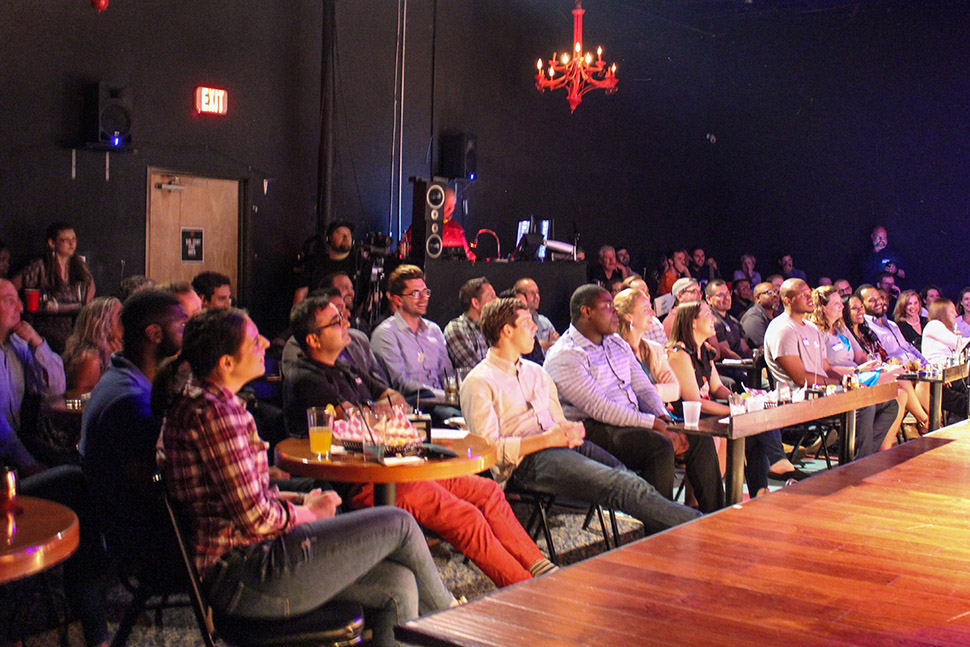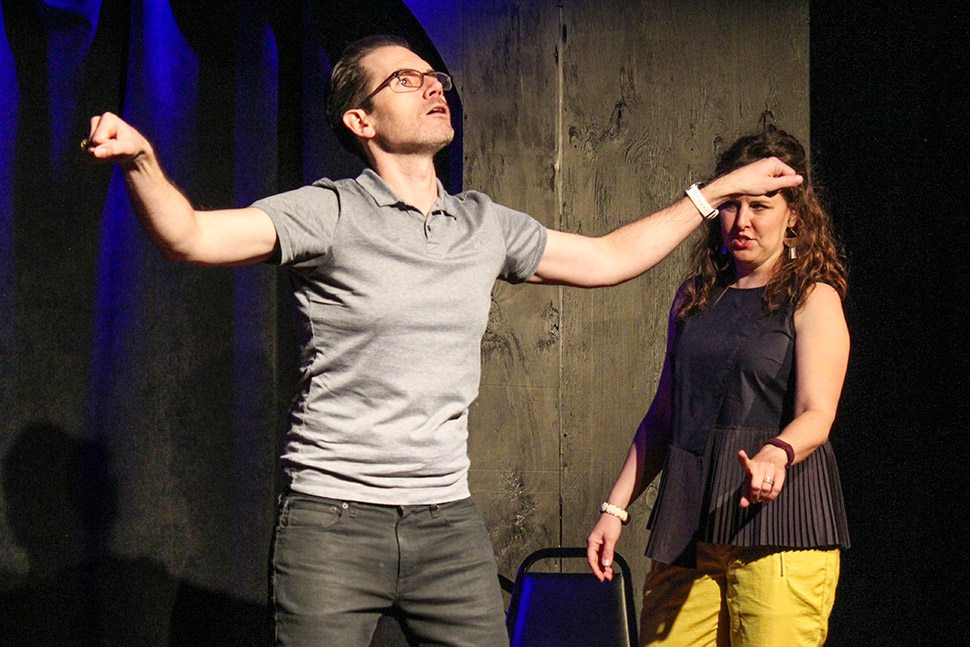 Get on the list.
Dallas Innovates, every day. 
Sign up to keep your eye on what's new and next in Dallas-Fort Worth, every day.