Teenagers are aliens. At least that's how a lot of adults feel. But the folks at Skratch are trying to change that perception.
Skratch connects teens with their best future self by using good old-fashioned work as the foundation. It's a mobile platform that pairs teens with people and businesses looking for help with small tasks and jobs. The teens in turn earn some scratch in the process.
Skratch will also be one of our star startups at this year's Digital Dallas Startup Comedy Roast at the Dallas Comedy House. We sat down with Scott Bennett, co-founder and CEO of Skratch to learn more.
Where did you get the idea for Skratch?
Ronen Akiva (Skratch co-founder) and I grew up working odd jobs. We now have teenagers of our own and want them to develop a strong work ethic. But the job landscape for teenagers has changed dramatically since we were kids. There's a lot more competition. Plus, squeezing in a part-time job for a teen who's already deeply involved in sports, band, and academic pursuits can be incredibly tough. We developed Skratch for teens, especially the ones who are already over-achievers, to find jobs that fit their skill set, talents, and schedules.
What's been your biggest struggle with Skratch and how did you overcome it?
Interestingly enough, our challenge is convincing adults that jobs not only build character and develop a work ethic in our teens, but is the absolute best classroom for teaching them financial literacy. Listen, we're not inventing teen work, teens have been working forever. The challenge is how we prioritize teen work.
Listen, we're not inventing teen work, teens have been working forever. The challenge is how we prioritize teen work.
The message we send our kids today is that being "well-rounded" means being a straight-A student, having the lead role in high school play, or being the team captain. But colleges put a premium on kids who have worked outside of their high school programs. I think we still have a ways to go to help adults and parents change their mindset about the value of teen jobs.
If you could go back in time, before you started Skratch, what one piece of advice would you give yourself?
It would be to be "ready for the rapids." By that I mean the rapid way you have to make decisions, as well as the rapid changing nature of the market. There's also the rapid emotional swings of building a startup company, which can be paralyzing if you're not prepared for the extreme highs and lows.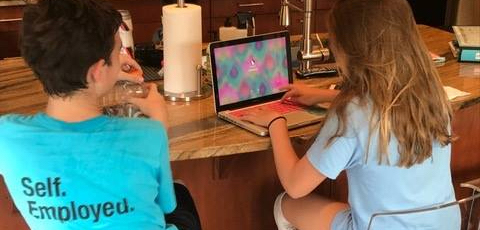 What was your first big "oops" moment and how did you resolve it?
We used a third-party development firm to try and cut our upfront costs. Unfortunately, they had a calendar full of holidays. It seemed like they were never around when an emergency popped up. The app went down and we ended up losing 20 days of new registered users. During that time, we couldn't even talk with our dev group. We had to cut our ties with that group and build a new team who could be available when we needed them — as well as be more proactive in finding and resolving issues.
What do you believe is Skratch's biggest advantage?
We're helping the community understand that our kids aren't aliens. In fact, the teens who are using our app are incredibly talented and skilled. They're a value-provider and very often they're more reliable than adults.
In a small way, we're giving kids today the chance to be better adults tomorrow.
We've forgotten how to make our teens a productive part of building our communities. In a small way, we're giving kids today the chance to be better adults tomorrow.
What's the Golden Rule you live by?
Do anything to gain a satisfied user because every user represents an opportunity to acquire 10 more.
Of course, we're just "skratching" (pun intended) the surface about all the great things Scott and team are building. You can find out more information at skratch.co.
And be sure to attend this year's Digital Dallas Startup Comedy Roast — you can grab your tickets here.
A version of this content originally appeared on the website of Digital Dallas, a Dallas Innovates partner organization.
READ NEXT
Q+A: PICKUP CEO Brenda Stoner Talks About Turning a Truck into a Revenue Hauler
Q+A: On-time Package Delivery? Dallas Startup CEO Says it's Not a Far-fetched Idea
Q+A: Modular is Taming the Wild Frontier of Distributed Networks
Q+A: Seeing is Glass-Media's Defibrillator to Resuscitate Brick and Mortar Retailers

Get on the list.


Dallas Innovates, every day. 

Sign up to keep your eye on what's new and next in Dallas-Fort Worth, every day.