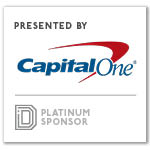 Cierra Walker wakes up at 7:30 a.m. four days a week for her first paid internship at Capital One. As a South Oak Cliff High School senior, she is eager to participate in the month-long NAF Future Ready Lab program, only this year, there's no commute. By 8:55 a.m., she's in front of her laptop ready to work from home, tuning in with her 40 "colleagues" from Dallas ISD NAF Academies.
"Being virtual Monday-Thursday isn't exactly the same, but I've really enjoyed it," said Walker, who plans to study chemical engineering. "I'm treated like a Capital One employee. I definitely feel like a real adult."
In its fourth year, NAF Future Ready Labs provides high school students an opportunity to put their education into practice in a unique work environment with support from a corporate partner. Through a multi-week experience, student interns complete a project of value, participate in professional skill-building workshops, connect with associates who volunteer as project mentors, and put their presentation skills to the test for the chance to win prizes.
Capital One helped pilot the program in 2017 and has worked diligently to improve the experience for students year over year, and 2020 was no exception. The team collaborated with NAF and local corporate partners KPMG and AT&T to reimagine the internship to be as fulfilling as previous in-person experiences on the corporate campus. The intern job fair pivoted to allow virtual interviews in a matter of days, and the team ensured each student was set up for success, solving for their technology needs prior to the internship launch. Students were broken into 10 teams to tackle timely social and economic issues in Dallas, including gentrification, diversity and inclusion, police reform, climate action, food deserts and more.
NAF internship facilitator Caitlin Schmidt, who is also a band director at J. L. Long Middle School in Dallas, brought her learnings from the previous school year to the internship program.
"It's much harder to get to know someone behind a computer screen, so whatever we did, we wanted them engaged," Schmidt said. "It's been so much more fulfilling to see each intern excel in this climate. They've learned to have patience and adapt, which are two skills that will serve them well throughout their lives."
Even in the all-virtual environment, students had the opportunity to network with Capital One associates to learn more about their jobs and experiences. For some, those connections, and life lessons, last long after the program ends.
"My mentor is in finance, which I want to study in college," said Denis Funes Sanchez, a Dallas Skyline High School senior. "He does everything with ease. He showed me how to do budgeting graphs, and I know he'll help me more in college, too."
Martha Hernandez said she'll take her new-found time management and virtual skills into her senior year at Bryan Adams High School and beyond.
"There are a lot of stigmas around women and minorities, but through this internship, I've learned to advocate for myself and speak up for equality," said Hernandez, who wants to be a neurosurgeon. "The panels were so great, and with our project, we built a financial curriculum to address the income gap in Dallas."
For Capital One, equipping students with skills for the future is what it's all about.
"We're proud to invest in the leaders of tomorrow, and provide them the skills, tools and resources they need to overcome whatever challenges they may face in the future," said Sanjiv Yajnik, President of Capital One Financial Services and NAF board treasurer. "Partnering with NAF over the past decade has been an incredible opportunity to help students prepare for college and careers, while providing our associates with an especially meaningful and fulfilling way to give back."
"These interns, like so many in our nation's workforce, have pivoted beautifully to a remote working environment where they're contributing value to their employer and learning new skills on the job," said Brooke Rice, NAF's Senior Director of Work-Based Learning. "NAF works with our partners to create impactful engagement opportunities for employees and students. We are extremely grateful to Capital One for their ability to adjust during this unprecedented time and ensure a quality interactive experience for our student interns this summer."
The interns, like their mentors, have learned to pivot and thrive in the new normal. They are motivated to take on the world, even if it's not business as usual.
"Capital One employees clearly love what they do, and I want to work with that kind of passion in my career," Sanchez said. "I want to feel like I'm not working a day in my life."

Get on the list.
Dallas Innovates, every day. 
Sign up to keep your eye on what's new and next in Dallas-Fort Worth, every day.