Istation, a Dallas-based education technology company with a 20-year history, recently announced a partnership with Boulder Learning, Inc., to develop its Oral Reading Fluency and Listening Comprehension Program using Boulder Learning's speech recognition technology.
"This will take what we have been doing with Istation's state-of-the-art reading assessments and give teachers and students even more information for intervention and subsequent instruction," said Richard H. Collins, co-founder, chairman, and CEO of Istation, in a statement. "Our goal is to ensure that every student has a chance to reach their potential."
"Our goal is to ensure that every student has a chance to reach their potential." 
Richard H. Collins
The new Istation program utilizes Boulder Learning's FLORA (fluent oral reaching assessment) speech-recognition and assessment product to analyze what students say and how fluently they speak. The program's goal is providing teachers with a time-saving tool that allows them to focus on teaching instead of student assessments.
The program will launch with a pilot during the 2018-2019 school year across select areas of the U.S. covering every major dialect region. The pilot will include recording students reading and teachers manually scoring and logging the results. Boulder Learning will analyze that data and create an automated scoring feature. The fully developed product will allow teachers to choose between manually scoring oral fluency or using the automated scores provided by the program.
The oral fluency assessment will become part of ISIP—Istation's Indicators of Progress—an assessment program for kindergarten through third grade. Studies by the University of Central Florida and by Southern Methodist University found Istation can predict student outcomes on critical end-of-instruction tests providing teachers a heads up on students that might require extra help on upcoming assessment exams.
"The new Istation oral reading fluency and listening comprehension program will enhance existing data, showing what intervention may be needed," said Collins. "In the end, teachers and students will have an even clearer road map to improving academic performance, making it possible for students to become superheroes in the classroom and in life beyond their formal education."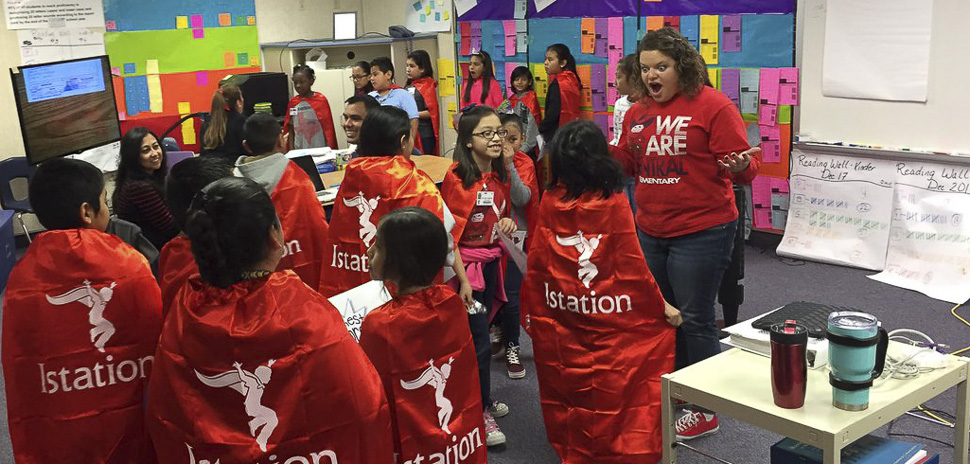 ISTATION NAMES NEW COO
Other recent Istation news includes announcing Ossa Fisher as its new chief operating officer in April. She previously served as deputy COO and will continue in her role as Istation's chief marketing officer.
"Ossa is an extraordinary individual who has made significant positive impacts everywhere she has been," said Collins in a statement. "We are fortunate to count her among our leadership and look forward to even more great achievements with her as our chief operating officer."
Istation was founded in 1998 with Collins serving as a key investor in the startup and as co-founder along with group including current Istation Chief Technology Officer Bill Lowrey. In 2007, Collins took over the company as chairman, CEO, and majority shareholder.
Istation is expected to earn $100 million in revenue this year.
The company's name stands for "Imagination Station" and it provides educators with animated, game-like educational technology with an emphasis on assessment. A Dallas Morning News report from April outlined the scope of Istation's business including operating in eight countries and serving 4 million U.S. students at 8,500 schools across 1,700 school districts. Istation is expected to earn $100 million in revenue this year.
Collins told the Morning News the way to impact education is through technology and said Istation's business model is: its program works, it's easy to use, and is inexpensive.
"Everybody's in favor of effective use of technology in schools," Collins told the Morning News. "So why wouldn't you build a world-class educational network delivered online, making it fun?"
READ NEXT
$225K In Grants Aid DFW Nonprofits, Winning App Boosts School Security, State Fair Awards $600K in Scholarships