The app-enabled dog toy GoBone is on a roll and moving up to Oprah's Favorite Things List 2017.
Dallas-based GoBone is run by Santiago Gutierrez, the CEO and founder of PulsePet, which makes smart, connected devices for pets and their people. GoBone is the company's flagship product and includes features such as Bluetooth connectivity, bonding mode, and auto-play.
It joins the ranks of handpicked gift ideas on O, The Oprah Magazine's annual holiday gift list.
"Give a dog a better bone. The GoBone automatically keeps a pup rolling around, chasing, and being chased, all at the touch of an app. This is at the top of Sadie's wish list," Oprah said in the December issue. 
"Give a dog a better bone."
O, The Oprah Magazine
Gutierrez created GoBone to help pet owners who leave their pets at home with a feeling of guilt, knowing they aren't going to be home for eight hours during the day.
In autoplay mode, the "smart bone" will know when your dog is just happily chewing and when it isn't. It will roll and zoom around, enticing a dog to give chase. You can even include treats in the side of the bone for dog to enjoy once it catches it.
"I created GoBone to give my dog, Rufus, opportunities for exercise and enjoyment even when I'm busy," Gutierrez said. "I feel better knowing Rufus is entertained no matter what's going on in my life, and I love having new ways to bond and interact with him when we play."
GoBone is available to purchase for $199 via mygobone.com and all products listed in O, the Oprah Magazine's holiday gift guide are also available for purchase through Amazon's dedicated Oprah's Favorite Things storefront.
"We're honored that Oprah noticed our product and felt it deserved a place on this year's list of her favorite things, and look forward to seeing GoBone spread joy to many more pet parents and dogs this holiday season and beyond," Gutierrez said.
READ NEXT
GoBone Poised to Take High-Tech Bite of Dog Toy Market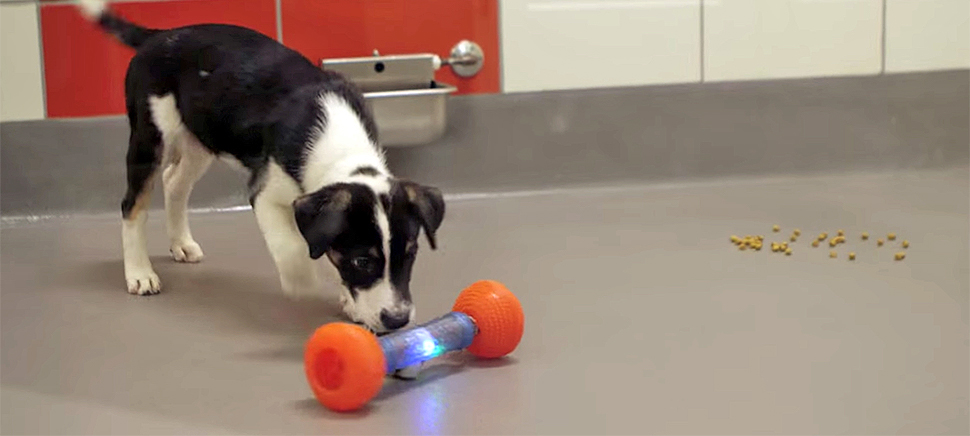 Get on the list.
Sign up to keep your eye on what's new and next in Dallas-Fort Worth, every day. 
And, you'll be the first to get the digital edition of our new Dallas Innovates magazine: 
The annual edition publishes in January